Top 10 teams that can make it to the 2013 NBA Finals
1.00K //
28 Nov 2012, 22:05 IST
The NBA season started on October 30th and there have already been plenty of brilliant games and plays. The season has already sprung quite a few surprises and upsets and from the looks of it, it is going to be another year of high-class basketball. As the regular season rolls on, here is a look at 10 teams that can make it to the 2013 NBA finals:
Honourable Mention - Chicago Bulls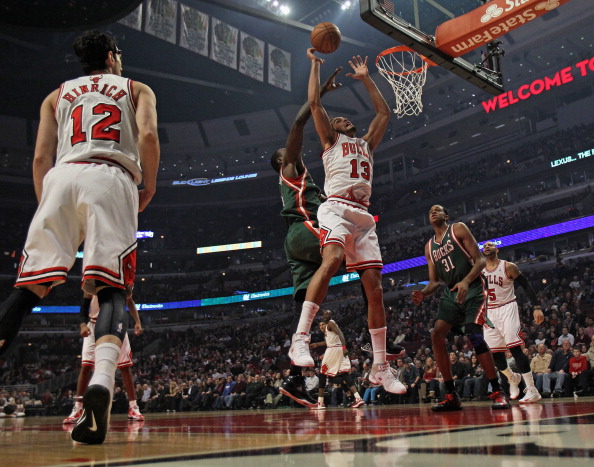 The Bulls went 50-16 last season majorly due to the efforts of Derrick Rose. Rose, though, has been on the sidelines recovering from a knee injury he sustained during Game 1 of the 1st round of play-offs last season. Without his services, the team is finding it difficult to have the kind of season they had last time around and are currently sitting in 10th spot in the Eastern Conference table with a 6-7 (Win-Loss) record so far.
The onus is on Boozer and Richard Hamilton to make sure that the Bulls are in a competitive position in the standings. There is no targeted return date as of yet that has been set for Rose and the rest of the squad will have to ensure that they are still in contention for a play-off spot in the second half of the regular season.
10. New York Knicks
New coach, Mike Woodson, is a man on a mission and with a 9-4 record they're currently 3rd in the Eastern Conference. Knicks will rely on Carmelo Anthony to lead them through to the play-offs and show everyone how this good start is not just a flash in the pan. Woodson will be hoping to capitalise on the talents of this young man and push him into being a MVP-level all-round player. Their play and squad will only get stronger when Amar'e Stoudemire returns from injury in a month's time. So, things are looking hopeful this season in New York and they may well have an outside chance of making it to the finals.
9. Dallas Mavericks
You think Dallas and you're immediately forced to think about Dirk Nowitzki. He has been a real star over the last decade and not long ago was the guy who was untouchable throughout the season and the play-offs in the 2010-11 campaign, taking the Mavs to their first ever NBA title. This year though everyone during the pre-season predictions was unsure of Dallas' chances of doing too well, as Dirk is still recovering from his Knee surgery. Last season, Dirk was scrutinized for getting slower and losing form as age has been catching up with him and that Dallas' over-dependency on him was the reason for them not doing well.
An opening night win against the Lakers, and a 7-8 record so far, sees them sitting in the 10th position in the Western Conference. All the supporting and role-players in the squad are doing their bit in keeping the 2011 champions in contention for the play-off spots, so that the return of Dirk will then be the propellant needed to launch a possible attack on the 2013 title.
8. Brooklyn Nets
It'd be a big surprise if the Nets didn't have a strong 2012-13 campaign, after having spent more than $270 million on Summer transfers to ensure that their starting 5 reads like this: Deron Williams (All-star PG), Joe Johnson, Gerald Wallace, Kris Humphries and Brook Lopez. The more than quarter Billion investment, is paying off though for owner,  Mikhail Prokhorov, as the Nets have gotten off to a 9-4 win start and are 2nd to only Miami in the Eastern Conference standings. A play-off spot seems like a formality, as the Nets have their eyes firmly set on a title run.
The Clippers' start to the 2012-13 NBA season has overall been a decent one. After rocketing off to a dream 8-2 start, they have lost their last 4 games on the bounce. But, they are still placed 5th in the Western Conference table and their 8 wins include victories over city rivals Lakers, reigning NBA champs Miami Heat, Western Conf. leaders Grizzlies and a double over Spurs. What has been incredible about their start so far has been the fact that they have been so competitive against the big teams despite Blake Griffin being well below par (with career worst points and rebound averages) as he has been battling injuries and the unavailability of Chauncey Billups and Grant Hill. Chris Paul, with able support from Jamal Crawford and Eric Bledsoe, have ensured that the Clippers stay competitive. As the season goes on, Griffin is only going to get better and back to his prolific and dazzling self. And consequently the Clippers will only get better, and talk of title contention will be a usual thing and not a shock.
6. Memphis Grizzlies
The Grizzlies have gotten off to their best ever start in the first 10 games of an NBA season. With a 10-2 win start, they find themselves top of the Western Conference and have the highest win PCT (Percentage) of 0.833 outdoing even the reigning champions and current leaders of the Eastern Conference, Miami's win PCT of 0.769. Lionel Hollins' squad looks well-rounded as the Grizzlies have struck the right balance in their play wherein they've got some scoring flair to go with a tight and gritty defensive play. Rudy Gay has been superb and looks set for an All-Star appearance. Zach Randolph too is looking a much more balanced player this season. 'Promising' is the one word that can be used to describe their aspirations for a successful 2012-13 campaign.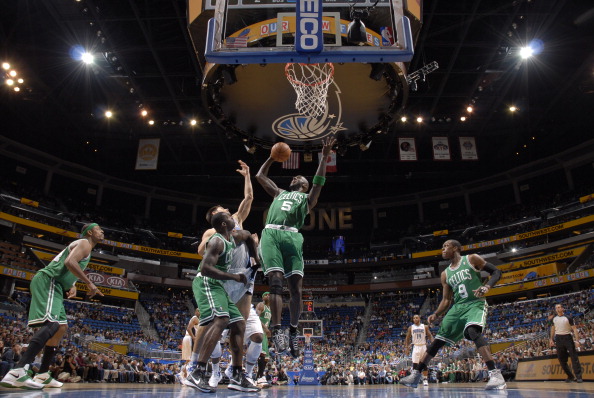 With the Celtics there is no doubt in anyone's mind that they have the potential to be able to reach an NBA final. The only question that remains is whether or not they can go out and reach that potential on court. They have gotten off to an average 8-6 win start, which currently sees them occupy the 7th position in the Eastern Conference. But, one must not read too much into those numbers as the Celtics' lack of consistency is down to the team still being in the building process. Long term injury to Avery Bradley and injury to Rajon Rondo before the match against the Nets, hasn't helped things too much. Kevin Garnett and Paul Pierce are yet to really get in their groove and the bench players like Jeff Green and Jason Terry are still getting used to their new roles and so haven't been able to perform as well at crucial stages in big matches. The Boston Celtics are a work in progress, but come the business end of the season and they are sure to get as good as any on the East coast.
Last year's losing NBA finalists, Oklahoma, have thundered their way to a 11-4 start and are sitting pretty in 3rd place in the Western Conference standings. To many this has come as a surprise especially after James Harden was traded off to the Rockets over the summer. Kevin Martin has been absolutely brilliant in the first month of this season and a lot of credit for Oklahoma's early good showing goes to him. Kevin Durant and Russell Westbrook have well of course been themselves, initially though their scoring averages and shooting percentages had been slightly down, but the numbers are improving almost every game. Another stand out performer has been the Thunder's Shooting Guard, Thabo Sefolosha. The roster overall though is still very young and inexperienced, a problem they faced in the 2012 Finals. So, like last year there is potential, but so is the inexperience (the inexperience being a major reason as to why Oklahoma nearly missed out on the top 3 spot in this list).
And now for the Top 3…
3. San Antonio Spurs
Texas giants and 4-times NBA Champions, Spurs, have started the season on an incredible 12-3 run with a win PCT of 0.800, which is the 2nd highest in both conferences and higher than that of Miami's. And its largely been a Tim Duncan show, who at 36, has been rolling back the years with some vintage Tim Duncan-style basketball. His resurgence has been the reason why Spurs are looking like a championship-winning side despite Tony Parker not being at the same level as last season and Manu Ginobili and the rest of the team being plagued with frequent injury problems. San Antonio is looking set for a 14th consecutive 50 win season and things are looking good for a possible fifth ring for Duncan.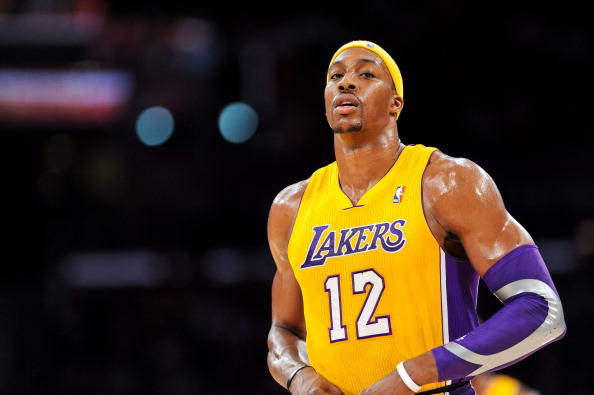 The Lakers began the season as the new Galacticos of Basketball after having got Dwight Howard, Steve Nash, Pau Gasol and Kobe Bryant to all be a part of the same team. But, a 1-4 start to the season saw coach Mike Brown being fired and though they have somewhat recovered to a 7-8 record since then and now have a new coach in Mike D'Antoni, all is definitely not well at the Staples Centre in a season where they were expected to clinch the NBA title almost only by the names on the team sheet. Injuries to Steve Nash and other strong bench players coupled with the fact that Howard is still getting to learn to play with Gasol and Kobe, means that like Boston, Lakers are still in the building phase of the season and have lately shown positive signs of improvement under D'Antoni's systems. Nash will soon return to full fitness and all the superstars will hopefully learn to co-exist in a favourable system. Its all a matter of time and dismissing Lakers, after just 15 games, as one of the main contenders for the 2013 title would be a mistake that even cynics can't make.
1. Miami Heat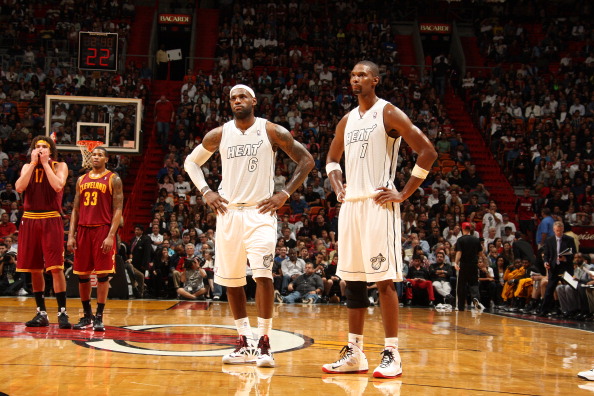 Finally at No. 1 are the reigning Champions Miami Heat, and they seem to be in the mood for repeating the feat in 2013 as well, as they sit on top of the Eastern Conference with 10-3 record and a win PCT of 0.769. LeBron James is becoming an even more complete player and has been par excellence in his role as play-maker. With Ray Allen in the team, James is getting more playing time as PG and is making the position his own. Chris Bosh has also been incredible in his new role, playing Centre and thus allowing Wade and LeBron to play their game freely. Ray Allen has been an absolute rock defensively and his shooting abilities always come in handy at important moments in the match. Another important mention is that of Rashard Lewis, who has been terrific off the bench. So, Miami too have had to make changes and there are new players and players have new roles, but they all seem to have adjusted very quickly, thus allowing them to get off to the kind of start that they have, and this quicker adjustment to new systems and roles has been the difference between the Lakers and the Heat after the first month of the 2012-13 NBA Campaign.