| | |
| --- | --- |
| Name | Radhika Dhopavkar |
| Date of Birth | 10 April 1991 |
| Height | 162 cm |
| Weight | 50 kg |
| Profession | Homemaker |
| Net Worth | - |
| Birth Place | Mumbai, Maharashtra |
| Nationality | Indian |
| Education | Vinayak Ganesh Vaze College |
| Sibling | Shreya (Sister) |
| Spouse | Ajinkya Rahane |
| Married on | 26 September 2014 |
| Children | Aarya Ajinkya Rahane (Daughter), Raghav Ajinkya Rahane (Son) |
Who is Ajinkya Rahane's wife?
Ajinkya Rahane's wife, Radhika Dhopavkar is currently a homemaker. She was born to a working-class family in 1991 in Mumbai, Maharashtra. She was the eldest of the two sisters and has been pampered since her childhood. Growing up in a Marathi family she has quite a grasp of all the Marathi customs and traditions.
With a knack for Interior Designing, she took up a course in the same soon after completing her graduation.
The wife of the current vice-captain of the Indian cricket team, Radhika, can often be seen accompanying her husband to international tours as well as domestic games. He calls her "the biggest supporter" in his life and owes much of his success to her.
Image Credit: Radhika Dhopavkar's Instagram
Her Instagram account is filled with pictures of their vacation together or their time spent together as a family. You can give her a follow on her Instagram handle @radhika_dhopavkar to stay updated with her ongoing life events.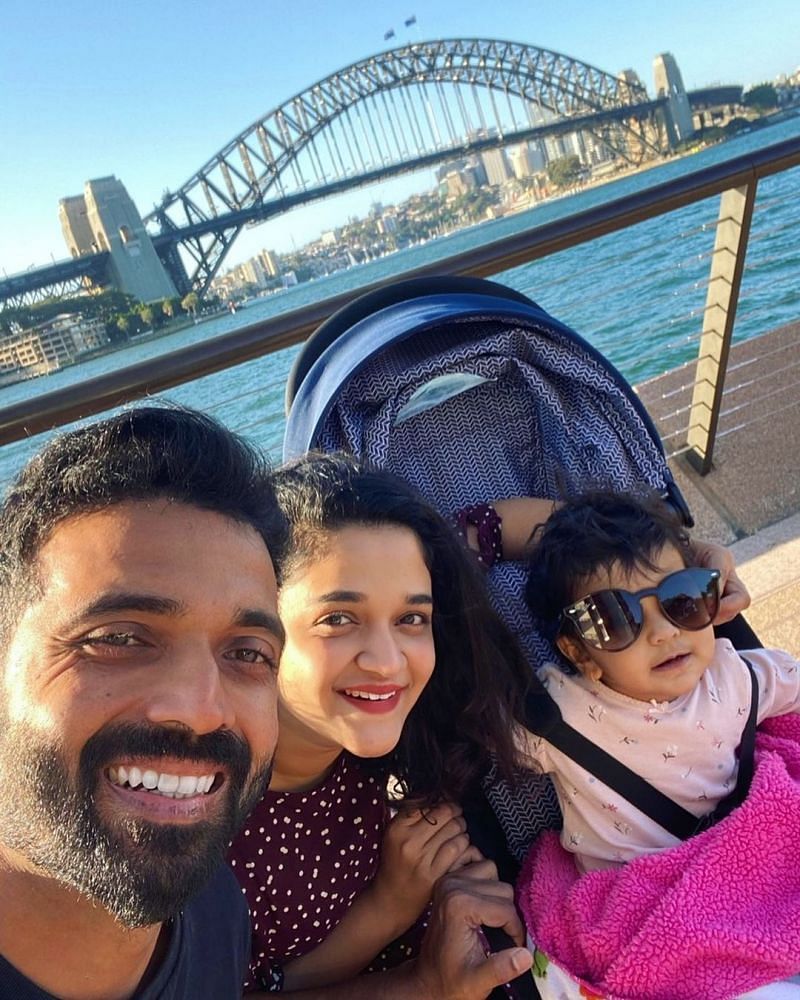 Image Credit: Radhika Dhopavkar's Instagram
How did Ajinkya Rahane meet his wife?
From childhood friends to lifelong soulmates, the love story of our Mr. Dependable and his lady love is straight out of a movie. The two lived in the same residential complex in Mulund while growing up, and that is where their friendship blossomed. Later, when Rahane's sister and Radhika attended the same college, a conversation began between the two. Initially, they were good friends and used to meet each other at their complex itself.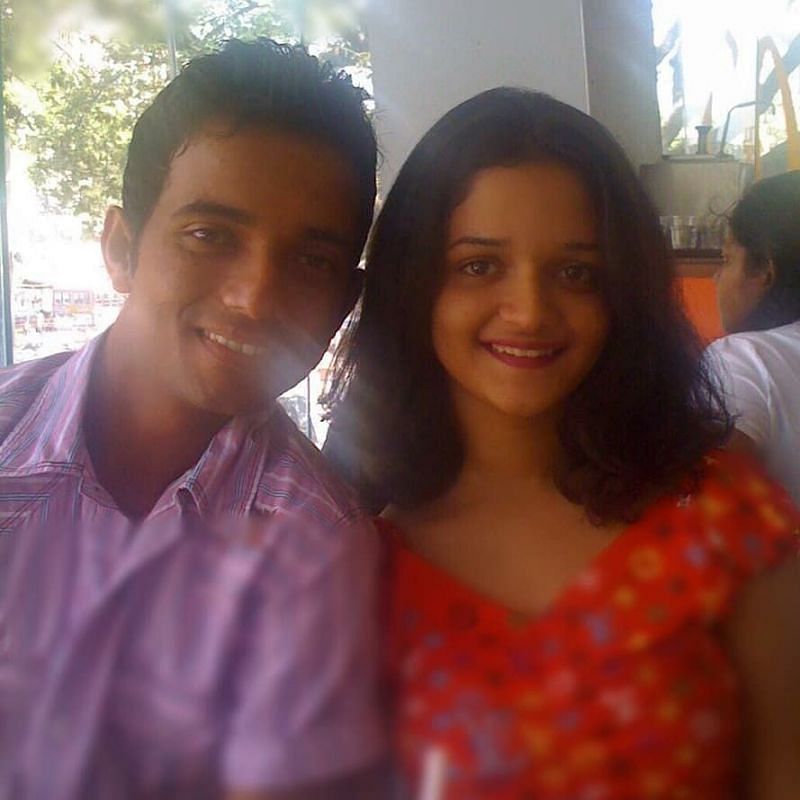 Image Credit: Ajinkya Rahane's Instagram
After 4-5 years of knowing each other completely, the duo officially started dating. They spent their initial days of dating on Orkut (a former social networking service), talking to each other. Eventually, they started going out and spending more and more time together.
When did Ajinkya Rahane get married?
Ajinkya Rahane finally tied the knot with his long-time girlfriend, Radhika in a traditional ceremony on 26 September, 2014 with their family's consent. The wedding was a typical Marathi marriage ceremony and was attended by most of the cricket fraternity along with BCCI officials.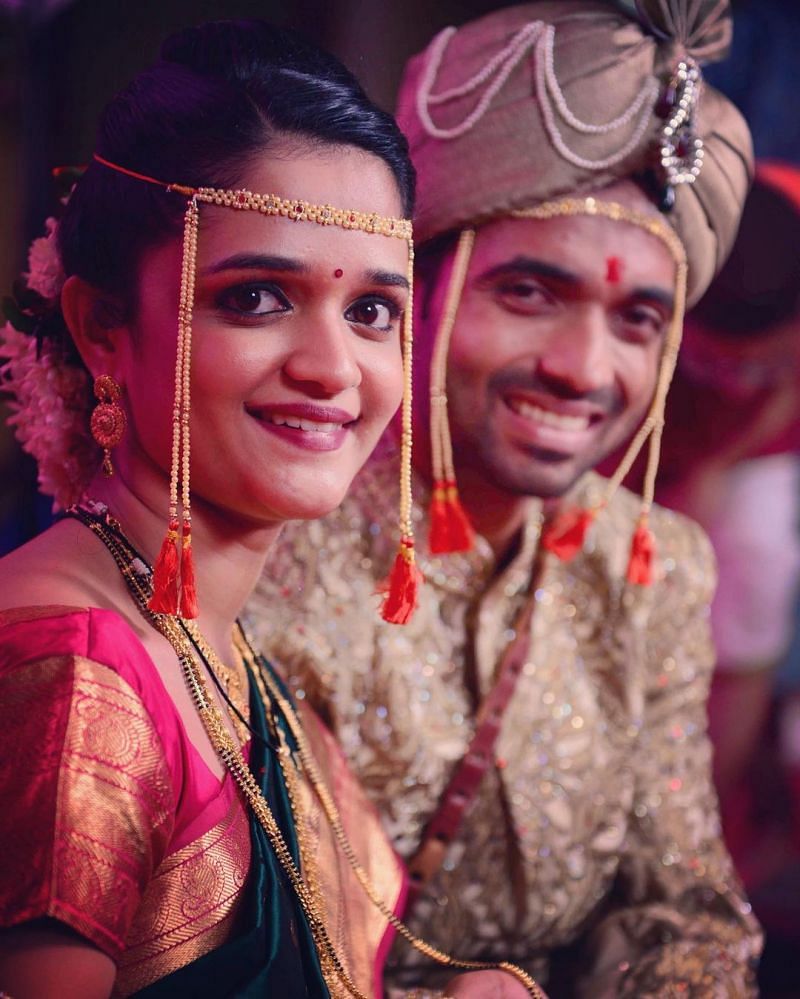 Image Credit: Radhika Dhopavkar's Instagram
Ajinkya Rahane's wife, Radhika welcomed their first child, Aarya, on 4 October 2019. After a matter of three years, their second child, Raghav, was born.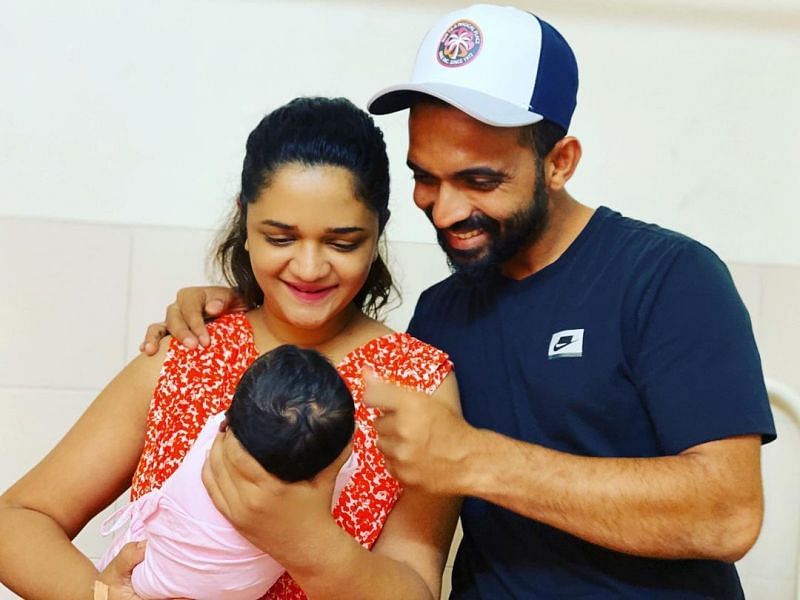 Image Credit: Radhika Dhopavkar's Instagram
Ajinkya Rahane Wedding Photos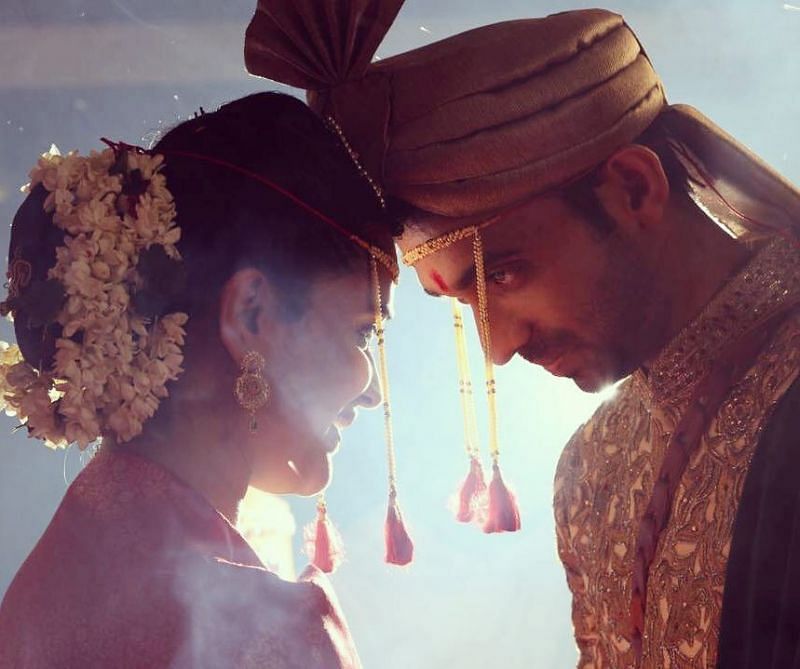 Image Credit: Radhika Dhopavkar's Instagram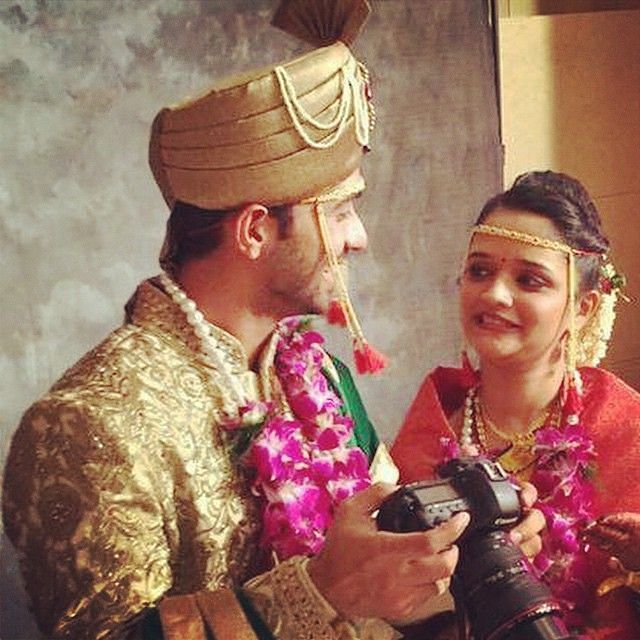 Image Credit: Radhika Dhopavkar's Instagram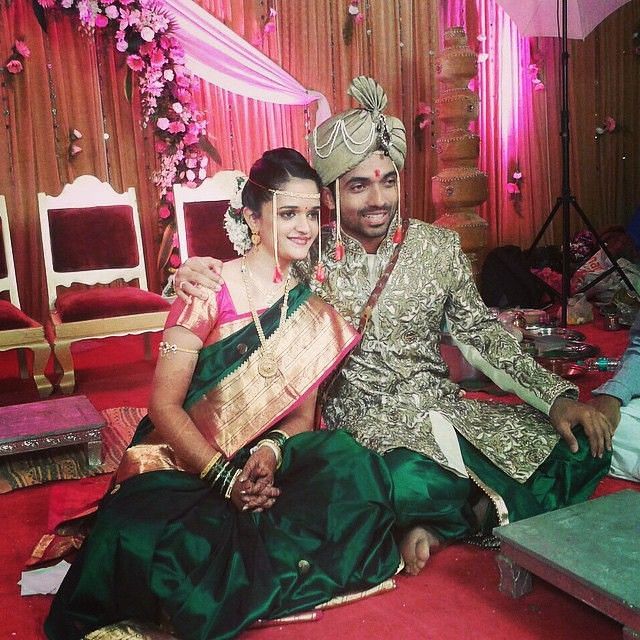 Image Credit: Radhika Dhopavkar's Instagram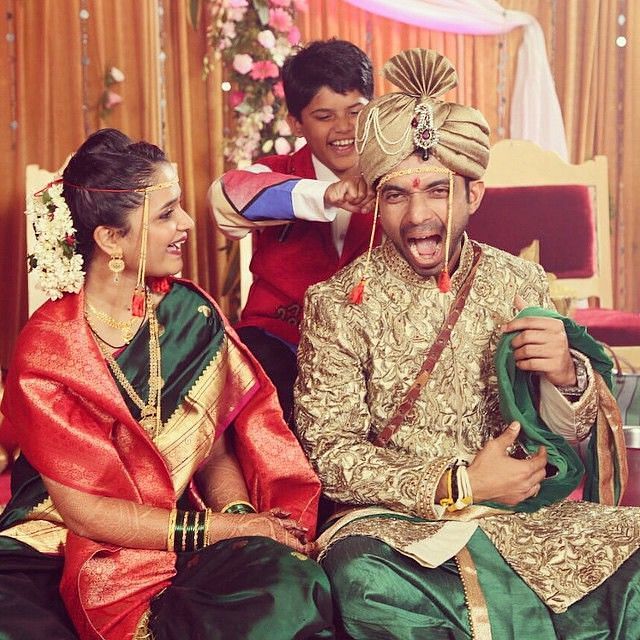 Image Credit: Radhika Dhopavkar's Instagram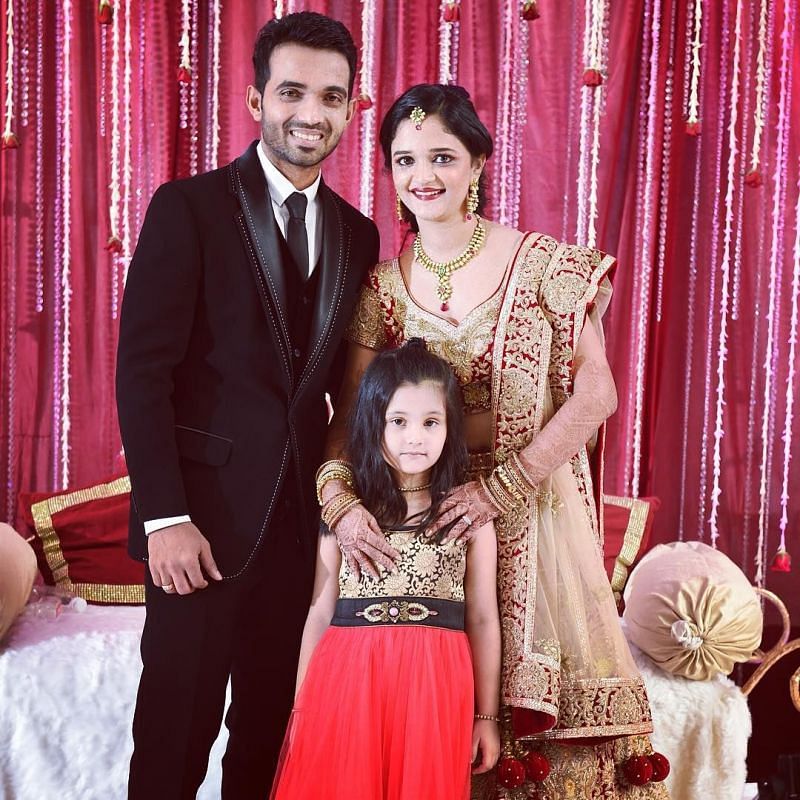 Image Credit: Radhika Dhopavkar's Instagram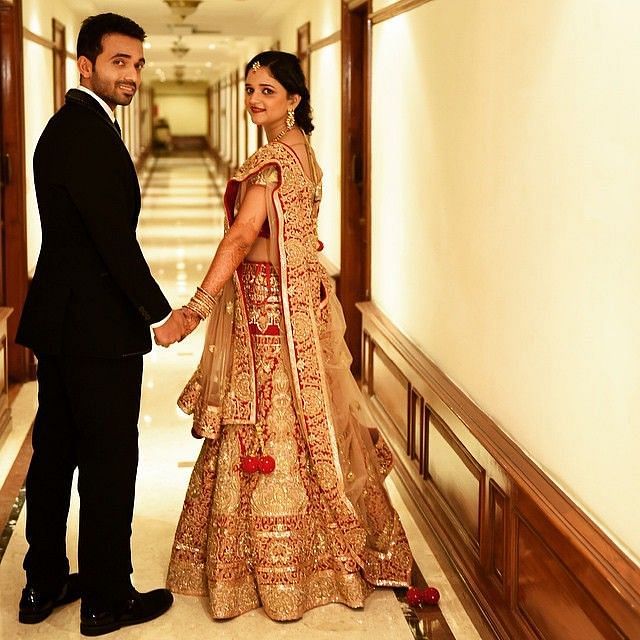 Image Credit: Radhika Dhopavkar's Instagram
Other Similar Pages