A culture of fitness, athleticism and sports
1.46K //
16 Nov 2012, 14:44 IST
Which sports do we Indians excel at?
The top 8 singles tennis players and the top 8 doubles teams recently finished playing the season ending ATP world tour finals in London. There were 3 Indians (Leander Paes, Mahesh Bhupathi, and Rohan Bopanna) among the 16 doubles players on show.
In cricket, India has always produced world-class batsmen (Sachin Tendulkar, Sunil Gavaskar and Rahul Dravid to name just a few out of many) and world-class spinners (Bishan Singh Bedi, Bhagwat Chandrasekhar, Erapalli Prasanna, Srinivas Venkataraghvan, Anil Kumble come to  mind) but with the exception of Kapil Dev, no world-class fast bowler. Though fielding has improved in the recent years, India has never been known as a world-class fielding unit.
India has produced many great billiards and snooker players. Michael Ferreira, Geet Sethi, Pankaj Advani and many others have won many national and international tournaments including multiple world championships.
Viswanathan Anand is the current male world chess champion and has been the undisputed chess champion since 2007. Koneru Humpy is the current world #2 in the FIDE world chess federation women's ranking. Including Anand and Humpy, there are 10 Indian male/female players among the top 100 chess players in the world.
India won 8 gold, 1 silver and 2 bronze medals in field hockey from 1928 to 1980.
India has won medals in Shooting in the last three Olympic Games. In fact, shooting accounts for 4 out of the 13 individual medals India have won at summer Olympic Games. Rajyavardhan Singh Rathore, Abhinav Bindra, Gagan Narang and Vijay Kumar have written their names in history books forever.
Wrestling is another sports where India has won 4 medals at the Olympics. K D Jadhav's bronze at 1952 Helsinki games remained India's only individual medal until Leander Paes added another bronze in 1996 Atlanta games. Yogeshwar Dutt and Sushil Kumar (twice) have added to the medal tally since.
In contrast, which sports do we struggle at?
There is no Indian male tennis player among the top 200 players in the world. The best singles Indian player (Yuki Bhambri) is currently ranked #207 in the world. In fact, only one Indian tennis player (Somdev Devvarman) has reached top-100 in more than a decade since Leander Paes last did it just before the dawn of the new millennium.
India hasn't won a field hockey medal since 1980 after the game has become a lot more about power, stamina and speed rather than skills like in the old days. In the 2012 Olympic Games, India finished #12 in a field of 12 countries.
India is ranked #169 in FIFA world football ranking and #31 among Asian countries. No Indian football player plays in any of the top leagues in the world such as English Premier League, Spanish La Liga and Italian Serie A.
India is ranked #59 in the men's FIBA international basketball ranking. There are only 82 countries in the published list.
There are as many as 9 Indian male badminton players in world's top 100 (Parupalli Kashyap #23, Ajay Jayaram #27, Sourabh Verma #32, RMV Gurusaidutt #44, Anand Pawar #60, B. Sai Praneeth #71, Arvind Bhat #75, H S Prannoy #87 and Sameer Verma #96) and 3 players in women's top 100 (Saina Nehwal #3, PV Sindhu #25 and Neha Pandit #97), but other than Olympic bronze medalist Saina, there is no one that is able to break into the top 10 or so in the world.
In athletics, swimming, gymnastics and cycling, India has rarely produced world class performers and with the exceptions of PT Usha and Milkha Singh. I don't remember an instance where someone has come close to an Olympic medal. In extremely physical sports such as rugby, India doesn't even participate in international events.
What does it mean?
In general, while India as a country has done well in cerebral sports, it has struggled in sports that require athleticism of the highest degree. Success in sports like billiards & snooker, chess, shooting and doubles events of tennis speak of no lack of skills among Indians, but abject and lengthy failures in sports like football, basketball, singles tennis, athletics, swimming, gymnastics and cycling indicate a general lack of athleticism in a country of billion plus people.
Of course, unavailability of training facilities and world-class coaches, inadequate and corrupt government support system, lack of industry support and many other reasons plague Indian sports but along with all of these, what we need is a culture of sports and athleticism in our society. Unless we as a society place importance on fitness, athleticism and sports, we will continue to struggle to produce world class athletes, sportsmen and sportswomen.
Are there any exceptions?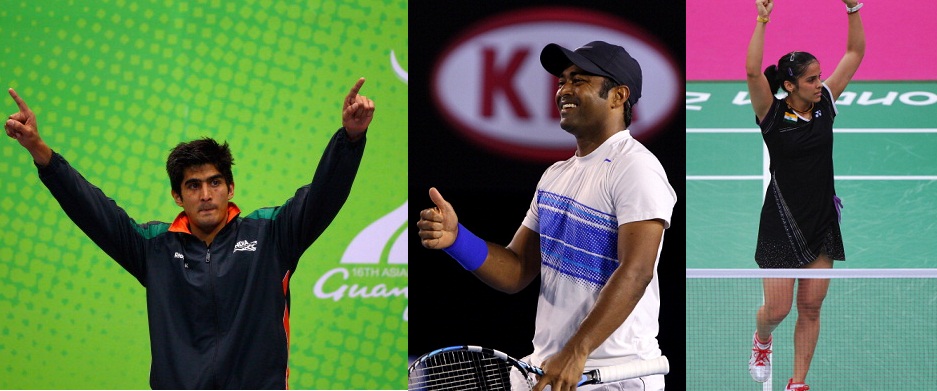 The article won't be complete without making references to some notable exceptions that have battled all odds to produce world class performances in their respective fields. Prakash Padukone and P Gopichand (first and second All-England champions from India), Saina Nehwal (current world number 3 and 2012 Olympic bronze medialist), Kapil Dev (world record holder fast bowler from India), Karnam Malleswari (2000 Sydney Olympics weightlifting bronze medalist), Mary Kom (five time world boxing champion and 2012 London Olympics bronze medialist), PT Usha and Milkha Singh (who both finished 4th in Olympics by very narrow margins), Vijender Singh (bronze medalist at 2008 Beijing games), Leander Paes (bronze medal at 1996 Olympics in singles tennis) are some of the exceptions that India have produced (many argue that these stars have been produced on their own) in sports that require world-class athleticism.
Author's notes
The article is not a comprehensive compilation of all sporting events where Indian athletes have and haven't done well. A sample selection of sports and sportspersons has been mentioned to make a broader point. Golf, motor racing, squash and table tennis are some notable omissions.