The English Premier League has always been home to some of the best goal scoring players to ever play the game. From Alan Shearer to Mohammed Salah, many stars have rewritten the goal scoring records over the years. However, finding a spot in the all time record for most goals scored in a single Premier League season needs impressive consistency and talent. In this list of most goals scored in a single Premier League season, we have picked the 38 games per season format.
Andrew Cole and Alan Shearer are still the top scorers in a single Premier League season. However, these two players was part of the 42 games per season format when they played for Newcastle United and Blackburn Rovers respectively.
Mohamed Salah lit up English football during the 2017-18 season with an amazing performance for Liverpool. The Egyptian broke the record for the most number of goals scored in a single Premier League season during the 2017-18 season.
He has now claimed the record which was previously held by Luis Suarez, Cristiano Ronaldo and Alan Shearer. In fact the Egyptian international is one of only eight players to have ever scored more than 30 goals in a 38 game Premier League campaign. Here is a look at the top ten goal scorers in a Premier League season.
| | | | | |
| --- | --- | --- | --- | --- |
| Rank | Player | Goals Scored | Club | Year |
| 1 | Mohamed Salah | 32 | Liverpool | 2017-2018 |
| 2 | Luis Suarez | 31 | Liverpool | 2013-2014 |
| 3 | Cristiano Ronaldo | 31 | Manchester United | 2007-2008 |
| 4 | Alan Shearer | 31 | Blackburn Rovers | 1995-1996 |
| 5 | Harry Kane | 30 | Tottenham Hotspur | 2017-2018 |
| 6 | Robin Van Persie | 30 | Arsenal | 2011-2012 |
| 7 | Thierry Henry | 30 | Arsenal | 2003-2004 |
| 8 | Kevin Phillips | 30 | Sunderland | 1999-2000 |
| 9 | Harry Kane | 29 | Tottenham Hotspur | 2016-2017 |
| 10 | Didier Drogba | 29 | Chelsea | 2009-2010 |
Click here for premier league live score
1. Mohamed Salah- 32 Goals, Liverpool (2017-2018)
When Liverpool signed Salah from Roma most observers thought the Anfield team was signing a decent, but far from top class performer. The Egyptian international went on to exceed the expectations of even the most optimistic fans by scoring a record breaking 32 league goals during the 2017-18 season. Salah's achievement is all the more impressive as he plays as a winger and not as a traditional centre forward. He is now the top scoring foreign player in a single season in Premier League history, moving past Ronaldo and Suarez. He became only the third player to score against 17 different opponents in one campaign. Arsenal's Ian Wright and Robin van Persie are the only other players to do it in a 38 game season.
2. Luis Suarez- 31 Goals, Liverpool (2013-2014)
Luis Suarez enjoyed one of his best ever individual seasons in the Premier League in the 2013-2014 season, when his world class striking display almost inspired Liverpool to their 19th league title. Suarez's energy, skill and finishing abilities were breathtaking at times, as he went on to score 31 goals that season.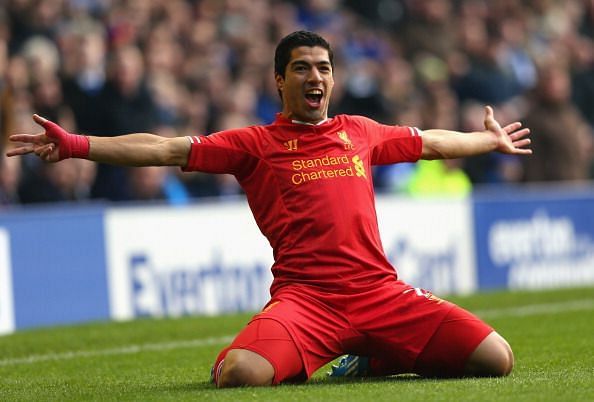 3. Cristiano Ronaldo- 31 Goals, Manchester United (2007-2008)
Cristiano Ronaldo arrived at Old Trafford in 2003 as a teenager who was a bit too fond of flicks and tricks. However under the guidance of Sir Alex Ferguson he blossomed into one of the greatest footballers ever. He announced himself as a world class player during the 2007/08 season, after his goal scoring exploits inspired United to a Premier League and Champions League double. The Portuguese attacker's performances were so good that he would win the first of his five Ballon D'Ors later that year.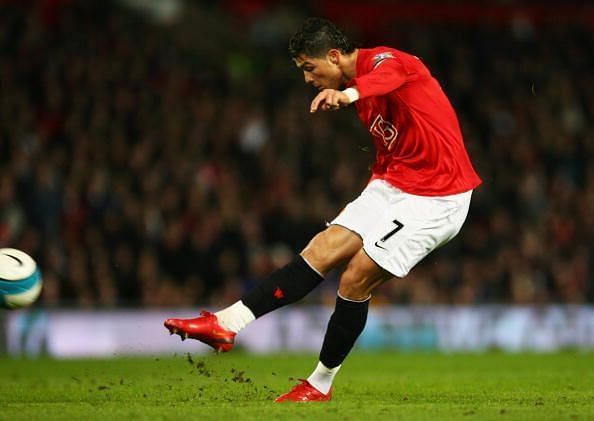 4. Alan Shearer- 31 Goals, Blackburn Rovers (1995-1996)
Former Blackburn and Newcastle United striker Alan Shearer, is the Premier League's all time leading goal scorer with 260 strikes to his name. He had scored 34 goals in the 1993-1994 and 1994-1995 seasons. But the league was bigger back then with 42 games being played. In his prime Shearer was one of the most complete strikers in Europe, capable of finding the net in every possible way.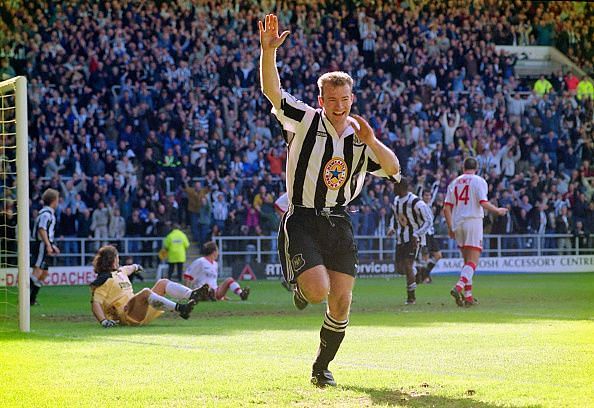 5. Harry Kane- 30 Goals, Tottenham Hotspur (2017-2018)
Spurs talisman Harry Kane may not have finished as the top scorer in England in the 2017-2018 season, but the 24 year old did enjoy his best ever Premier League campaign as he became the fourth youngest player to score 100 league goals. The England international has proven himself to be one of the best in world football in recent years, and with 108 goals in just 153 appearances Kane has a genuine chance of matching the all time record of 260 Premier League goals set by Alan Shearer.