Ronaldo Luís Nazário de Lima is a retired Brazilian professional footballer who played as a striker. Having played 98 matches for the Brazil national football team, he has scored 62 goals and is the second-highest goal scorer for his nation. He has scored 15 goals in the World Cup which was a world record until Miroslav Klose broke it in the 2014 FIFA World Cup.
Ronaldo is one of the only four footballers to have won the FIFA World Player of the Year award for three times (1996, 1997 and 2002). He won the Ballon d'Or twice (1997 and 2002). Struggling with persistent injuries, he retired from professional football in 2011. He last played for the Brazilian football club Corinthians.
Ronaldo Nazario Net Worth
Ronaldo Nazario garnered quite a bit of wealth during his football career playing for top clubs such as Barcelona, Inter Milan and Real Madrid.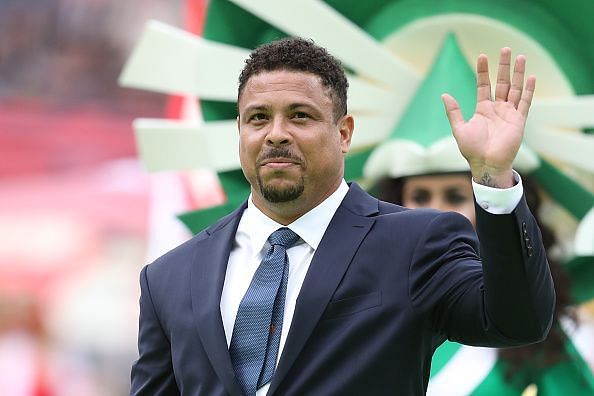 Ronaldo who is now the owner of Spanish side Real Valladolid, still has quite an impressive net worth.
According to Celebrity Net Worth, Ronaldo Nazario has an estimated net worth of about $160 million. His salary during his playing career was reported to be about $15 million.
Ronaldo Nazario Endorsements
Ronaldo has been sponsored by sportswear company Nike since the early part of his football career. In the year 1996, Nike signed Ronaldo to a 10-year contract and to a lifetime endorsement deal worth over $180 million. He has appeared in a series of Nike commercials and is still linked with them. He was linked with the original Nike Mercurial R9 which was designed especially for him during the 1996 FIFA World Cup.
The Brazil legend owns a 45% stake at the 9ine Sports and Entertainment agency (a company that has deals outside mainstream soccer). He acquired a minority stake in the Fort Lauderdale Strikers soccer team which plays in the North American Soccer League. Recently he owned 82% stake of Spanish side Real Valladolid which gives him the authority to control the main activities of the club.
House and Cars
Ronaldo owns a luxurious house in Rio de Janeiro. He also owns some of the expensive luxury cars like Ferrari, Audi A8, Lamborghini and Mercedes-Benz.
Charity Work
After his retirement, Ronaldo has continued his work as a United Nations Development Program Goodwill Ambassador, a position to which he was appointed in the year 2000. He was selected as an ambassador for the 2014 FIFA World Cup.
| | |
| --- | --- |
| Age | Source of Wealth |
| 45 | Soccer, Investments and Endorsements |
| Residence | Brands Endorsed |
| Rio de Janeiro, Brazil | Nike |
| Marital Status | Charity |
| Divorced | United Nations Development Programme |
Frequently Asked Questions
What problem did Ronaldo Nazario have?
Ronaldo was one of the greatest football players but his career was short-lived due to recurring knee injuries. Later, the player also confirmed that he suffered from depression during his career.
How many World Cups did Ronaldo Nazario win?
Ronaldo lifted two World Cups, in 1994 and 2002. He also held the record for the most World Cup goals with 15 until it was broken by Miroslav Klose.
Does Ronaldo Nazario have epilepsy?
Ronaldo notably suffered from seizures throughout his career, most critically before the World Cup final against France in 1998.