| | |
| --- | --- |
| Net worth | $115 million |
| Source of income | Endorsement Deals, Football Contracts, Investments |
| Date of Birth | 5th February 1985 |
| Country of Origin | Portugal |
| Club | Juventus |
When we talk about football, Cristiano Ronaldo is the first name that pops up in our heads. Cristiano has always been one of the most clinical goal scorers in football. Even at the age of 36 he is unstoppable and is regarded as one of the greatest of all time. In February 2022, he became the first person on this planet to cross 500 million followers across Facebook, Instagram & Twitter.
What is Ronaldo's net worth?
As of 2022, Cristiano's net worth is approximately $115 million. Forbes listed him 3rd on the list of The World's Highest-Paid Athletes 2022. Ronaldo earns around $70 million through his salary & winnings and around $115 million through endorsements.
His annual income is around $120 million. In addition to a lifetime deal with Nike, Ronaldo makes money off the pitch with his CR7-branded clothing, accessories, hotels, and gyms.
Cristiano Ronaldo's Career Earnings
In 2020, Ronaldo became the first active team-sport athlete to surpass $1 billion in career earnings. He had a four-year contract with Juventus worth an average of $64 million a year.
Cristiano Ronaldo's Endorsements
Ronaldo's 40% of his earnings come from his endorsement deals. Ronaldo is a marketing heavy weight.
He is associated with big brands like Tag Heuer, Clean Haircare, Herbal Life, Nike, etc.
Ronaldo has a lifetime deal with Nike and gets paid $20 million annually. His deal with Nike is said to be worth $1 billion throughout his life.
Cristiano Ronaldo's Investments.
Ronaldo has invested quite a few million in his trademark brand CR7. In October 2013, he started with CR7 underwear.
Later, he invested in launching chain of products like fragrance, footwear, shirts, gyms, jeans company and restaurants under CR7. He invested approximately £54 million in launching a global hotel chain with Pestana Hotel Group under the brand Pestana CR7.
Houses -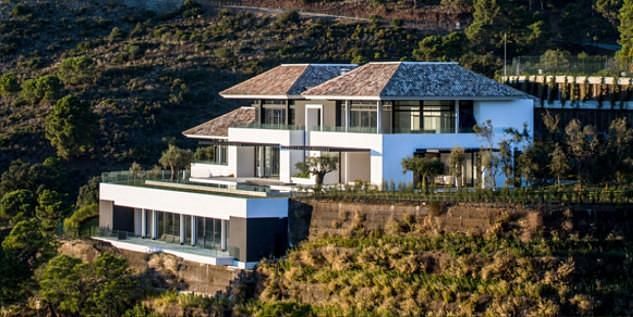 The player's seven Storey mansion is located in Funchal, Ronaldo's home city in Madeira, Portugal. The construction of the estate was finished four years after the ex-Madrid star bought the warehouse located there for an undisclosed sum and it's believed to have cost Cristiano around €8m.
He has an apartment in Trump Tower, New York worth $18.5 million. He owns Marbella villa in Malaga worth $1.6 million which is quite cheap for his stature but it's a pretty chill out spot for his family during holidays.
Currently he lives in Gran Madre de Dio villa, Turin, Italy.
Cars -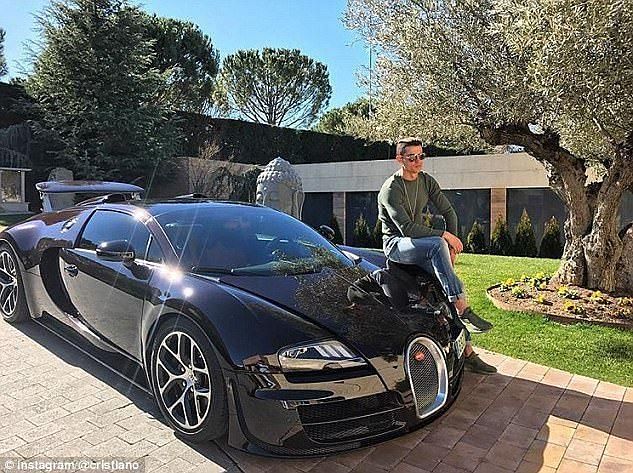 The Portuguese has multiple cars: notable ones are the Bugatti Chiron, Lamborghini Aventador LP 700-4, Aston Martin DB9 and, of course, his collection of Ferraris, which include 599 GTO, F430, and a 599 GTB Fiorano.
A Jet -
Ronaldo's private jet is a 2008 Gulfstream G650 model worth €57m: it has a kitchen, two bathrooms as well as 18 seats that can be folded to make nine beds. It is also the fastest private jet, able to reach a top speed of 610 miles per hour.
Cristiano Ronaldo's Other sources of Income -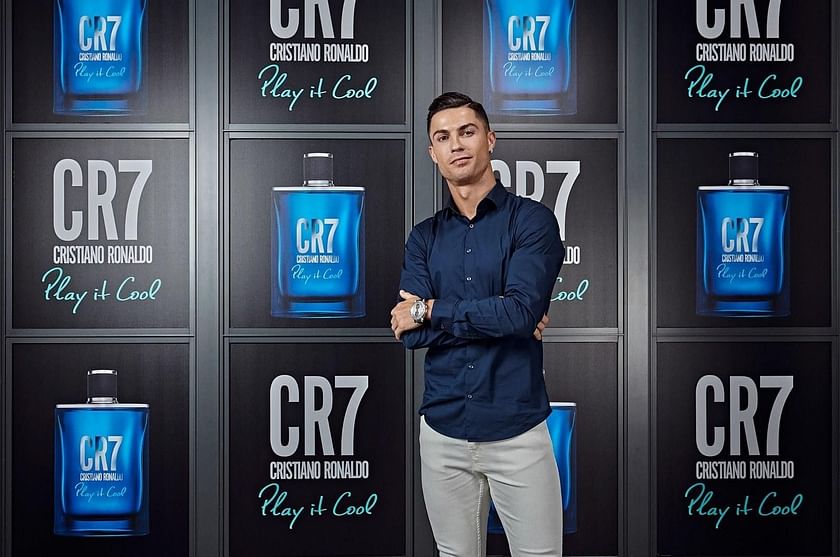 The other sources of income are mainly from the huge investments Ronaldo has made in his life.
The CR7 chain helps the Portuguese to generate a lot of revenue. Cristiano Ronaldo's CR7 brand is worth more than 100 million euros and is on a par with the port in terms of its importance to Portugal.
According to a marketing school. "Along with port, Cristiano Ronaldo is the most well-known Portuguese product in the world," Daniel Sa, the director of the Portuguese Institute for Administration and Marketing (IPAM), told AFP. Ronaldo's CR7 fashion label and other business ventures bring a huge amount of wealth into the country.
IPAM, which has been measuring the economic value of Ronaldo's brand over the years, estimates its worth at 102 million euros globally, although much of that comes from his social media profile. When you compare Cristiano to the previous stars of Portuguese football, like Luis Figo or Rui Costa, it's social media that has changed the goalposts.
Cristiano Ronaldo has shot to the top of Instagram's annual rich list of celebrities who can charge the most for a sponsored post, with the footballer able to command as much as $1.6 million to endorse a product on social media.
Cristiano Ronaldo's Expenditures
Cristiano Ronaldo's wealth is huge and so are his expenses. He has invested a lot in his houses. He is fond of cars and owns an unbelievable collection of cars. All of it has been mentioned above.
However, his efforts during the ongoing pandemic cannot be ignored. Due to the lack of hospital beds, CR7 hotels turned into a hospital and also made sure the facility was used free of costs.
Cristiano Ronaldo's Charity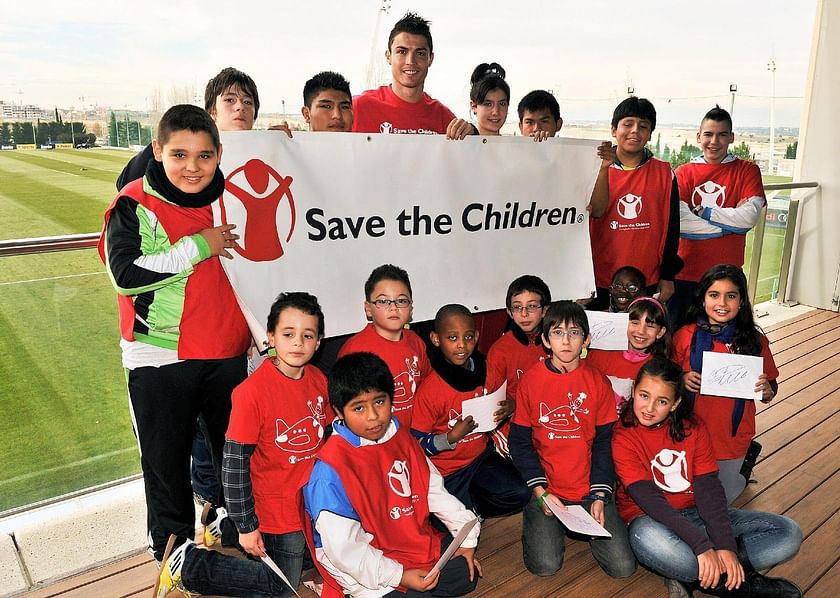 Ronaldo's efforts to fight COVID-19 are admirable but he has addressed several other global issues as well. Over the years, he has most notably been an ambassador for Save the Children, UNICEF, and World Vision, all humanitarian aid organizations.
In 2015, Ronaldo used his Twitter platform to bring awareness to the devastating earthquake in Nepal, which left thousands of people without homes or resources. He tweeted, "Help the children affected by #NepalQuake by supporting @SavetheChildren's relief efforts."
During the year 2016, Ronaldo donated food and medical care for children in Syria. To bring in more donations, he brought global awareness to Syrian children who face the ongoing effects of the country's civil war by tweeting, "A lot can happen in five years but for some refugee kids, nothing has changed. Don't forget about them."
In 2016, Ronaldo also helped develop an app that allows fans to "take a selfie" with the athlete. The app is available globally and a portion of the cost to download goes to Save the Children.
After his mother Dolores Aveiro survived breast cancer in 2007, Ronaldo regularly donates to breast cancer research. He also encourages blood donation by frequently donating blood himself. Ronaldo was named as the World's Most Charitable Athlete in 2015 for his contribution.