| | |
| --- | --- |
| Full Name | Nathan Mitchell Coulter-Nile |
| Date of Birth | October 11, 1987 |
| Nationality | Australian |
| Height | 6 ft 3 in (1.91 m) |
| Role | Bowler/Right-arm fast, Right-handed Batsman |
| Family | Amelie Coulter-Nile (Daughter), Shani Blay (Spouse) |
| Game Type | Mat | Inn | R | BF | NO | Avg | S/R | 100s | 50s | H | 4s | 6s | Ct | St |
| --- | --- | --- | --- | --- | --- | --- | --- | --- | --- | --- | --- | --- | --- | --- |
| ODIs | 32 | 21 | 252 | 262 | 6 | 16.80 | 96.18 | 0 | 1 | 92 | 20 | 6 | 7 | 0 |
| T20Is | 28 | 15 | 150 | 120 | 4 | 13.63 | 125.00 | 0 | 0 | 34 | 10 | 10 | 13 | 0 |
| T20s | 158 | 88 | 693 | 533 | 32 | 12.37 | 130.01 | 0 | 0 | 42 | 47 | 42 | 51 | 0 |
| LISTAs | 80 | 53 | 703 | 739 | 13 | 17.57 | 95.12 | 0 | 3 | 92 | 68 | 18 | 28 | 0 |
| FIRSTCLASS | 37 | 56 | 994 | 1389 | 3 | 18.75 | 71.56 | 0 | 3 | 64 | 125 | 23 | 24 | 0 |
| Game Type | Mat | Inn | O | R | W | Avg | E/R | Best | 5w | 10w |
| --- | --- | --- | --- | --- | --- | --- | --- | --- | --- | --- |
| ODIs | 32 | 32 | 279.4 | 1555 | 52 | 29.90 | 5.56 | 4/48 | 0 | 0 |
| T20Is | 28 | 27 | 97 | 802 | 34 | 23.58 | 8.26 | 4/31 | 0 | 0 |
| T20s | 158 | 155 | 564.3 | 4356 | 187 | 23.29 | 7.71 | 4/10 | 0 | 0 |
| LISTAs | 80 | 80 | 718.2 | 3647 | 146 | 24.97 | 5.07 | 5/26 | 2 | 0 |
| FIRSTCLASS | 37 | 63 | 1143.3 | 3557 | 124 | 28.68 | 3.11 | 9/125 | 2 | 0 |
Nathan Coulter-Nile: A Brief Biography
Nathan Mitchell Coulter-Nile is an Australian Cricketer who was born on October 11th, 1987, in Perth. The All Rounder plays for Western Australia, Perth Scorchers and Australia. He is a fast-medium bowler and a lower order batsman.
Table of Contents
Career
Domestic career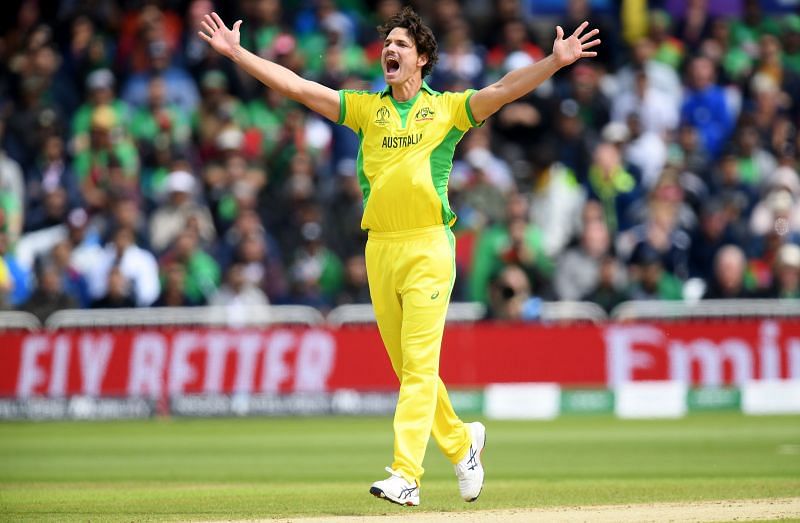 Coulter-Nile attended Aquinas College, when he played for the state U17 and U19 teams before representing Australia U19's in 3 Youth ODIs. He then was given a rookie contract by the Western Australian Cricket Association (WACA). He played there for several years before making his debut for the state team in the 2009-10 season.
He was part of the Perth Scorchers team in the 2011-12 season in the Big Bash League. He finished the season with 10 wickets at an average of 17.40. In 2012 he re-signed with the Perth team and finished the season with 10 wickets. However, he could not find success with the bat as he scored just 61 runs in the whole season.
Following the 2012 season he was called up to play for Australia A in the tour to England and South Africa. His wonderful performances in these matches made him a serious contender for National team selection.
IPL Career
Coulter-Nile played for Mumbai Indians in the 2013 IPL. He then played for Delhi Daredevils in the next 2 seasons of IPL. He was Delhi Daredevils' joint-highest wicket-taker in the 2015 season. The Australian then joined Kolkata Knight Riders in 2017 IPL, before the Royal Challengers Bangalore signed him up for the 2018 edition. He didn't play a single game during the course of two seasons but Mukesh Ambani's Mumbai Indians still shelled out Rs 8 crore for the pacer in the December 2019 auctions.
International Career
T20I Career
Coulter-Nile made his T20 debut for Australia in February 2013 against West Indies. He picked up 1 wicket in the match and scored 18 runs from 11 balls.
ODI debut
In May 2013, Coulter-Nile was named in Australia's 15-man squad for the 2013 ICC Champions Trophy, held in England and Wales in June 2013 but he didn't get a single game under his belt. He finally made his ODI debut on 14 September 2013 against England. Being injury-prone meant that the pacer was constantly in and out of the team. However, Coulter-Nile impressed in the ODI leg of the return Ashes tour at home, showcasing good pace and a good mix of variations to stifle the English batsmen. After having been second fiddle to Australia's main choice pacers for a long time, Coulter-Nile was picked to play his first World Cup in the 2019 edition. He played 5 games but only took 4 wickets. However, his standout performance came with bat. Coulter-Nile's 92 against West Indies is now the highest score by a batsman batting at No. 8 in the World Cup and the joint-second-highest by a No. 8 batsman in One-Day International cricket. It was also his maiden ODI half-century.
Background
Coulter-Nile was born in Perth, Western Australia, on 11 October 1987. He is the eldest of three children, and has two younger sisters.