10 things to know about Sim Bhullar, the first Indian origin basketballer to be signed in the NBA
38.19K //
Timeless
7ft 5 inch Sim Bhullar has become the first Indian origin player to be signed by an NBA franchise. Bhullar's signing with the Sacramento Kings' summer league team is the closest a player with Indian genes has got to the NBA, the world's richest and most popular basketball league. As he tries to impress the scouts this pre-season, it is still a big "IF" whether he will actually be a part of any NBA roster when the 2014-15 season tips off.The reason basketball fans are beginning to go nuts is because this is a watershed moment for the sport in India, akin to a desi footballer getting signed on to play in the English Premier League. That's how big this is! So as the Bhullar wave spreads across the country, we take this opportunity to present to you 10 things to know about the 21-year-old who is being touted as India's Yao Ming.
#1 Where is he really from, and what is the extent of his connection to India?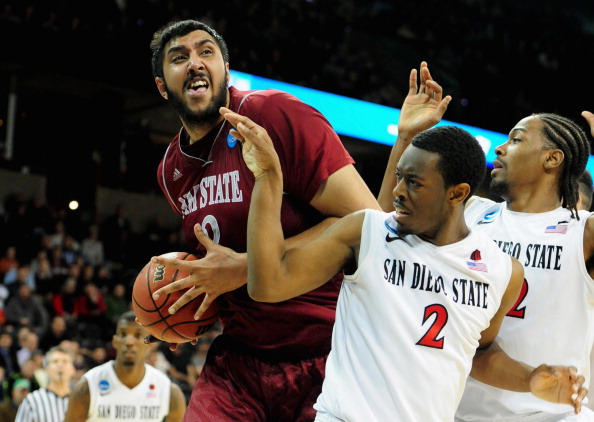 Bhullar's parents migrated from Punjab to Toronto, Canada in the late 1980s. Bhullar was born and brought up as a full Canadian citizen. He has even represented the Canadian national basketball team at the U-18 (Junior) level. The last time he visited India was in 2011 to pay his respects at the famous Golden Temple, Amritsar, the holy shrine for Sikhs. "I feel like I represent India and Canada equally," he has been quoted as saying.
#2 He can block shots without jumping
Yes. Bhullar doesn't have to necessarily jump to block shots aimed at the 10 foot high ring that is just two and a half feet above his head. Also, at 360 pounds, his mammoth bulk automatically makes him a shot-altering presence in the paint. Opponents have to think twice before trying to score over his 9 foot standing vertical reach and 7ft 9 inch horizonal wingspan. This is one reason why the Indo-Canadian led his New Mexico State University college team in blocks per game.
#3 He makes tall players look small, which is not always a good thing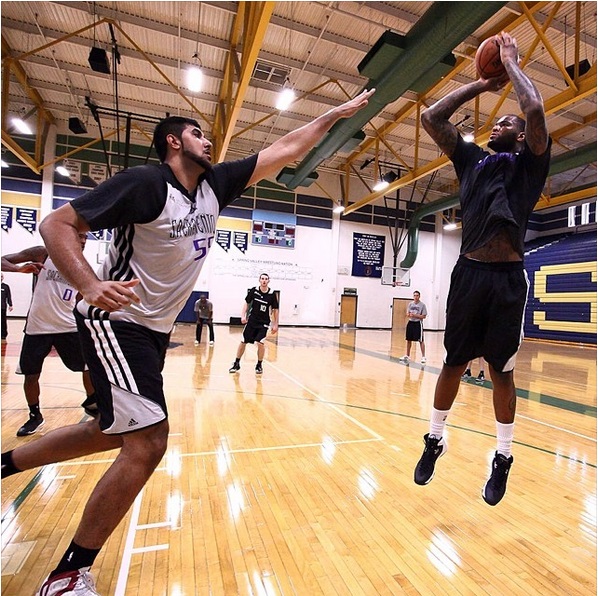 The player shooting the ball next to him in the picture is 6ft 11 inch Sacramento Kings centre DeMarcus Cousins. Bhullar makes it look like he can fold Cousins up and fit him into his pocket. Okay, maybe that's an exaggeration, but you get the point.
That said, the obvious advantages apart, Bhullar's size also comes with certain tactical disadvantages. When a big man like him is on the floor, his team is forced to adopt a slower half court offense. Also, smaller opponent centres (whose centre of gravity will be lower) can change direction quicker and blow by him.
Bhullar will need to continue working on his agility and shed more pounds if he wishes to become an elite professional basketballer.
#4 He has a special training regime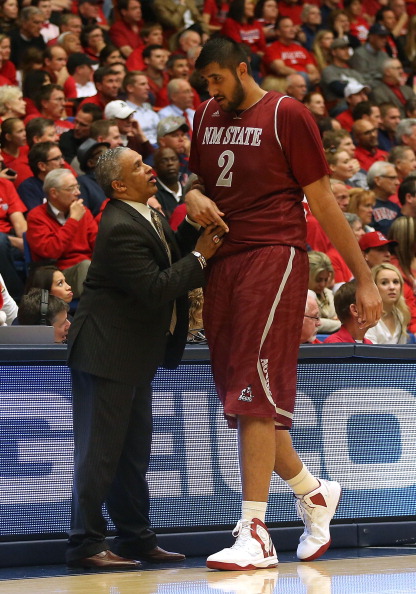 There has never been a player quite like this Toronto native. In the past, players above 7ft 5 inches were usually always skinny (Manute Bol, Yao Ming). Most of the existing basketball training routines involve a lot of conditioning work, that is, sprints and suicides.
But with Bhullar, such training methods are thrown out of the window. His huge bulk means there is tremendous strain on his knees in hauling 360 pounds up and down the court. His perceived higher risk of sustaining injuries is one of the reasons Bhullar gave for forfeiting his two remaining years of college to declare his eligibility for the 2014 NBA draft.
#5 He has Tall Man troubles off the court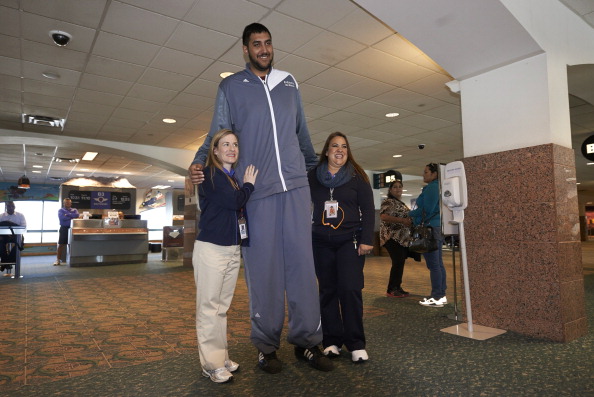 We all want to grow that extra inch, but gigantic men like Bhullar face their own headaches. Clothes don't fit, shoes have to be custom made, they can sit only on exit row seats in flights with extra leg room, and their heads keep hitting doorways! Being so big also means this seven footer can never sneak around without attracting stares, with incessant pleas for autographs wherever he goes. "I'm used to the attention, pictures, getting stopped all the time," he says.
#6 He loves butter chicken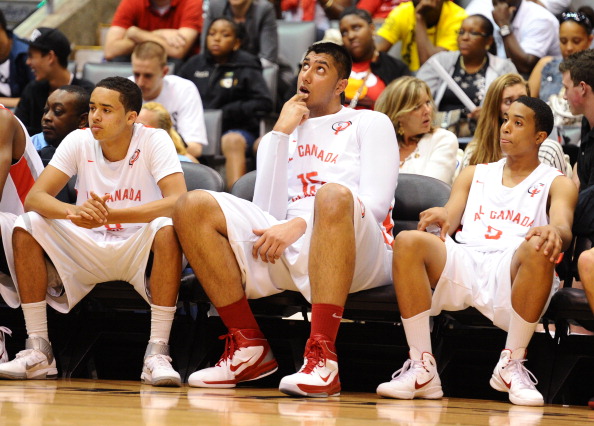 Despite playing on the Canadian junior national team, when it comes to matters of the stomach, he is very much Indian, and a true blue Punjabi at that. "I love my mother's butter chicken the most", he told Sports Illustrated. After deciding to pursue basketball seriously though, this NBA hopeful stays away from high calorie and fatty foods and instead opts for lean proteins to shed his extra pounds.
"Leading upto the draft I have lost 17 pounds within one month of training at the Impact Basketball Academy in Last Vegas," he has been quoted as saying. Looks like the butter chicken will have to wait until after retirement. Poor him!
#7 He is media savvy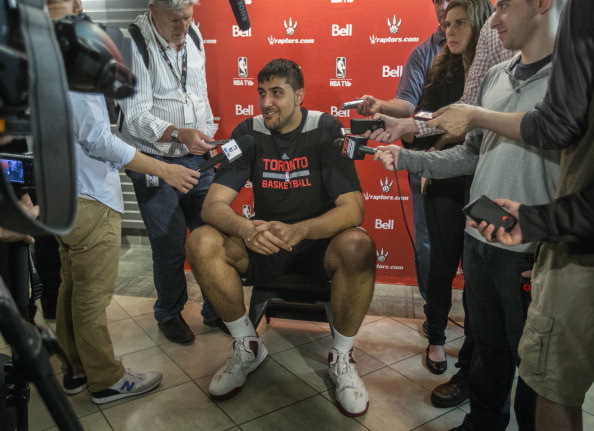 Every Indian sport needs a marketable "face" to catapult it into mainstream public attention and popularise it among the youth. Just like the way cricket has MS Dhoni and Virat Kohli, tennis has Leander Paes, Mahesh Bhupathi and Sania Mirza, badminton has Saina Nehwal and P V Sindhu, and boxing has Vijender Singh, basketball desperately needs a spokesperson that handles the media like a pro and promotes all the wonderful values that this game stands for. So far, the 21-year-old has been easy and relaxed while facing a barrage of cameras, mikes and reporters.
#8 The front office Indian connection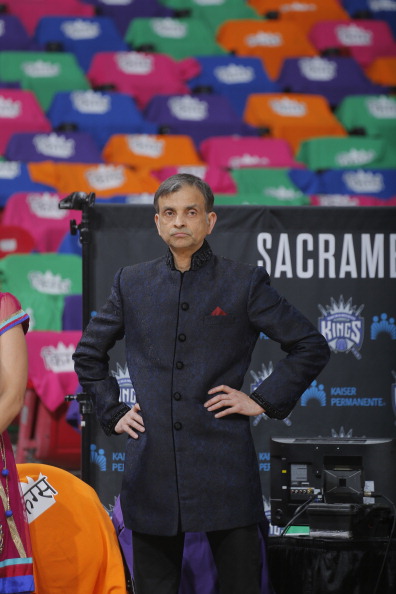 Sim Bhullar wasn't in the top 60 picks on draft night. He was subsequently signed by Sacramento Kings for their summer league programme. It was no coincidence that of the 30 NBA franchises, it was the one with a majority Indian owner that picked him. Kings were purchased by a consortium led by Mr Vivek Ranadive, an Indian businessman who left Mumbai for the US in the 1970s, "with just 40 dollars in my pocket" and then went on to found TIBCO, a multi-billion dollar software company.
Many argue that Bhullar's signing has nothing to do with his talent, but came about simply because of the India connect between him and Ranadive. However, there is no doubt that this signing is a shrewd business move to open up the Kings' and NBA's market in the world's largest democracy. It is up to the player now to prove that his talent matters more than his roots.
#9 Bhullar may get trained by Shaquille O\'Neal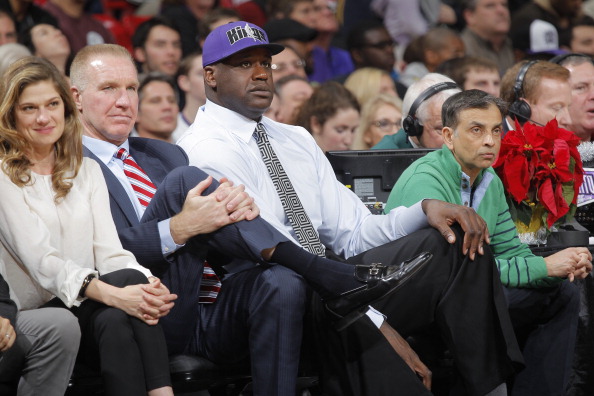 Not many may know this, but one of Sacramento Kings' minority owners is none other than the legendary Shaquille O'Neal. Shaq is arguably one of the greatest centres to have played in the NBA, winning four Championships (three as a Los Angeles Laker and one with the Miami Heat) and finishing sixth in the league in all time scoring.
While Shaq's decision to buy a slice in a team he once dissed as the "Sacramento Queens" was considered surprising at that time, who better than the original 'Superman' to take this fellow seven footer under his (giant) cape? No doubt, the youngster will make the most of this opportunity to learn from the man with the many monikers!
#10 ...And there is two of him!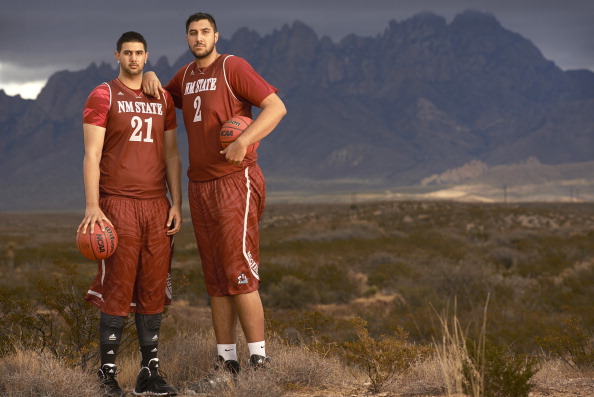 As if one seven footer is not enough, Sim also has a younger brother Tanveer who is 7ft 3 inches tall. Tanveer too is a talented basketballer and just like his brother did before him, hasjoined New Mexico State University on a full sports scholarship. The twin towers are known as the Bhullar Brothers. We hope Tanveer continues following his brothers footsteps all the way into the NBA!