The NBA 2018 Draft was held in Brooklyn in the Barclays Center on June 21st, 2018. It was the last draft before the new lottery odds came into force. The lottery took place on May 15th, 2018 and the order of the draft picks were decided.
The Phoenix Suns had bagged the #1 draft pick, by virtue of having the worst record in the NBA that season. The Sacramento Kings had the #2 pick and the Atlanta Hawks rounded up the top 3 picks.
This draft class was loaded with some top quality talent that had come into the league both from different continents and mostly from the college circuit. Players like DeAndre Ayton, Trae Young, Jaren Jackson Jr. had led the players from the college level while Luka Doncic was a very sought after target from Europe.
•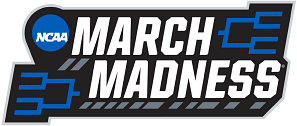 On draft day, The Dallas Mavericks traded their #5 pick for the #3 pick of the Atlanta Hawks and traded away their 2019 first round pick as well, which was protected from 1 to 5. The Philadelphia 76ers traded their #10 pick for the Suns' #16 pick and the 2021 Miami first round pick as well.
DeAndre Ayton was selected first overall by the Phoenix Suns, while the Sacramento Kings selected Marvin Bagley III. Atlanta Hawks drafted Luka Doncic and traded him to the Dallas Mavericks for Trae Young and the future 2019 first round pick.
Memphis Grizzlies chose Jaren Jackson Jr. in the 4th pick and Orlando Magic selected Mohamed Bamba to round off the top 6 selections. With most of the regular season done, let us look at the top 5 rookies from the class of 2018 this season.
---
#5 Shai Gilgeous-Alexander (Los Angeles Clippers)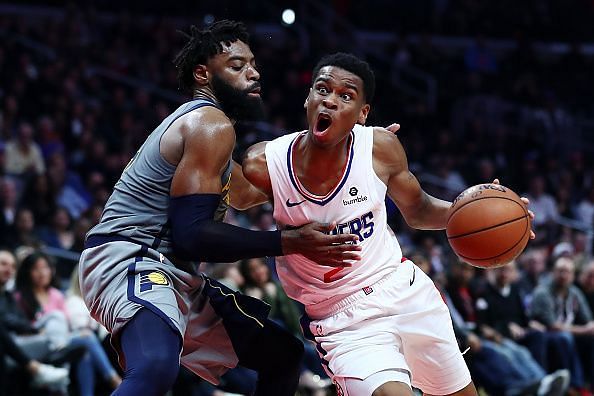 Shai Gilgeous-Alexander was drafted 11th in the 2018 NBA draft by the Los Angeles Clippers and was an instant favourite for both the fans and Doc Rivers in the rotation. The 20-year-old guard is widely considered as one of the best players in the draft as his stature, standing at 6 feet 6, is something most teams prefer at the point guard position.
His defensive game was already pretty good and has been great even in the NBA, his 7 feet wingspan coming in handy, whether it is swatting shots or stealing the ball. He was pretty much NBA ready coming into the draft and fell to the 11th spot.
His most advanced skill is his ability to create pick and roll situations, with the ability to switch onto bigger players due to his size. His passing ability, as well as his finishing at the rim, are great for a rookie coming into the league.
This season, he has played 75 games for the Clippers, averaging 26 minutes a game and has shot an efficient 46.8% from the field. His 3 point shooting needs some more work as he taking just 1.7 shots a game from beyond the arc, making 36.5% of them.
He is also scoring 10.4 points a game, along with 3.2 assists, 2.7 rebounds and 1.1 steals a game. His game is improving with each day and while the defence is already there, his offensive game is only getting better day by day.
#4 Jaren Jackson Jr. (Memphis Grizzlies)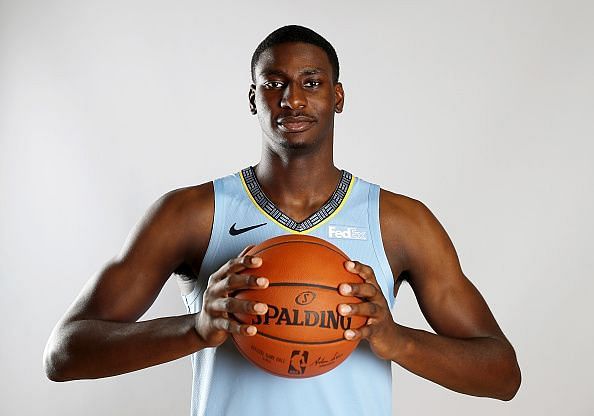 Jaren Jackson Jr. has been one of the best players this season and could have improved on his game this season itself, but a quad injury has kept him out for an extended amount of time. The Memphis Grizzlies drafted him at #4 and he has become an instant franchise favourite.
Jackson shows qualities that make him a future franchise cornerstone player. The 19-year-old was one of the youngest players in the draft and his size is what made him an attractive prospect in the NBA.
Standing at 6 feet 11 inches with a 7 feet 2 wingspan, Jackson is able to play at both power forward and what is considered his best position, as a center. He was a solid defensive player in college and has been a force to reckon with the NBA as well.
In the 56 games, he has played this season, Jackson has averaged a solid 13.8 points per game, along with 4.7 rebounds and just under 1 steal a game. His rim protection has been elite, blocking 1.4 shots a game on an average.
His ability to space the floor has also been something that has been great for the Grizzlies, as he is taking 2.4 3 pointers a game and makes them at 36%. He is an efficient player and can shoot free throws at a great rate of 76.7%, which makes his future in the league bright.
His only drawback this season has been the huge number of fouls that he tends to rack up in a really quick time on the floor, which has been limiting his overall ceiling. When he is able to learn to avoid silly fouls, his limit might be a whole another level.
#3 DeAndre Ayton (Phoenix Suns)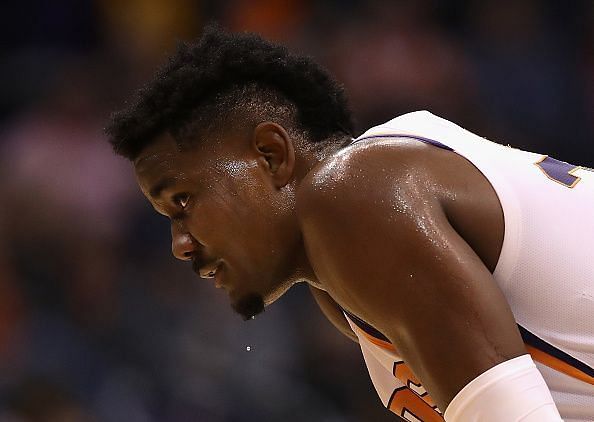 In any other draft class, Ayton may have ended up as the best rookie in class and would have had a lot of the media talking about him as the rookie of the year. He has in no way been disappointing but has still ended up on the #3 spot on this list.
The 7 foot 1-inch center has been the 2nd best player on one of the worst teams in the NBA and has improved his game as the season has gone along. His 7 foot 5 wingspan was considered to be a huge factor in him being a rim protector, but it has failed to translate into the NBA.
His footwork and offensive game are almost second to none among all the rookies, as he is even able to keep up with smaller players and defend well. He has gotten better over the season, his offence and defence have both improved.
Coming out of college, his offence was regarded as one of the best and is both a great pick and roll player as well as a mid-range shooter. He has been efficient in the NBA as well, shooting at 58.6% from the field and 74.7% from the free throw line as well.
He is averaging 16.3 points per game, along with 10.2 rebounds as well. He has 0.9 steals and blocks a game, which will only end up getting better as his career progresses. He needs better teammates around him too to improve his game and he can be one of the best 5s there are in the league.
#2 Trae Young (Atlanta Hawks)
When the Hawks traded their #3 pick for the #5 pick and another 2019 first round pick, their decision was met with widespread doubts and criticism, for choosing Trae Young, over Luka Doncic, a proven EuroLeague star.
But Trae has proved his detractors wrong and has catapulted to new levels of form in the weeks after the All-Star break. He has shown the type of game he possessed during his time at Oklahoma and why the Hawks were okay with trading down for him.
Even though he is known as "Baby Steph" by many - for his unlimited and accurate range for shooting the 3, his best skill that goes somewhat unnoticed, is his ability to pass the ball. He is an elite playmaker for the Hawks and has single-handedly won games for them this season.
The 6-foot 2-inch guard was one of the shortest players in the draft and had doubts about his game being just as effective in the NBA. Though his shooting percentages were in the low 30s, he overcame them and now is red hot from beyond the arc, shooting at 40% in February and March.
He is averaging a super 18.9 points a game, 7.9 assists and 3.6 rebounds a game. He has started and played all 75 games for the Hawks, averaging just under 31 minutes a game. His defence too has not been bad, getting a combined 1 steal and block per game.
He has shown himself to be a clutch player as well, winning games for the Hawks when it matters and if Young keeps his upward trajectory going, he is going to be in for a shout for the Rookie of the Year award as well.
#1 Luka Doncic (Dallas Mavericks)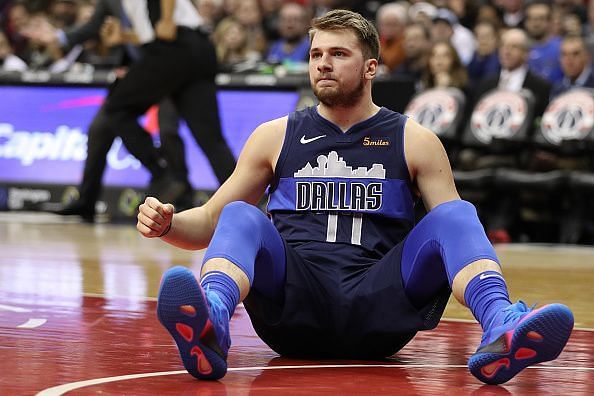 The Dallas Mavericks probably made the best decision in recent franchise history by deciding to trade up for their man Luka Doncic in the 2018 NBA draft. He has probably been the best rookie in the NBA for a long time and is playing that way.
Luka Doncic just turned 20 and is currently averaging 21.1 points, 5.9 assists and 7.6 rebounds per game. He is the first player since Michael Jordan to average 21 points, 5 assists and 6 rebounds per game.
Since the start of his NBA career, he has been carrying the Mavericks franchise on his back and led them to a number of huge victories and they were in the hunt for the playoffs, just because of adding Doncic.
Ever since trading away Harrison Barnes and then Dennis Smith Jr, DeAndre Jordan for Kristaps Porzingis, the Mavericks have not stayed competitive, which have dampened Luka's contribution, but he still is performing every night.
He is shooting an efficient 42.6% from the field and is making the step-back his shot as well. He is not an explosive player, but he can still drive to the rim and create space, is an elite playmaker and can also handle the ball really well.
The 6 foot 7 forward plays as a point guard and creates matchup problems for his opponents, both on offence as well as defence. He is currently the Rookie of the Year and most would expect it to stay this way unless something really untoward happens.
He has in a class of his own for most of the season and while the number of games played has fatigued him, he has not slowed down so much so that other rookies can beat him to the Rookie of the Year award.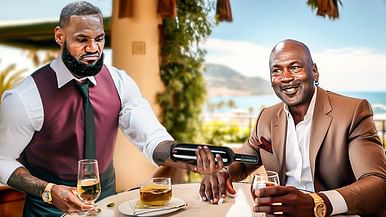 How is Michael Jordan officially richer than NBA's 10 richest players?!
Edited by Debjyoti Samanta