NBA MVP Watch: Week 4
926 //
23 Nov 2012, 21:04 IST
After 4 weeks of adrenaline pumping basketball, here's how the MVP race is shaping up:
1) LeBron James (Last Week: 1) – Team record: 9-3 – 24.8 ppg, 6.6 ag, 9.1 rpg, 52% FG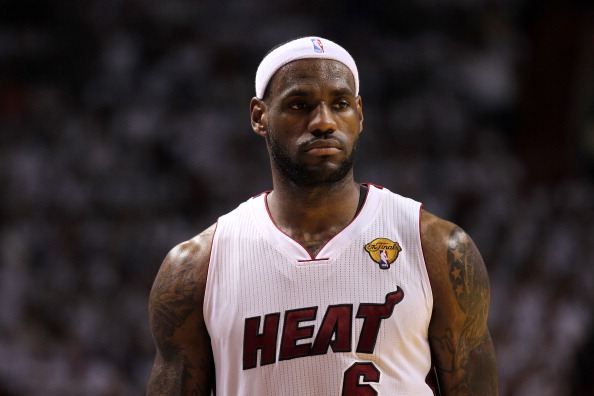 Well, LeBron James still has flaws. He still falls ill. He's shooting a career-low 64% from the free throw line. His scoring average is the lowest since his rookie season. He's human. He's flawed. Though you wouldn't be able to tell from the Heat's performance. After a ho-hum 3 quarters in Miami against the visiting Bucks, Bron took over in the fourth – and overtime – when the Heat needed him. "LeBron is not clutch!" is another narrative that has fallen apart this season.
2) Kevin Durant (Last Week: 2) – Team record: 9-3 – 25.4 ppg, 4.7 apg, 10.1 rpg, 49% FG
The awful part of the intense scrutiny on Westbrook and his play post-Harden is the lack of spotlight on what is turning out to be a career year for Durant. The Durantula posted his first career triple-double against the electric Warriors on Monday and has worked hard on finding the open man this season. If only Westbrook followed suit – but that is a tragedy for another day. Durant's closing the daylight between Bron and, who knows, it  might just make this year's MVP race race partially interesting.
3) Chris Paul (Last Week: 4) – Team Record: 8-3 – 15.6 ppg, 9.9 apg, 3.5 rpg, 2.4 spg,  45% FG
"There's a saying in the West Indies: ten boys together don't make a team, they make a gang. Clive Lloyd was a leader – not just a captain – a leader, who made them a team." Lines from the astonishingly good "Fire in Babylon." Sums up the general's role in Lob City perfectly, no? In other news, the Clips have added San Antonio and Miami to their victory belt and almost conquered the Thunder in Oklahoma. They might just be the best current team in the NBA (three way tie with the Heat and the Grizz).
4) Carmelo Anthony (Last week: 3) – Team record: 8-2 – 24.1 ppg, 2.0 apg, 7.3 rpg, 44% FG
The Knicks have cooled a bit after their historic start with losses in Dallas and Memphis this past week. In their big win over San Antonio, though, the Knicks pulled away on the stellar play of once-obese-now-superstar Raymond Felton, with Melo scoring only 9 points. Otherwise, Anthony is still going strong, with the sulky superstar having totalled 20+ points in 9 of the Knicks' 10 games.
5) Tim Duncan (Last Week: 8) – Team Record: 9-3 – 18.2ppg, 10.4 rpg, 2.5 apg, 2.5 bpg, 51% FG
The Big Fundamental has three 20/10 games twelve games into the season and the ever-proficient Spurs are 9-3. Coincidence? With Manu struggling and Cap'n Parker drifting? I think not. Oh, and those 20/10 games? They came against BOS and LAC in the previous two Spurs games. A since of more to come? Is Tim Duncan back in the Top-15 NBA players? Can he – at age 36 – lead the Spurs to another title? A bit premature the question may be, but nothing is impossible for the Spurs if Duncan keeps this up.
6) Kobe Bryant (Last Week: NR) – Team Record: 6-6 – 27.3 ppg, 5.3 apg, 5.3 rpg, 1.5 spg, 53% FG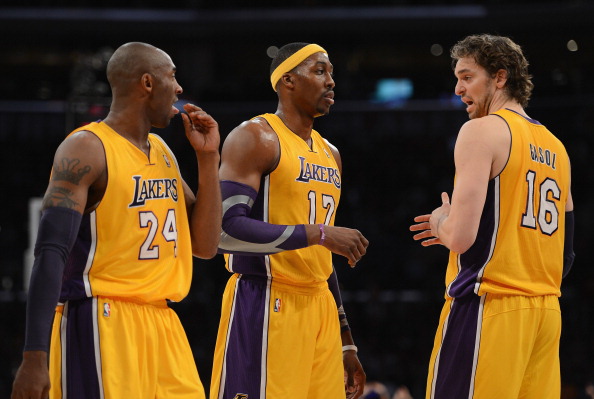 The Lakers are at .500, which means the league's leading scorer finally makes our MVP column! Kobe is having an insanely efficient offensive season, but every time I watch him play (especially in crunch time hero-ball) I can't help but thinking: The probability of a Lakers win is inversely proportional to the points scored by Kobe. Irrational? Maybe. But Kobe thankfully backed me up with 38 points in a blowout loss against the egregious Sacramento Kings, after being bailed out with an *ahem* superstar-call by the refs in the final minute of the sloppy win over Brooklyn after ineffective 4th quarter hero-ball.
7) OJ Mayo (Last Week: 9) – Team record: 7-6 – 22.2 ppg, 2.9 apg, 3.2 rpg, 50% FG
How are the Mavs above .500 without Nowitzki and with a completely new team? If your answer doesn't have "OJ" and "three-point bomber  who is shooting AN INSANE 56% ON 5 ATTEMPTS A GAME!" in there, your argument is invalid. Look, there are probably better players at #7 (like either of Memphis' Twin towers), but what Mayo's doing with the Mavs – after a lacklustre career hitherto – is a special story.
8) Zach Randolph (Last Week: NR) – Team record: 8-2 – 16.7 ppg, 13.8 rpg, 1.0 apg, 47% FG
Z-BO is back, baby! The league's leading rebounder had an excellent week, continuing his double-double binge (10 and counting) with two 20-10 games and a showdown gangsta-style with Kendrick Perkins, for which he was later fined 25k by the league. Z-Bo's hustle on the offensive glass has been a big factor for the surging Grizz, and along with Marc Gasol (whom he recently compared to Arvydas Sabonis) figures to be part of the best frontcourt in the NBA. Also: in a five day stretch, Memphis beat the Heat, Thunder and Knicks (by at least 10 points each). Unsurprisingly, Z-Bo averaged 20/12 in those 3 games.
9) Rajon Rondo (Last Week: 5) – Team Record: 6-6 – 14.0 ppg, 13.3 apg, 4.2 rpg, 52% FG
Look, I get it, the dude wants his record (Magic Johnson's 45 game streak of 10 or more assists) but he needs to do more for the Celts. He's already posting career numbers across the board, but with the departure of Ray Ray and Avery Bradley still out, Rondo needs to go into Beast Mode for the Celtics to have any shot of dethroning the Heat in the East. The Celtics have consistently lost to teams above .500 this season, and to be honest, Rondo's national-TV-game-or-nothing performances are getting a little wearisome.
10) Marc Gasol (Last Week: NR) – Team Record: 8-2 – 15.1 ppg, 7.2 rpg, 4.6 apg, 1.3 bpg, 50% FG
Marc Gasol might just be the most complete big man in the NBA. He passes like a point guard, scores like an European power forward, plays Center defense and has the league's leading rebounder for a partner. Gasol does the small things on defense and in the offensive sets so well that it's impossible not to feel overwhelming rushes of admiration upon watching him. It would be just wrong to have Z-Bo in our column and not Marc.
Close, but no cigar: Kyrie Irving (CLE), James Harden (HOU) and Dwight Howard (LAL)