LA Clippers veteran point guard Russell Westbrook has had an extremely eventful career since being drafted No. 4 by OKC in the 2008 NBA draft. Over 15 seasons and counting, Westbrook has racked up a ton of personal accolades and has broken numerous records.
Yet, he is still widely viewed as one of the most polarizing superstars in NBA history. This comes as many have debated whether Westbrook's playstyle translates to winning. However, most would probably still agree that Westbrook was one of the most electric, entertaining players ever during his peak years with the Thunder.
As for Westbrook's personal accomplishments, he has made nine All-Star teams and nine All-NBA teams. Westbrook was also named the 2017 NBA MVP after capping off a historic season with the Thunder. The then-superstar point guard became the first player since NBA legend Oscar Robertson (1961-62 season) to average a triple-double for an entire season. Westbrook has now done so in four different seasons. This resulted in him passing Robertson to become the NBA's all-time triple-doubles leader in 2021 (198 triple-doubles and counting).
•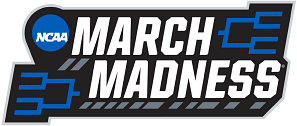 After breaking Robertson's record, Westbrook paid tribute to the NBA legend. He then spoke about how much of an honor it was to be mentioned in the same breath as some of the best point guards in league history:
"I normally don't like to pat myself on the back, but tonight I will just because I'm so grateful for the ones before me and so blessed to the man above to allow me to go out and do it," Westbrook said.
"I take this job very seriously and I'm super grateful for my teammates and coaches on my journey so far. ... It's just a blessing. You put so much into the game. You put in so much time. You sacrifice so much and to be able to be mentioned with guys like Oscar and Magic (Johnson) and Jason Kidd and those guys, it's just something I never dreamt about when I was a young kid growing up in LA. I'm truly grateful for moments like this."
Some of Russell Westbrook's other career accomplishments include being a two-time NBA scoring champion and a three-time assists leader. He has also won two All-Star Game MVPs.
However, arguably Westbrook's most prestigious honor came when he was named to the NBA's 75th Anniversary Team in 2021. This cemented Westbrook as one of the 75 greatest players of all time, as voted on by a panel of experts. So, love him or hate him, there's no denying that Westbrook has the resume of an all-time great.
Also read: "Very important having him back": Kawhi Leonard stresses the significance of bringing Russell Westbrook back to the Clippers
---
Damian Lillard says criticism of Russell Westbrook is crazy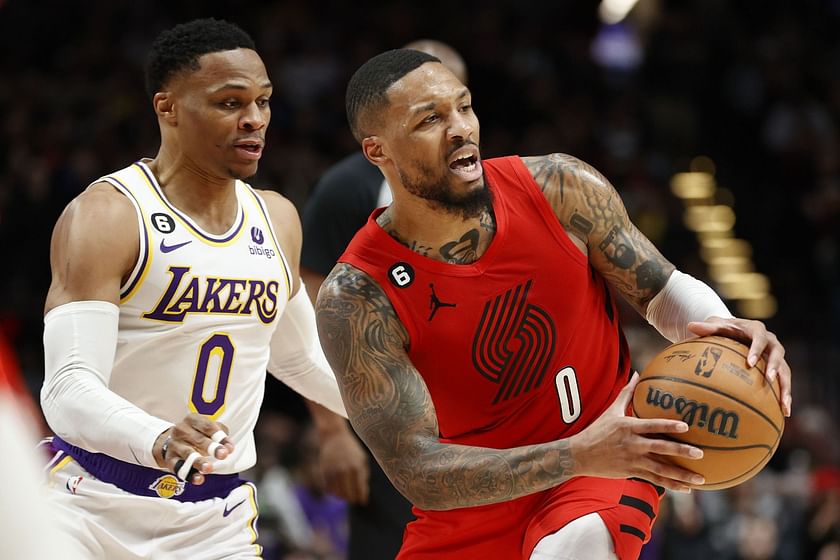 While Russell Westbrook is often heavily criticized by fans and analysts, his fellow NBA stars usually have his back and appreciate his talent. This includes Portland Trail Blazers superstar point guard Damian Lillard, who recently called out Westbrook's longtime haters.
During an appearance on the "Back on Figg" podcast, Lillard said that it's crazy how disrespected Westbrook is. He added that Westbrook has become an easy target for critics before saying that his naysayers should be disregarded:
"The way they be talking to Russ is crazy," Lillard said.
"The fact that people talk on his name and how they be just making him an easy target and a subject and everything like that, that s**t is just crazy to me. But it also shows you how this game is and how people are and why you can't really put no stock into none of this s**t. When you good with 'em, you good with 'em. When you bad with 'em, everybody be just throwing darts."
(56:33 mark below)
Over 15 seasons, Russell Westbrook has career averages of 22.4 points, 7.3 rebounds, 8.4 assists, 1.6 steals and 1.1 3-pointers per game on 43.8% shooting.
Over 73 games with the LA Lakers and LA Clippers last season, he averaged 15.9 ppg, 5.8 rpg, 7.5 apg, 1.0 spg and 1.2 3pg on 43.6% shooting.
Also read: "It's taken 16 years to learn your language": Nina Westbrook hints at the reason behind Russell Westbrook's unsuccessful stint with the Lakers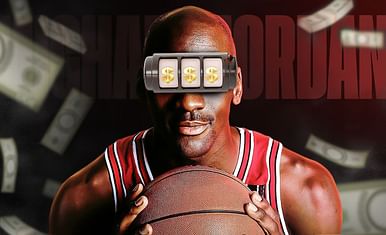 How did Michael Jordan's gambling "habit" taint his image?
Edited by Shamik Banerjee