When the NBA began back in 1946, it was all about the big men. The team with the tallest player won and if there were two players equally imposing, it came down to who could out-skill whom. In the 1960s and 70s, almost every major league accolade was won by a big man, namely the duo of Bill Russell and Wilt Chamberlain.
As decades rolled on, the dependency on the center position (the team's big men) dwindled. And with the current fast paced nature of the league, it gets ever so difficult for the 7-footers to stay with the play.
However, in the decades that have gone by there have been players who've made a name for themselves at the center position. "Made a name" is a huge understatement.
•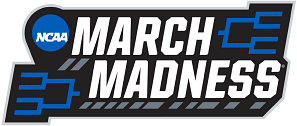 Here are the top 5 from the list of those players.
#5 Hakeem Olajuwon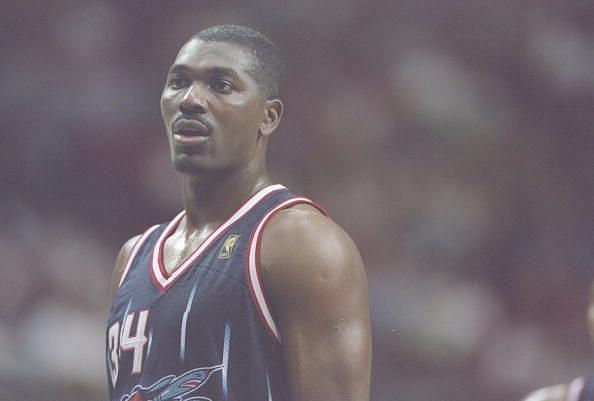 Career Averages: 21.8 points, 11.1 rebounds, 3.1 blocks, 51.4% FG
Notable Achievement: Only player to win NBA MVP, Finals MVP and Defensive Player of the Year in the same season
Hakeem Olajuwon is the reason Houston Rockets can hold their head high. They are probably the last team in NBA history to have won not one but two championships with a roster constituting of just one star.
Olajuwon was the founding father of the unstoppable post-move - the Dream Shake. Star players since his time have gone back to him, even when he is in his 60s, to perfect their post-game. He was close to unguardable in the post and to make matters worse for the defence he also had an effective mid-range jumper in his arsenal.
Olajuwon was effective not only on offence but also on defence. He is the all-time leader in blocks with 3830 and is a two-time winner of the NBA's Defensive Player of the Year Award.
#4 Shaquille O'Neal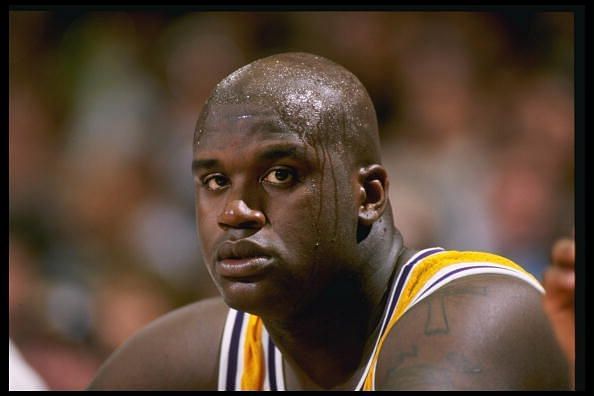 Career Averages: 23.7 points, 10.9 rebounds, 2.3 blocks, 58.2% FG
Notable Achievement: Only second player after Michael Jordan to be named Finals MVP three consecutive years
Probably the most dominant player ever.
Shaquille O'Neal, the 15-time All-Star, in his prime, was an unstoppable force. He had the jump hook, he had the spin move, he could pass out of the double team from the post but what set him apart from every other center was his mobility for a man of his size.
O'Neal along with Kobe Bryant led the Los Angeles Lakers to three straight titles from 2000-02. He went on to win another title with the Miami Heat in 2006. Just like Hakeem, Shaq was imposing on both ends of the floor. He ranks 8th on the league's all-time list for blocks, with 2,732.
Shaq is the most recent player on this list to be inducted into the Naismith Memorial Basketball Hall of Fame, as a member of the Class of 2016.
#3 Bill Russell
Career Averages: 15.7 points, 22.5 rebounds, 4.3 assists, 44% FG
Notable Achievement: 11-time NBA Champion
Offensively, Bill Russell isn't as capable as any of the centers on this list but what he brought to the table was more than just his defence. And mind you, his defence was instrumental in the Boston Celtics winning eight straight championships and 11 in 13 years from 1957-1969.
During his time, blocks were not counted. Otherwise, his blocks per game average would have featured on the list of "all-time records that will never be broken". His regular season MVP tally of five is tied with Michael Jordan for second highest.
Russell was a leader. In the Celtics' last two championship wins of the 1960s, he was not just a part of the team as a player but also the team's head coach.
#2 Wilt Chamberlain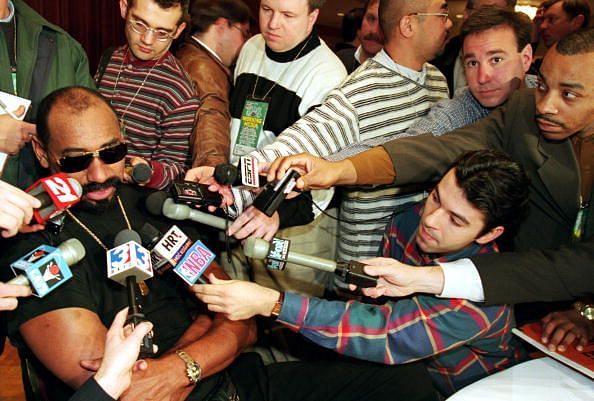 Career Averages: 30.1 points, 22.9 rebounds, 4.4 assists, 54% FG
Notable Achievement: Only player to average 50.4 points per game in a season
If this list only took into account statistics, Chamberlain would have probably been at the top. He began his NBA career by averaging 37.6 points and 27 rebounds in his rookie year. Not just that, he took home the scoring title for the first six years of his career.
It would be safe to give Wilt Chamberlain the nickname "Scoring Machine". Not only is he the only player to average 50.4 points per season, he is also the only player to score 100 points in a single regular season game.
Wilt was named the league MVP four times, three in a row from 1965-68. He is a two-time NBA Champion but that came after six shots at the ultimate prize.
#1 Kareem Abdul-Jabbar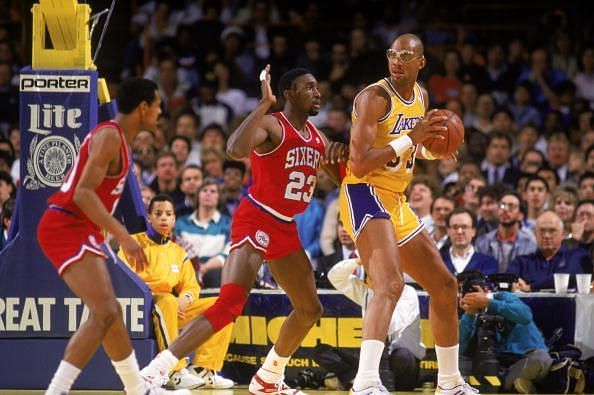 Career Averages: 24.6 points, 11.2 rebounds, 2.6 blocks, 55.9% FG
Notable Achievements: Only player to win six regular season MVP awards
If his achievements aren't enough to hand it to him, the longevity of Kareem Abdul-Jabbar's career ensures he gets the top spot on this list.
He played for over 20 years in the league, winning six NBA Championships, being named Finals MVP in two of them (1971,1985). He is a 19-time All-Star, making it to the All-NBA teams 15 times.
Jabbar was never a liability on the floor. His mobility for a 7'2" center allowed the Lakers to not only run quick-paced Showtime offence but thrive while still having their defensive anchor on the floor. And never attempt to summarize Kareem's career without mentioning his unguardable skyhook.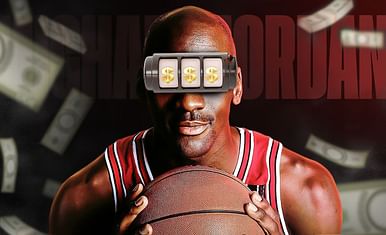 How did Michael Jordan's gambling "habit" taint his image?