| | |
| --- | --- |
| Name | Anthony Joshua |
| Anthony Joshua Net Worth (2023) | $80 million |
| Age (2023) | 33 years (15th October 1989) |
| Residence | North Carolina |
| Sources of wealth | Professional Boxing Fights, Endorsements |
| Belts | IBF, WBA, WBO, and IBO |
| Height | 6′ 6″ (1.98 m) |
| Wins | 25 |
| Wins by TKO | 22 |
| Losses | 3 |
| Endorsements | Under Armour, Jaguar Land Rover, Beats Electronics, Sky Sports, Audemars Piguet, DAZN, Electronic Arts, and Hugo Boss |
| Last updated | August 2023 |
Check out all the details of Anthony Joshua's Net Worth below.
Making his professional debut in 2013, Anthony Joshua has reached incredible heights in the world of boxing. In 2014 he was crowned Ring magazine's 'Prospect of the Year.' He was also the first-ever Englishman to be included in the prestigious list. He held the IBF, WBA, WBO, and IBO titles and was a two-time unified heavyweight champion between 2016 and 2021.
Bagging a silver in the World Championship in 2011, Joshua came to the public eye after winning the gold at the 2012 London Olympics. His first professional boxing fight was at the O2 Arena against Emmauele Leo, who he beat in the first round. In 2020, Leo sat down with sky sports and had this to say about his Joshua -
"It was like two guys just coming out with their heart on their sleeve, trading, and I really enjoyed it.
"You could see he was game, he could take a shot, he's got a winner's mentality."
On 15th March 2021, Joshua signed a two-fight deal with fellow Brit Tyson Fury to unify the heavyweight titles. According to Eddie Hearn (Joshua's promoter), the fight is said to be one of the biggest in boxing's history -
"This is the biggest fight in boxing and one of the biggest sporting events in the world"
It is fair to say that, along with Canelo Álvarez, Anthony Joshua has become the face of this sport.
What is Anthony Joshua's Net Worth in 2023?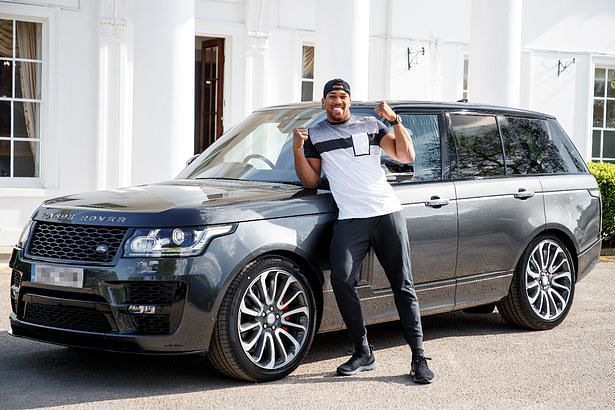 According to celebritynetworth.com, Anthony Joshua's Net Worth in 2023 is estimated at $80 million.
Initially, with Showtime, Joshua left his 8-year contract to pocket a gigantic $1 billion deal with DAZN and his promoters, Matchroom Sports. His 2 main event fights with Oleksandr Usyk and recent endorsements with Jaguar, Hugo Boss, and many other reputed brands have played a big part in his impressive net worth.
Ever since he put the pen to the paper for the Tyson Fury fight, many are estimating his net worth to take another jump.
Anthony Joshua's Career Earnings
From 28 pro fights, Joshua has earned around $120 million, including purse payouts, PPV revenue, and endorsements earnings. In his recent win against Jermaine Franklin, Joshua is believed to have earned £10 million.
Below are his last 5 fight earnings -
| | | | | |
| --- | --- | --- | --- | --- |
| 5 | Andy Ruiz Jr. | £60 million | W | 2019 |
| 4 | Kubrat Pulev | £10 million | W | 2020 |
| 3 | Oleksandr Usyk | £15 million | L | 2021 |
| 2 | Oleksandr Usyk | £61 million | L | 2022 |
| 1 | Jermaine Franklin | £10 million | W | 2023 |
Speaking to Fight Night Extra on talkSport, Eddie Hearn mentioned the figure of £100 million for both Tyson Fury and Anthony Joshua for their first bout,
"They'll put up an enormous site fee. Eddie [Hearn] revealed to me in December that he expects both men around £100m each for this fight."
You look at two fights, if there's controversy, we're talking about half a billion dollars, American dollars, for a two-part series.
Anthony Joshua's Investments, Endorsements and Charity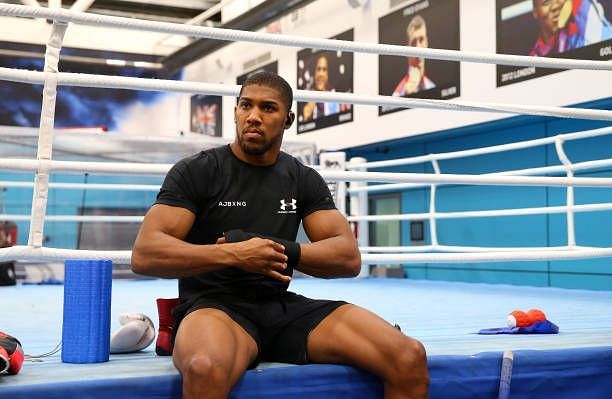 It is publicly known that 'AJ' isn't a shy spender. However, it is fair to say he is smart with his lavish spending, as he spends most on real estate. The Sun reported that he bought his mum an ex-council estate home and a property for his ex, Nicole Osbourne too. Nicola is also the mother of his son Joshua.
In 2021, The Mirror reported that he spent £ 7.5 million on homes in 2020 which included a £1 million London pad. In 2015, he started his management firm named "258 Investments".
Joshua makes around $11 million through sponsorship deals. He has tied up with enormous brands like Under Armour, Jaguar Land Rover, Beats Electronics, Sky Sports, Audemars Piguet, DAZN, Electronic Arts, and Hugo Boss. Forbes described the boxer as a "marketing juggernaut"
In 2020, Joshua made a huge charitable donation to keep the amateur boxing scene in British alive amid the pandemic. He made the following statement about his donation -
"The sport has given me a lot and I want to help highlight the issues affecting grassroots clubs and do what I can to keep the lights on for those most in need.
Joshua also regularly supports the Forever Hope Foundation, which has collaborated with like-minded organizations to raise money for the better life of people in Like-minded developing countries.
Net Worth of Other Popular Personalities
*Last Updated: 10th August 2023
FAQs
Q. How much did Anthony Joshua earn from the Ruiz fight?

A. In his first fight against Ruiz, Joshua's purse was £25 million, while in the second fight, it was £60 million.
Q. How much did Anthony Joshua make against Pulev?

A. Against Kubrat Pulev, Anthony Joshua's fight purse was £10 million.
Q. How many fights has Joshua lost?

A. Anthony Joshua has had 3 losses in his professional boxing career, one against Andy Ruiz Jr. and two against Oleksandr Usyk.
Q. What is Anthony Joshua's net worth in 2023?

A. Anthony Joshua has a net worth of $80 Million dollars as of 2023.
Q. Is Anthony Joshua richer than Tyson Fury?

A. Yes, Tyson Fury's net worth is almost £30 million more than Anthony Joshua's.