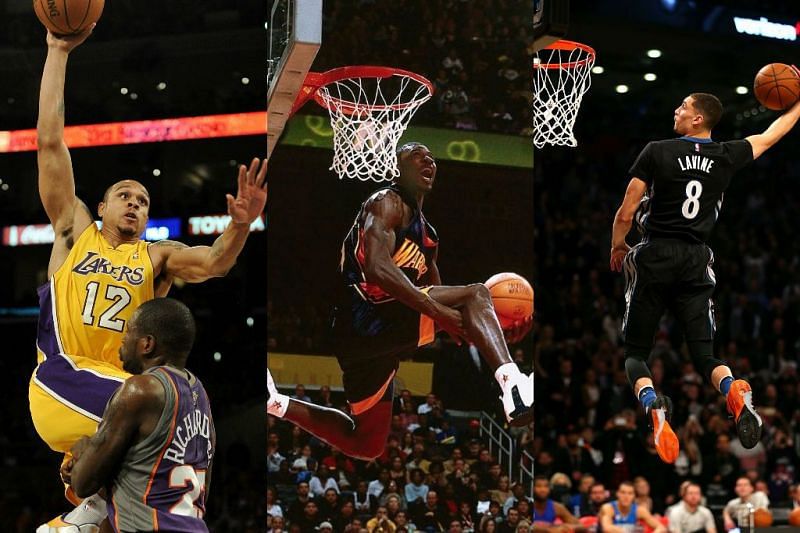 'He jumped out of the gym!' is a refrain normally associated with basketball commentators. The best leapers in non-track sports are often found in the game of basketball. In fact, some of the physical feats basketball players can achieve would put Olympic athletes to shame.
So high are the NBA's standards of physical fitness and conditioning that if you don't have a running leap over 2 feet (24 inches), you are probably never going to be drafted even if you have every other aspect of your game sorted.
•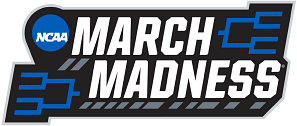 ---
---
Incredible athletes from the past and the present have entertained NBA fans for over 70 years now with dunks, blocks, and sequences.
Here, we count down the players with the highest running vertical jump in NBA history.
Note: In this list, we have made allowances for the fact that draft combine results are not available for players drafted before 2000, and will be using unverified statistics in some cases.
---
ALSO READ: Top 5 NBA Championship contenders | Ranked
---
10. Dee Brown - 44 Inches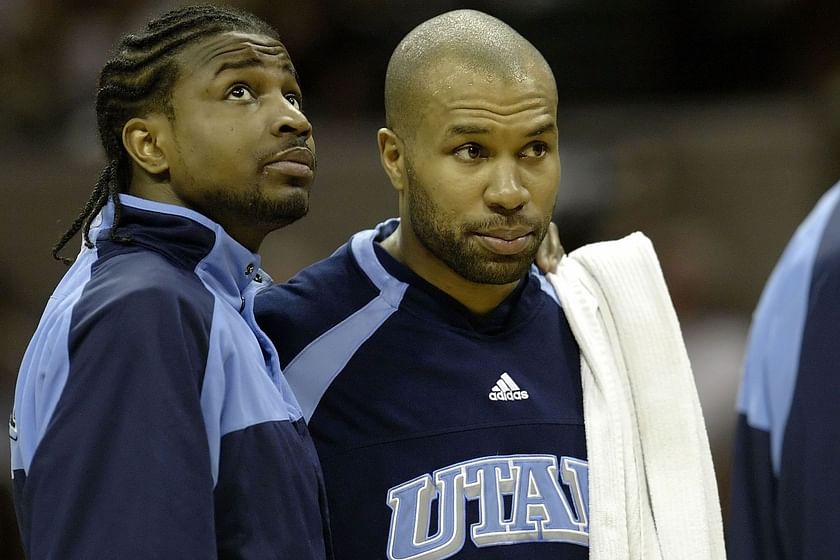 Dee Brown's biggest claim to fame was his victory at the Slam Dunk contest of 1991 during his rookie year, in which he pulled off a no-look dunk by covering his face (including his eyes) with his right elbow while dunking with his left hand. It has, ever since, been recognized by the social media as the first 'dab' in public memory.
Dee Brown played for 12 years in the NBA, including his first 8 years with the Boston Celtics who selected him in the 1990 NBA draft with the 19th pick. Dee Brown has a vertical leap of 44 inches, and at his height of 6'1", he could put his head upto just 3 inches below the rim.
9. Harold Miner - 44 Inches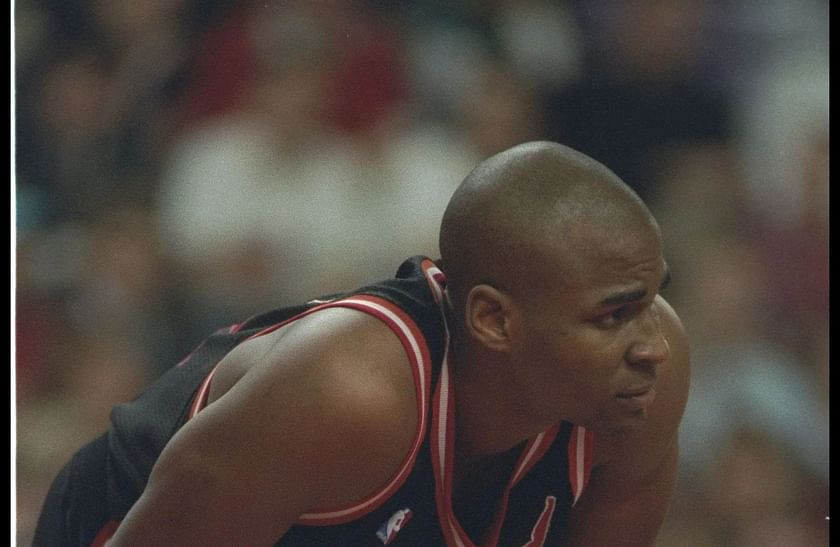 aving played at the University of Southern California until his junior year, Miner declared for the NBA draft in 1992 and was selected by the Miami Heat with the 12th overall pick. His style of play and athleticism prompted a number of journalists to proclaim him as 'Baby Jordan' - which was not great for Miner as he entered the league with more pressure on him than he would've liked.
Miner only played in the NBA for 4 years, including a final year with the Cavaliers in 1995-96 when he was reduced to sporadic garbage time appearances during his 19 games. Miner did, however, win the 1993 and the 1995 Slam Dunk contests, and will mostly be remembered for that.
With a vertical leap of 44 inches and a height of 6'3", Miner's best jump would put his head barely an inch below the rim.
8. Shannon Brown - 44.5 Inches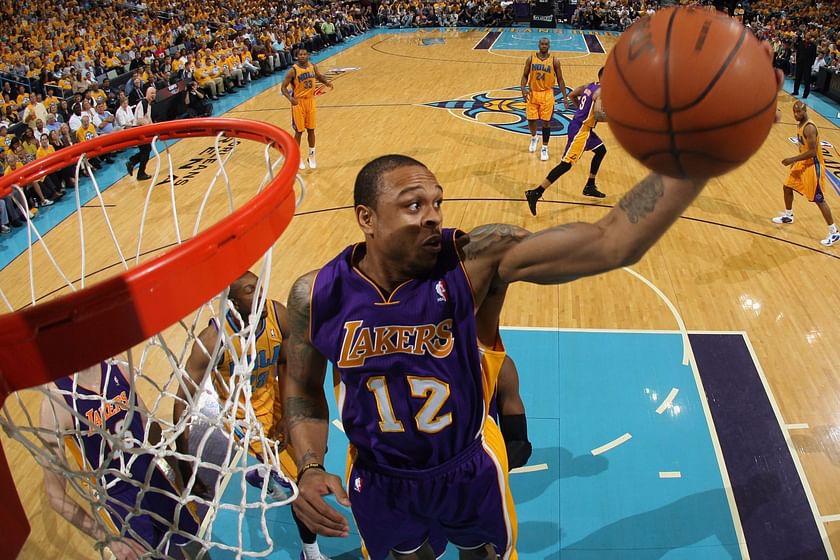 Despite not being much more than a secondary bench player for the Los Angeles Lakers, Shannon Brown still had many memorable moments during his time with the Purple and Gold brigade. He won 2 NBA titles alongside Kobe Bryant, whom he directly replaced when the Mamba went to the bench.
Shannon Brown's vertical leap has been recorded at 44.5 inches. At a height of 6'4", Brown has the ability to raise his head above the rim, and he showed that off with an in-game dunk against the Dallas Mavericks that had the likes of Bryant staring in amazement from the bench.
---
7. Zion Williamson - 45 Inches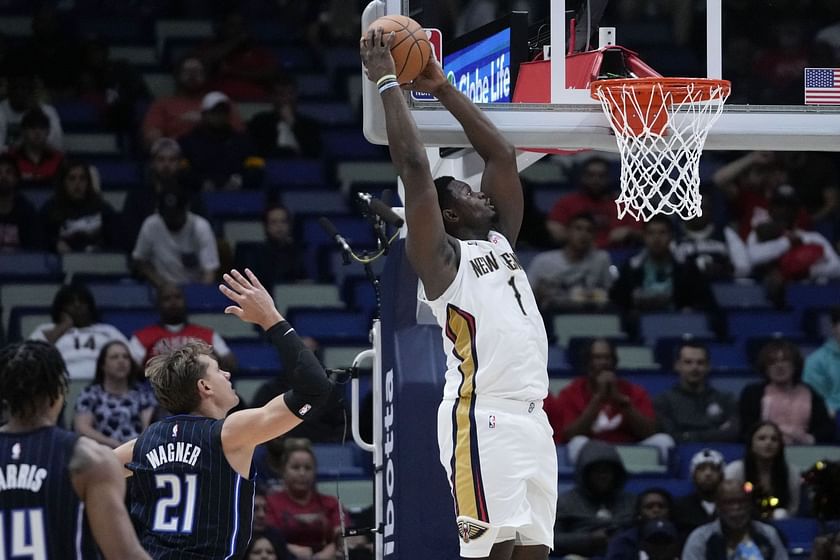 Coming in at #6, we have the No.1 pick from the 2019 NBA draft, Zion Williamson. After becoming an overnight sensation with his insane posterizing dunks in 2018, everyone knew his jumping abilities were noteworthy.
Zion committed to Duke University, where he played for a year before declaring for the NBA Draft. During his time at Duke, a viral clip of Zion setting an all-new vertical record at Duke University with 45 inches. Standing at 6'6" with a 45-inch vertical leap while being as heavy as he is, Zion attracted even more attention from NBA scouts.
In a display of his extraordinary leaping abilities, Zion even successfully recreated a dunk from the free-throw line, just like the famous Micheal Jordan.
6. Zach LaVine - 46 Inches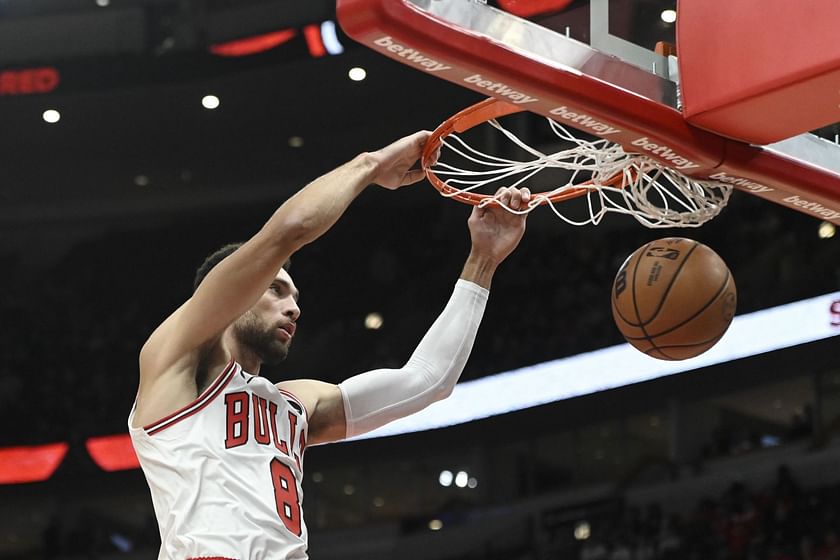 Zach LaVine was selected as the 6th overall pick by the Minnesota Timberwolves in the 2014 NBA draft. His draft combine numbers were quite low as he underperformed and was only able to record a 41.5" vertical, but later on, Zach LaVine vertical leap was recorded at 46 inches.
At 6'5", LaVine has the ability to go a full 2 inches above the rim while dunking, and he has shown that while winning back-to-back dunk contests in 2015 and 2016. LaVine showed off an assortment of tricks while dunking from the free throw line amid tough competition from Aaron Gordon in 2016, in which there were two tiebreaking rounds.
LaVine's superior athleticism shone through then as he is the pillar for the Chicago Bulls franchise. He is having his career-best season and continues to be the only light in otherwise a dull season for the team.
5. James White - 46 Inches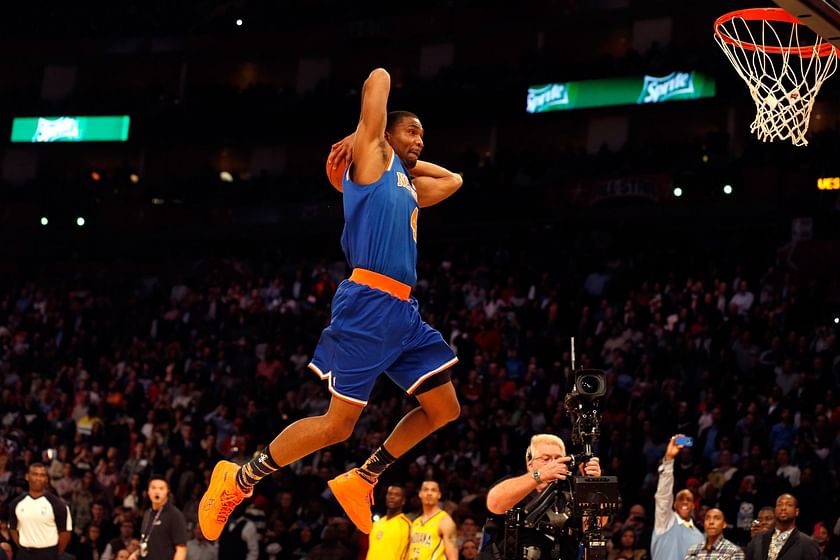 While he only had sporadic spells in the NBA and has played overseas for most of his career, he qualifies for this list merely based on the fact that he does an have an appearance in the league. Selected by the Portland Trail Blazers with the 31st overall pick in the 2006 NBA draft, he was subsequently cut.
The San Antonio Spurs took a chance on him, and he appeared in 6 games before being reassigned to their D-league affiliate the Austin Toros. White's longest spell in the NBA came in the 2012-13 season with the New York Knicks for whom he appeared 57 times.
James White had a vertical leap of 46 inches, and was able to raise his head a full 5 inches above the rim at his height of 6'7". White, while playing for Euroleague club Fenerbahce, won the Turkish dunk contest while showing off his impressive leaping ability.
4. Anthony Webb - 46 Inches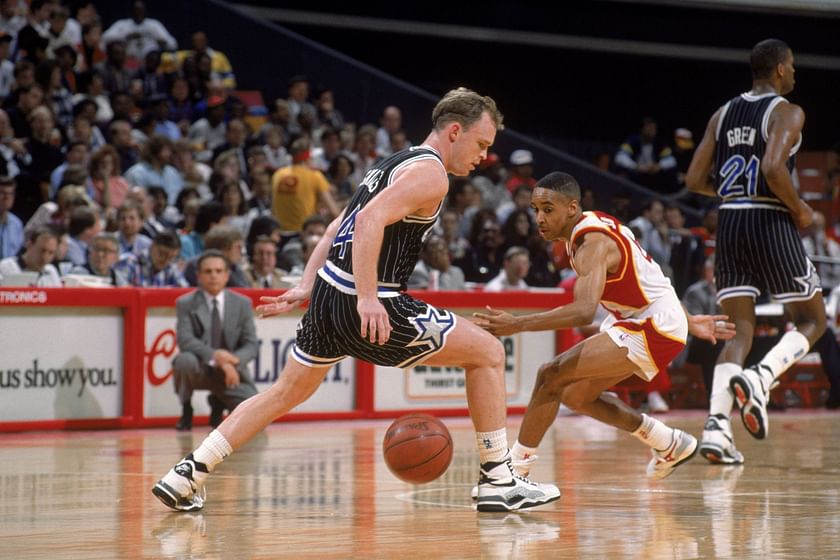 The diminutive Anthony Webb took the NBA world by storm when he decided to enter his name into the Slam Dunk Contest of 1986 as a rookie. Even teammate Dominique Wilkins, a dunker of renown, didn't know that he dunked much.
Using his spectacular 46-inch vertical, the 5'7" Webb proceeded to show off an assortment of dunks that sent the crowd scurrying for 10s, and he won the contest over Wilkins eventually. Webb is one of the few players who dunked without being able to palm the ball.
3. Jason Richardson - 46.5 Inches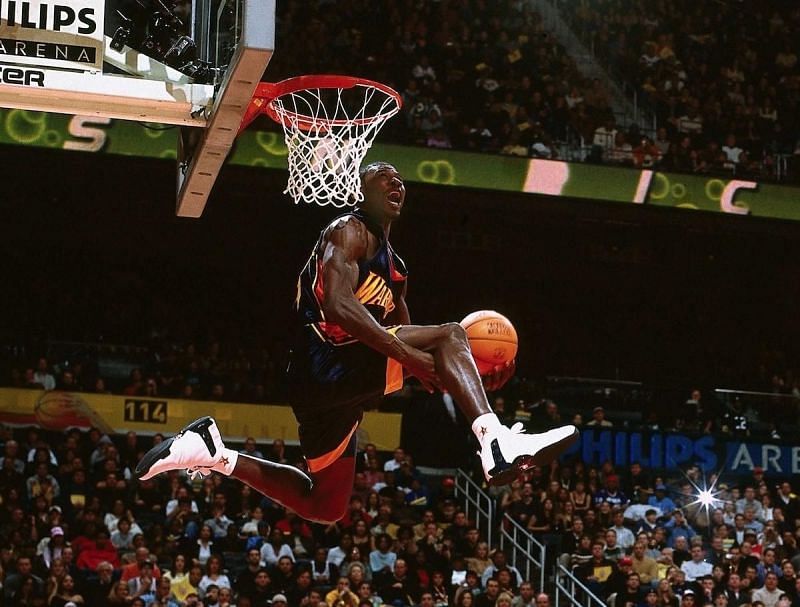 Jason Richardson was selected by the Golden State Warriors with the 5th overall pick in the 2001 NBA draft. His vertical leap was measured woefully low at the Draft Combine (39.5 inches), although the eye test revealed that he was indeed a highly athletic player.
Richardson went on to win back-to-back Slam Dunk Challenges at the All-Star Weekends of 2002 and 2003. His actual vertical leap, measured, later on, came out to be a whopping 46.5 inches. At his height of 6'6", it put his head 4.5 inches above the rim.
Richardson's most iconic dunk was a between-the-legs, reverse 360 that won him the 2003 Dunk Contest title. Richardson remains one of the best-loved Warriors players even after retirement in 2015. He set the Warriors' record for most 3-pointers made by a single player in the regular season with 243 in the 2007-08 campaign before this mark was obliterated by a certain Splash Brother.
2. Darrell Griffith - 48 Inches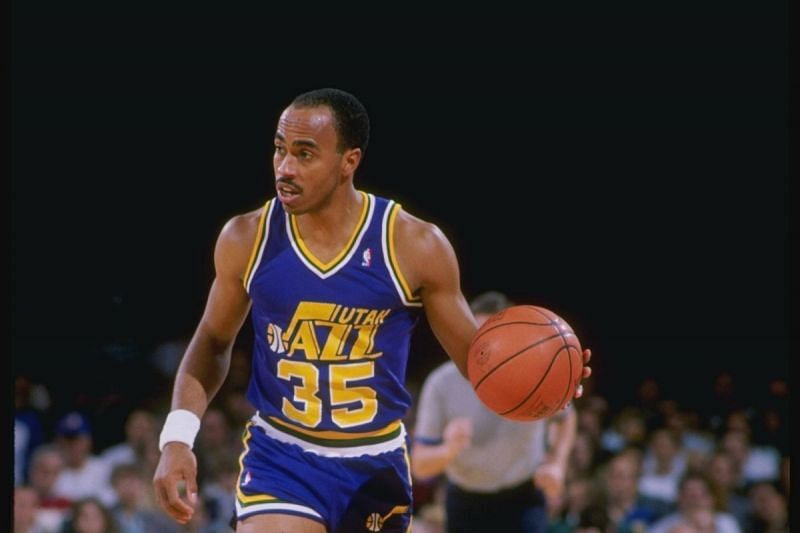 Most NBA fans might be unaware of this former Jazz player's spell in the league. Which is why Donovan Mitchell's tribute to him in the 2018 Slam Dunk Contest (he donned Griffith's Jazz uniform while making his second dunk) raised a number of questions about who #35 really was. Incidentally, Donovan Mitchell is also from the same college as Dr. Dunkenstein (Louisville).
Griffith earned his sobriquet of Dr. Dunkenstein during his time at Louisville and enjoyed a successful NBA career with the Jazz. At his height of 6'4" and his vertical leap of 48 inches, Griffith could elevate his head 4 inches above the rim.
Though he did not win any Dunk Contest unlike some of the renowned names on this list, he was an uber-athletic player during his 11-year career for the Jazz, and his jersey has been raised to the rafters by the franchise for whom he played his entire career.
1. Michael Jordan - 48 Inches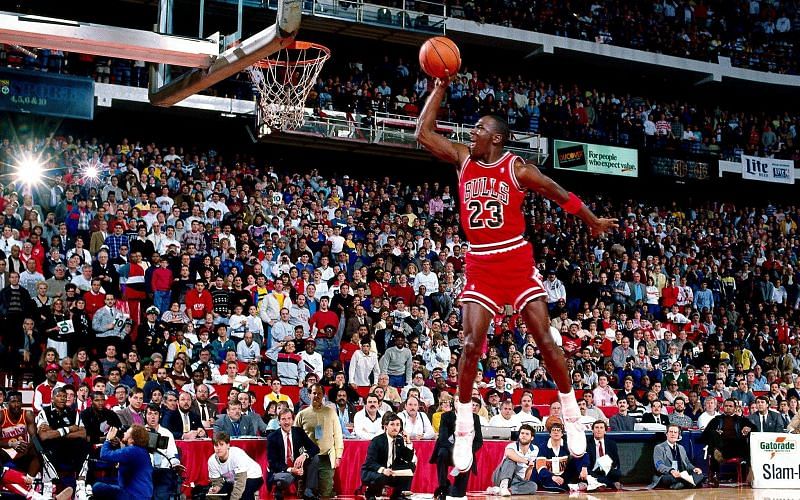 If at all there was a player who could justify or even top the moniker 'His Airness', it is Michael Jordan. Jordan tops our list of players with the highest vertical leap of 48 inches. This to go along with a hangtime of 0.92 seconds.
Jumpman's most iconic dunk was from the free throw line in the 1988 All-Star Weekend Slam Dunk Competition, for which he received a perfect score of 50 from the judges. Throughout his career, Jordan provided us a taste of his athletic ability in what seemed like almost every game.
Every kid in the country wanted to be like Mike mainly because of his athletic ability.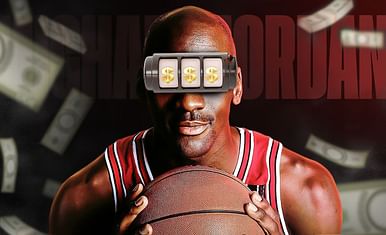 How did Michael Jordan's gambling "habit" taint his image?