Derrick Rose has been searching for a full, complete close to MVP type comeback season for 3 years.Injuries can change the face of an NBA player's career or any sports athlete for that matter, ask former NBA MVPs Derrick Rose and Kobe Bryant. The Bulls superstar has suffered and rehabilitated from 3 injuries in the span of 4 years : torn ACL in left knee in 2011, torn right meniscus in 2013 and a most recent right orbital fracture in the 2015 pre-season.Meanwhile, Bryant has successfully recovered from the same number of injuries in 2 years: an Achilles tear in 2013, a fractured left knee in the latter half of 2013 and a rotator cuff tear in the right shoulder in 2015.Injuries and bad situations are a part and parcel of the game, superstars personify greatness by bouncing back no matter what the adversity. There were multiple players last season that had a disappointing year whether it because of an injury or a bad situation (team wise).Here are the top 5 players who are expected to deliver this upcoming season after a dismal 2014-15 year:
#5 Roy Hibbert
•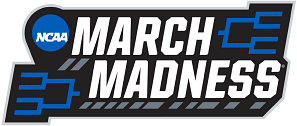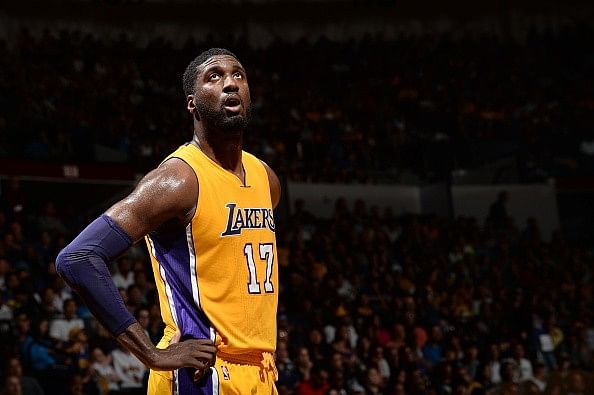 Roy Hibbert has probably been absent on the court for the Indiana Pacers since the second half of the 2013-14 season. His numbers and his presence in the paint have been on a constant decline since that time.
However, there might be more to last year than many might think, the Pacers switched their plans of playing a team with 2 physical big men in the paint to going small given the success the eventual champions the Golden State Warriors tasted during the regular season.
Going down that direction, the roster certainly didn't need Hibbert's 7 foot 2 inch figure in the paint. So what makes Hibbert a candidate for a bounce back season this year?
Having played seven years of NBA basketball, Hibbert understood the need to adapt to the team's needs if he wanted to be valued. He shed close to 15 pounds this past summer in order to move faster and player more minutes.
More minutes should help him improve the Lakers' defensive efficiency; something the team has not been too familiar with the last couple of seasons. One in five or so possessions he can post up and get them some easy buckets, again something the team lacked last season.
Being a veteran who is not used to being the first option on offense, Hibbert won't have any difficulty playing second fiddle to Bryant while helping the young players like Julius Randle, Jordan Clarkson and D'Angelo Russell develop at the same time.
If he can impress the Lakers with his contribution this season then he should be able to extend his time in Los Angeles by resigning with the team when he becomes an unrestricted free agent next summer.
#4 Joakim Noah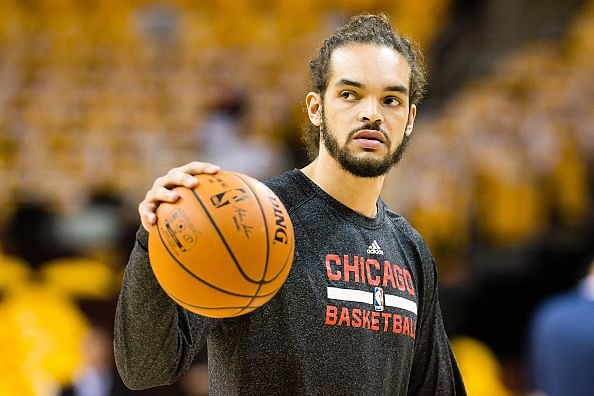 A knee surgery that Joakim Noah underwent last summer took longer than expected to heal and had an adverse effect on the 2014 NBA Defensive Player of the Year's season. It's easy to point out his disappointing season after observing his averages from last year but those don't tell the whole story. The Noah last season was nothing close to the one we had seen two or three seasons before that.
His feet movement was not the same, his minutes were restricted, he wasn't himself activity-wise on the glass. The Bulls do not need big number production from Noah yet his role is a crucial cog in Chicago's engine. There are very few centers who can contribute on both ends of the floor like he can – maybe Marc Gasol is the closest.
He is a physical player who can be a pest as a post defender and also as a center who can switch onto smaller guards for a few possessions along the perimeter. On the other end, his ball handling, court vision and finishing at the rim are crucial qualities the Bulls need him to show off this season.
Last may he was ranked fourth in the regular season MVP ranking, that's how valuable he can be but this season it's all about health. In fact, the same can be said for the entire Bulls roster. If they can stay healthy come Playoff time they have a team capable of beating anybody in a 7 game Playoff series.
#3 Rajon Rondo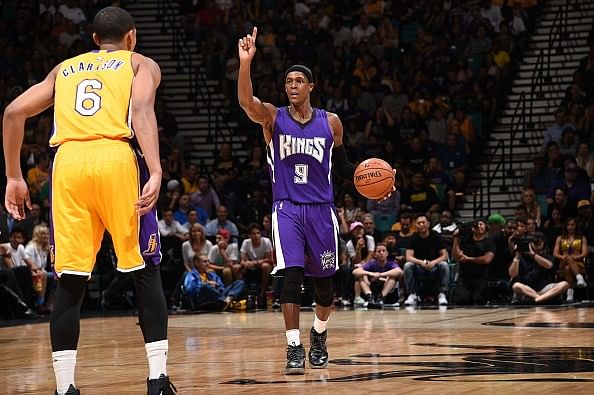 Shooting has never been the forte for 4 time All-Star point guard Rajon Rondo. The part of his game that makes him lethal is his speed and penetration that gets his teammates easy looks at the basket. Over the past couple of seasons for whatever reasons, the situation has not been perfect for Rondo to grow as a player. In Boston, after half a season it was clear that rebuilding around Rondo might not have been easy as the Celtics front office expected.
In Dallas, Rondo would often butt heads with Mavericks Head Coach Rick Carlisle over the proceedings on the floor. Having said that, now in Sacramento under Coach George Karl, Rondo finds himself in an ideal spot surrounded by talent that can shoot, post-up and defend.
In essence, the trio of DeMarcus Cousins, Rudy Gay and Marco Bellinelli are quite similar to the trio Rondo played with in Boston of Kevin Garnett, Paul Pierce and Ray Allen respectively.
With Boogie having good mobility for a center, the Kings could showcase an up-tempo fast-paced offense which once again helps Rondo regain confidence in his talent. The catch here is: the Sacramento front office is as volatile as Rondo has been over the last season.
Can Rondo return to among the top 5 point guards in the league if the Kings management, coaching staff and players get on the same page? We'll have to wait to find out but if the pre-season is any indication, then the Kings especially Coach Karl and Rondo have a lot of areas to address.
#2 Carmelo Anthony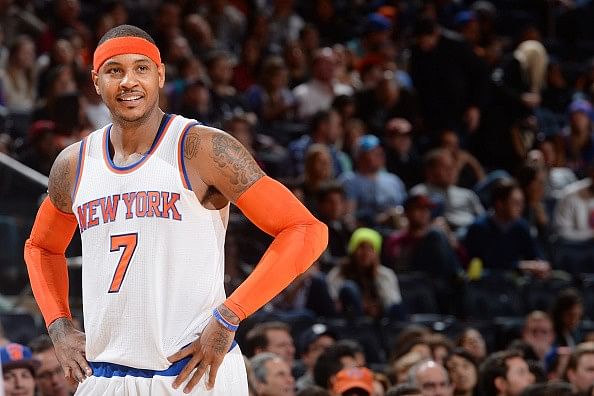 When you are the leader of a NBA franchise, just scoring points is not enough. You need to pass the ball around, use your superior game to make it easier for your teammates and then step it up in the fourth quarter when the team most needs the superstar in you.
By those standards Carmelo Anthony's 24.6 points and 6.6 rebounds is not enough, the team needs more assists from him than he averages (3.1).
Take Oklahoma City Thunder superstar Kevin Durant for example, for each of his first four seasons in the league he averaged 2.7 assists per game but he made his big jump to join the league's superstars when he could carry the team with his offense and passing. In each of the past years, he has shown sufficient growth in his game to a point where he averaged 5.5 assists per game without it affecting his scoring average.
As compared to last season, the New York Knicks have a larger pool of talent around Anthony this season including interesting rookie prospect Kristaps Porzingis. The roster includes a wide variety of talents from players who can only catch and shoot, to players who can do multiple things, to some players who are primarily defensive stoppers.
Head Coach Derek Fisher and President Phil Jackson would be among the best minds in the game to help Anthony shine as a superstar along with his team.
Expecting Anthony to average more than 5 assists per game could be pushing your luck given that he is not much of a passer but all the Knicks and their triangle offense need for him is to share the ball.
Nobody is expecting 7+ assists from him each game, all the team needs him to do is to play with the system which will include lesser isolation opportunities for him but not necessarily lesser scoring opportunities.
#1 Kevin Durant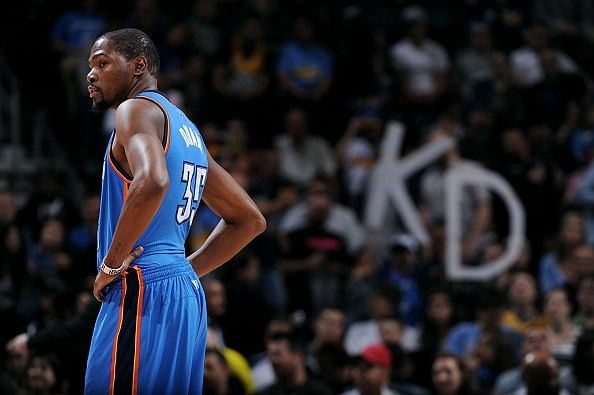 Having Kevin Durant on the list and at the top was a no brainer. Averaging 25.4 points, 6.6 rebounds and 4.1 assists last season, Durant played like a flat out stud for the 27 games that he did dress up in uniform for the Thunder. Unfortunately an unnecessary early return from a Jones fracture in his right leg ruined the rest of the season for the 2013-14 league MVP.
From December to February, Durant sat out a number of games here and there to recover from foot soreness, an effect of returning before the six to eight weeks recovery period for a Jones fracture.
Playing only 10 minutes in the All-Star Game didn't help either, which prompted the Thunder and Durant to go ahead with a surgery to relieve him of the soreness he was experiencing from the screw inserted during the Jones surgery.
Heading into this season the entire Thunder roster looks a healthy squad, something the team hasn't had for the past three seasons. Their current bench is stronger than the one they had against the Miami Heat in the Finals in 2012 and against the San Antonio Spurs in the Conference Finals in 2014.
A new Head Coach in Billy Donovan would surely give the team's offense new life, which had grown tactically old and stale under former Head Coach Scott Brooks.
KD has shown in spurts during the NBA pre-season that he is 100% healthy and raring to go. He has looked comfortable and at ease on both ends of the floor. Let's wish and pray for KD and the Thunder to have a injury-free season so that they can unleash their undoubted potential.