| | |
| --- | --- |
| Full Name | Carmelo Kyam Anthony |
| Date of Birth | May 29, 1984 |
| Age | 38 Years |
| Nationality | American |
| Height | 6 ft 8 in |
| Current Team(s) | |
| Draft | 2003 |
| Role | Small Forward |
| Past Team(s) | |
| Debut | October 29, 2003 |
| Nickname | Melo |
| Spouse | La La Anthony |
Carmelo Anthony: A Brief Biography
Carmelo Anthony is an American professional basketball player who is still active in the NBA. He was inducted into the NBA's 75th Anniversary team and won many accolades during his period in the league. Anthony represented the USA in the Olympics, winning the gold medal multiple times.
| | |
| --- | --- |
| Name | Carmelo Anthony |
| Born | May 29,1984 |
| Age | 38 |
| Nationality | American |
| Height | 6 ft 7 in |
| Debut | October 29, 2023 |
Carmelo Anthony's Early life
Carmelo Anthony has been a prolific scorer throughout his career. Anthony was born in the Red Hook housing projects in Brooklyn, New York. At eight, Carmelo and his family moved to Baltimore, but Anthony commuted to Towson Catholic High School for his first three years.
Anthony enjoyed a successful high school basketball career as a junior, averaging 23 points and 11 rebounds per game. He almost doubled the numbers posted in the previous season, averaging 23 points and 10.3 rebounds. Anthony, failing to win the title in his college years, was selected as Baltimore's County Player of the Year. He also won the All-Metropolitan Player of the Year and Baltimore Catholic League Player of the Year.
After his junior year, Melo had offers from North Carolina and Syracuse. Anthony played just a season at Syracuse University, in 2003 and later was declared for the NBA Draft. He averaged 22.2 points and 10.0 rebounds for Syracuse. He also helped guide the Orangemen to their first-ever NCAA tournament title in 2003.
Carmelo Anthony's NBA Journey
The Denver Nuggets drafted Carmelo Anthony in 2003 as 3rd overall pick behind LeBron James and Darko Milicic. Entering the season and leading the rebuilding Denver team, Melo displayed flashes of greatness and led the team to the playoffs every year from 2004 to 2010; Carmelo won two division titles for the Nuggets and even made it to the conference Finals in 2009. It was the Nuggets' first Conference Finals appearance since 1985 when they lost to the eventual winner Los Angeles Lakers.
Following a disappointing spell at the Denver Nuggets. Melo was traded to the New York Knicks in 2011. At the Big Apple, Melo managed to reach new highs scoring-wise. Carmelo scored a career-high 62 points setting a new franchise record for the single-game score. This is also a Madison Square Garden single-game scoring record.
Anthony managed only three playoff appearances in seven seasons with the Knicks and was eventually traded to the Oklahoma City Thunder. But a season later, Melo joined hands with the high-octane offense of the Houston Rockets. Failing to improve the Rockets' performance, Carmelo spent two seasons with the Portland Trail Blazers and played for the LA Lakers team in the 2021-22 season.
Playing 1260 regular season games, Melo scored a whopping 28289 points at an average of 22.5 points a game. He ranks 9th on the All-Time NBA scoring list and is only the 2nd active NBA player in the Top -10.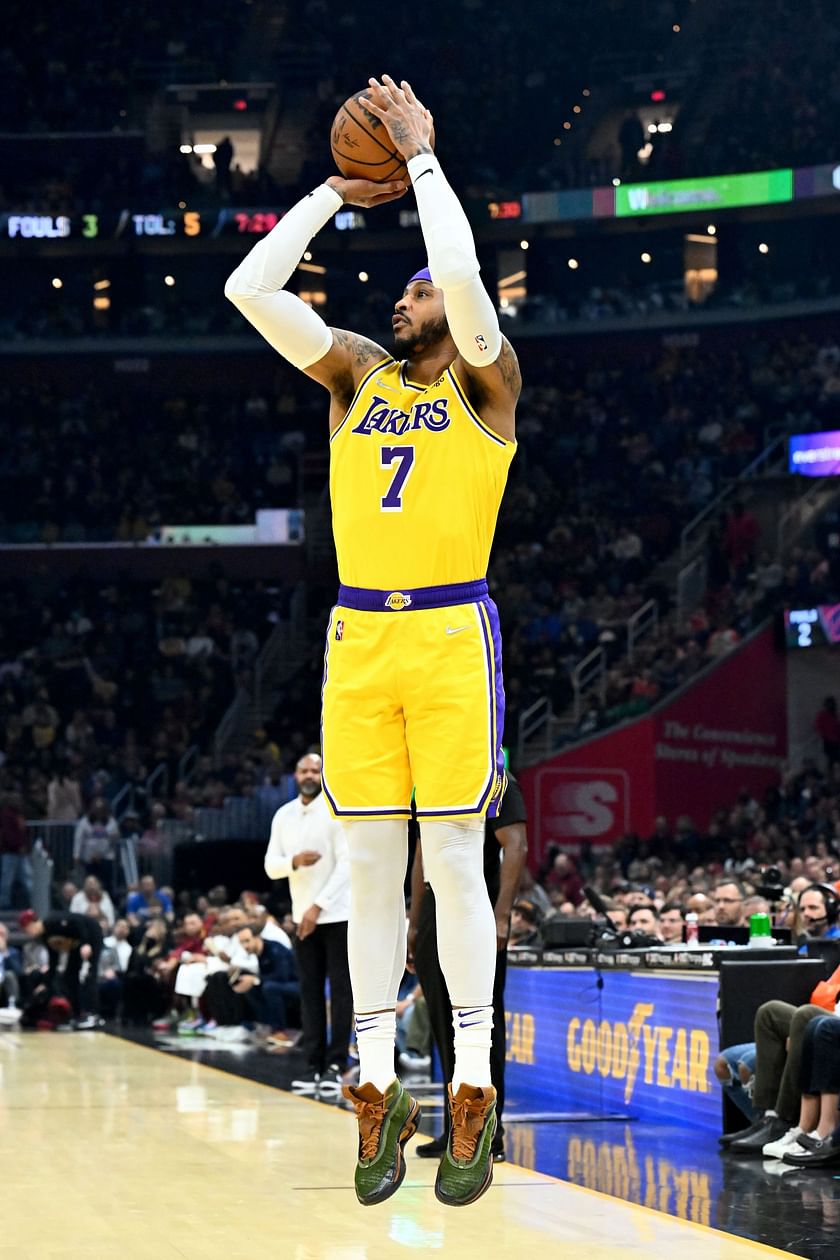 Carmelo Anthony's Awards and achievements
| | | |
| --- | --- | --- |
| Award/Accolade | Year | Team |
| 10* NBA All Star | 2007, 2008, 2010-2017 | Denver Nuggets (2007,2008), New York Knicks (2010- 2017) |
| 75th NBA Anniversary team | 2022 | Los Angeles Lakers |
| 1* NBA Scoring Champion | 2013 | New York Knicks |
| 1* All Rookie 1st team | 2004 | Denver Nuggets |
| 2* All NBA 2nd Team | 2010, 2013 | Denver Nuggets (2010), New York Knicks (2013) |
| 4* All NBA 3rd Team | 2006, 2007, 2009, 2012 | Denver Nuggets (2006,07,09), New York Knicks (2012) |
| 1* NCAA Championship | 2003 | Syracus Orange |
| 1* NBA Social Justice Champion Award | 2021 | Los Angeles Lakers |
| 3* Gold Medalist | 2008,2012,2016 | Team USA |
| 2* Male NBA Athlete of the year | 2006, 2016 | USA |
Carmelo Anthony's Records
Carmelo Anthony was known for his shooting and made his mark on most of his teams. But Melo enjoyed much of success while playing for the Knicks.
In his sixth career NBA game, Carmelo Anthony scored 30 points against the Clippers. He was the fastest and the second youngest player in NBA history to score 30 points or more in a game (19 years, 151 days; Kobe Bryant was the youngest). 2 weeks later, that record was broken by LeBron James.

Anthony was second in the NBA Rookie of the Year voting, finishing runner-up to the Cavaliers rookie standout, James.
Carmelo Anthony scored 62 points against the Charlotte Bobcats (currently known as Charlotte Hornets) on January 24, 2014. With this, he remains the highest individual scorer for the New York franchise. The impressive shooting from Melo also set the arena record at Madison Square Garden.

Carmelo Anthony is ninth on the NBA's all-time scoring list. Anthony remains the top scorer for the US National team (37 against Nigeria in the 2012 Olympic games) and holds the record for most 3-pointers made in Olympic games for Team USA.
Carmelo Anthony's Net worth
Carmelo Anthony is an NBA megastar with a net worth of around $160 million. Though most of his income is through salary from the franchises, he also had mega endorsement deals with Powercoco, Air Jordan, Isotonix, Haute Time, Stuart Goldfarb, Footlocker and Asani Swann. His earnings from the endorsements are nearly $6 million.
Carmelo Anthony's Family and wife
Brooklyn-born Anthony has two brothers, Robert and Wilford, and a half-sister, Daphne. Carmelo's father has Puerto Rican roots, while Mary, his mother, is African American. Melo had another sister, Michelle, who died in 2010.
Entering the league in 2003, Melo quickly settled into a love life. After the end of the 2004 season, Melo and his girlfriend Alani "La La" Vazquez got engaged. Alani, a TV personality and Melo being NBA Star, the ceremony got huge attention. VH1 even filmed the ceremony for use in a reality series. The ceremony was later released as La La's Full Court Wedding.
Alani gave birth to their son, Kiyan Carmelo Anthony, in 2007. But after 13 years of marriage, media reported that La La had moved out of the couple's apartment and the two were living separately. During this "on-again, off-again" relationship with Alani, Anthony fathered a child (Genesis Harlo) with Mia Burks. Accepting the fathering of Genesis, Melo went ahead with the child's responsibility and contributed financially. Carmelo later refrained from posting or speaking publicly about her. In June 2021, Alani filed for divorce.
A. Carmelo Anthony never won an NBA Championship; his best achievement reached the Conference Finals in 2009 with the Nuggets.
A. Regarded as one of the best scorers in the NBA, Carmelo Anthony won the scoring title in 2013. Melo averaged 28.7 points per game as a Knicks player and dethroned Kevin Durant for the scoring title.
A. Denver Nuggets drafted Carmelo Anthony as the 3rd overall pick in the 2003 NBA draft.
A. Carmelo Anthony played in 10 All-Star games. He made his All-Star debut in 2007 and was selected in the following season also as a Denver Nuggets player, while he made 8 straight All-Star selections from the Eastern Conference side New York Knicks from 2010 to 2017.
A. Carmelo Anthony was married to American TV personality Alani "La La" Vazquez. As per the reports, La La filed for divorce in June 2021.