Almost every team to win the NBA championship often features a strong individual performance, usually from the best player in their roster. Winning the NBA Finals MVP award is a huge achievement in a player's career.
It is one of the most prestigious awards in the NBA. In fact, winning multiple NBA Finals MVP awards is considered to be a greater achievement than winning multiple regular-season NBA MVP awards.
On that note, let us have a look at the ten greatest NBA Finals MVP performances in league history.
•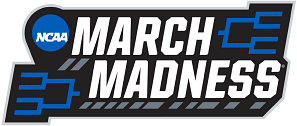 Ten greatest NBA Finals MVP performances in league history
The most recent winner of the NBA Finals MVP award is LeBron James, who won his fourth ring last season with the LA Lakers and also took home his fourth NBA Finals MVP award.
James ranks second all-time in the list of most NBA Finals MVP awards won, just behind Michael Jordan's haul of six.
We have seen all-time great performances from The King in NBA Finals over the years. Let us find out which of his performances and that of other players, find a mention in this list. So, without further ado, let's get started.
---
#10 Dwyane Wade - 2006 NBA Finals MVP
Stats: 34.7 PPG | 3.8 APG | 7.8 RPG | 2.7 STL | 47% FG.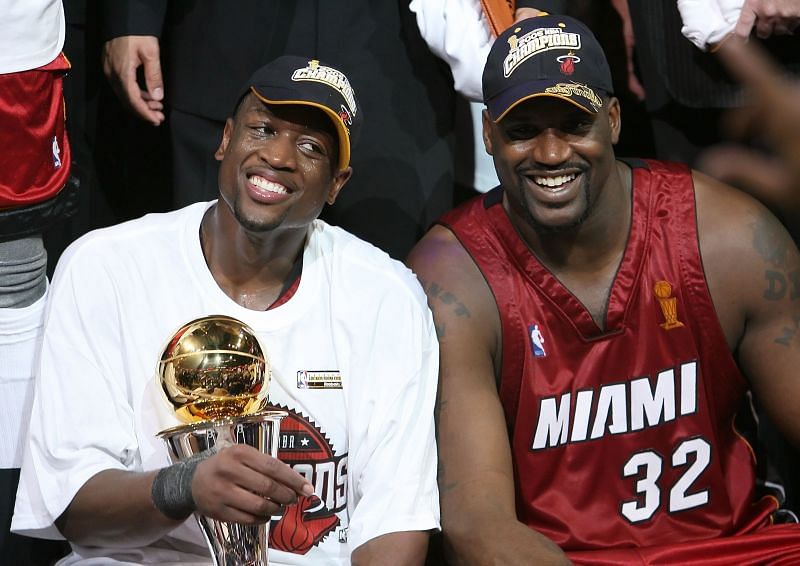 Dwyane Wade produced an unbelievable performance for the Miami Heat in the 2006 NBA Playoffs.
He guided the franchise to their first NBA championship, taking advantage of the great talent surrounding him. Pat Riley was the coach of that franchise, and Shaquille O'Neal was the center. Wade especially shone during the NBA Finals against the Dallas Mavericks and Dirk Nowitzki.
Wade put on a bevy of stellar performances in that NBA Finals series as the Heat overcame the Dallas Mavericks. Though the Heat lost the first two games of the series by double digits, Wade led his team to four straight wins to seal the series.
He scored 42, 36, 43,and 36 points respectively in games 3 to 6 to secure his first ring. Wade unsurprisingly earned the NBA Finals MVP recognition after becoming the first guard to average more than 30 points in the NBA Finals since Michael Jordan in 1998.
---
#9 Tim Duncan - 2003 NBA Finals MVP
Stats: 24.2 PPG | 5.3 APG | 17.0 RPG | 5.3 BLK | 49% FG.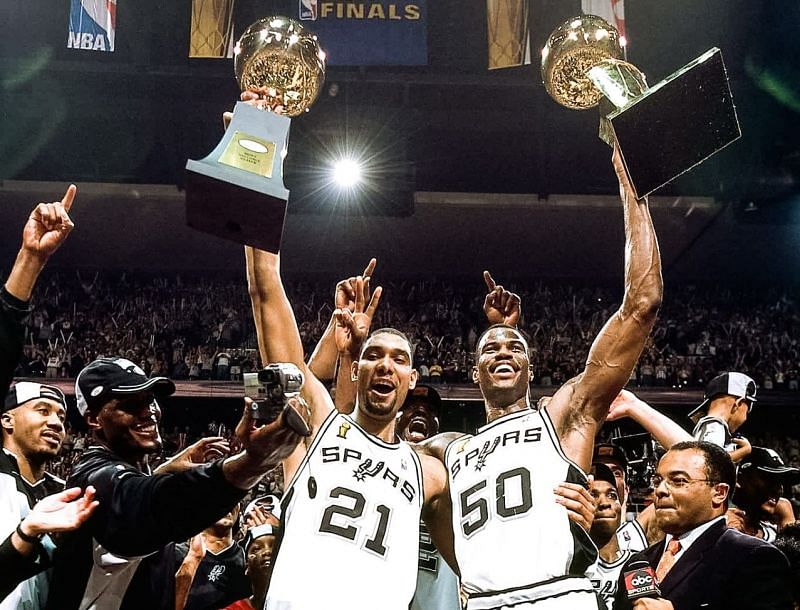 Tim Duncan won five NBA titles with the San Antonio Spurs and earned three NBA Finals MVP awards during his legendary career.
In the 2003 NBA Finals, with the Spurs and Duncan looking for their second NBA championship, the talented power forward had one of the all-time great finals series ever seen.
The Spurs handed the New Jersey Nets their second consecutive NBA Finals loss to win their second title in franchise history, with Duncan leading the charge.
Duncan had a great six-game series, averaging over 24 points and 17 rebounds per game, while also showing his great defensive abilities with five blocks-a-game and a steal.
In the series-clinching game six, Duncan got close to a quadruple-double, producing 21 points, 20 rebounds, three assists, and eight blocks.
#8 Larry Bird - 1986 NBA Finals MVP
Stats: 24.0 PPG | 9.5 APG | 9.7 RPG | 2.7 STL | 48% FG.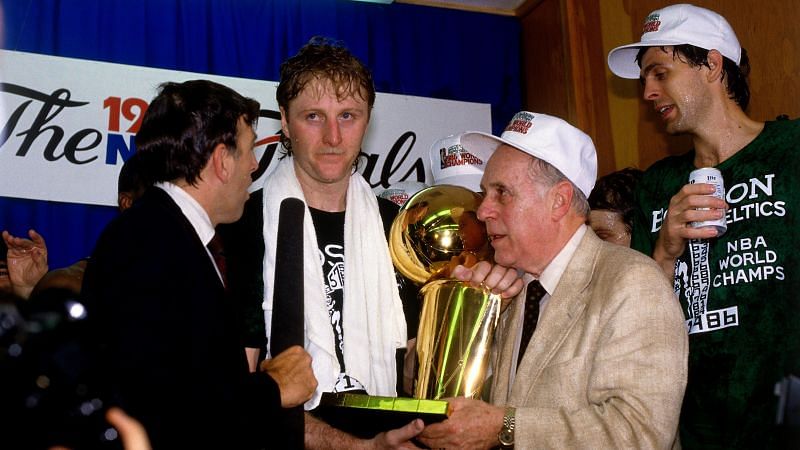 In 1986, Larry Bird won his third and last NBA championship after an amazing season with the Boston Celtics. He also won his second NBA Finals MVP award that year.
Bird had won his first NBA Finals MVP award in 1984; he also won regular-season MVP awards in 1984, 1985, and 1986.
In the 1986 NBA Finals against the Houston Rockets, Bird showed his prowess of doing virtually anything on a basketball court. He almost averaged a triple-double in that six-game series, scoring 48/37/94 shooting splits.
Bird had two triple-doubles in the series to secure his second NBA Finals MVP award.
---
#7 Kareem Abdul-Jabbar - 1971 NBA Finals MVP
Stats: 27.0 PPG | 2.8 APG | 18.5 RPG | 60% FG.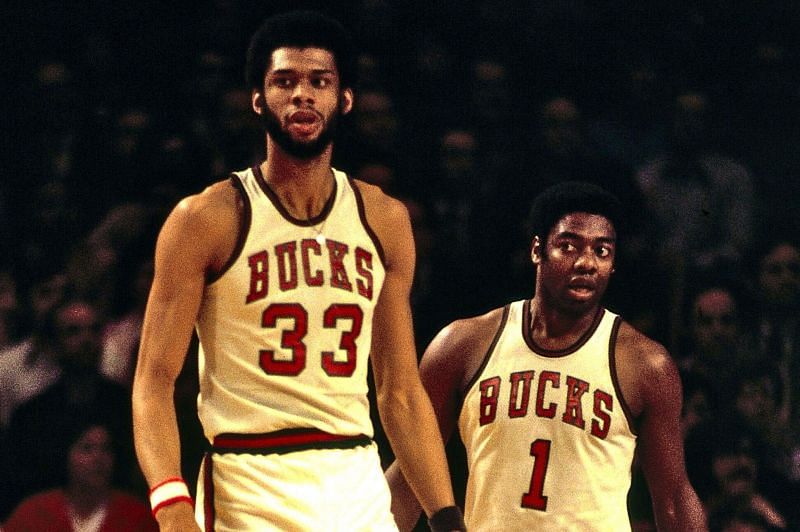 Kareem Abdul-Jabbar arrived in the NBA after arguably the greatest high-school and college playing career in history.
In just his second season in the competition, Jabbar guided the Milwaukee Bucks to the NBA championship. In the process, he won his first regular-season MVP award and also earned the NBA Finals MVP award for the first time in his career.
After averaging 31.7 points and 16 rebounds per game in the regular season, Kareem Abdul-Jabbar put up 27 and 18 in the NBA Finals to sweep the Baltimore Bullets and earn the first of his two NBA Finals MVP awards.
---
#6 Hakeem Olajuwon - 1995 NBA Finals MVP
Stats: 32.8 PPG | 5.5 APG | 11.5 RPG | 2.0 STL | 2.0 BLK | 48% FG.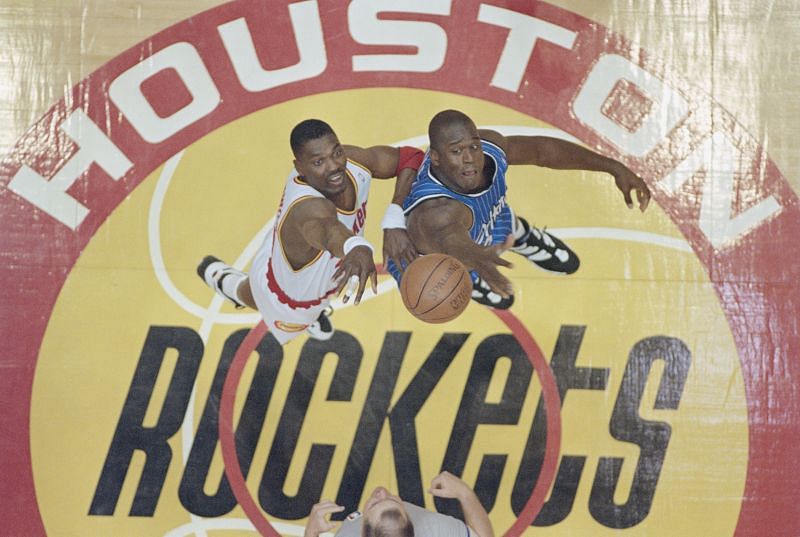 Fresh off winning his first NBA championship with the Houston Rockets in his second appearance in the NBA Finals, Hakeem Olajuwon followed up his 1994 heroics for Houston with an impressive performance in the 1995 NBA Playoffs to take the sixth-seeded Rockets all the way yet again.
The Rockets successfully negotiated their way through the Western Conference in the NBA Playoffs that year, courtesy Olajuwon's solid contribution of 33 points and ten rebounds per game through the first three rounds, where he faced three teams who had won at least 59 games in the regular season.
In the 1995 NBA Finals, the Dream's stunning 32-10-5 performance helped Houston sweep the Shaquille O'Neal-led Orlando Magic; Olajuwon, in the process, won his second consecutive NBA Finals MVP award.
---
#5 LeBron James - 2016 NBA Finals MVP
Stats: 29.7 PPG | 8.9 APG | 11.3 RPG | 2.6 STL |2.3 BLK | 49% FG.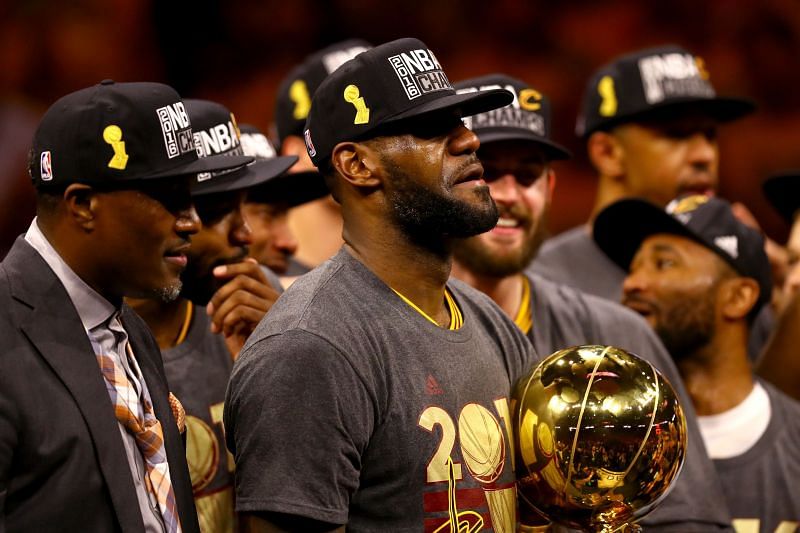 LeBron James led the Cleveland Cavaliers to their first-ever NBA championship in 2016 after helping them overcome a 3-1 deficit against the 73-9 Golden State Warriors in the NBA Finals that year.
The King starred for the Cavaliers with unbelievable consistency at both ends of the floor, leading every major stat category throughout the seven-game series; he achieved a triple-double in the deciding game.
In the process, James won the NBA Finals MVP award for the third time in his career to become the second player (after Kareem Abdul-Jabbar) to win the coveted award with two different franchises. Kawhi Leonard later joined the duo in 2019.
#4 Michael Jordan - 1992 NBA Finals MVP
Stats: 35.8 PPG | 6.5 APG | 4.8 RPG | 1.7 STL | 52% FG.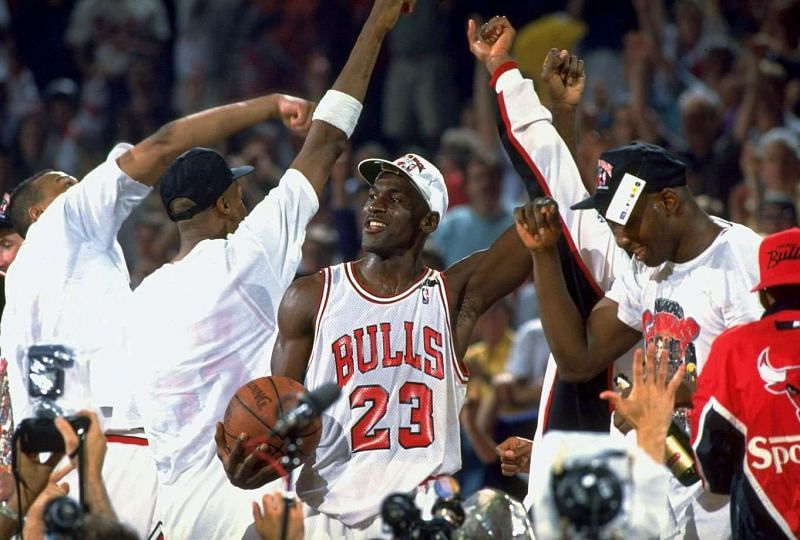 In his second trip to the NBA Finals, Michael Jordan led the Chicago Bulls to back-to-back championships against Clyde Drexler and the Portland Trail Blazers, in the process earning his second NBA Finals MVP award.
The Finals was expected to be an enticing duel between Jordan and Drexler, but MJ quickly stamped his class, leaving Drexler, who had a decent series, trailing in Jordan's wake.
Jordan averaged close to 36 points per game in that six-game series while shooting 52% from the field. He scored 39 points in 34 minutes in the first game while making six 3s (then NBA record).
MJ made 35 points in the first half of that game and set an NBA Finals record while setting the series ablaze with his blistering performances.
---
#3 Shaquille O'Neal - 2001 NBA Finals MVP
Stats: 33.0 PPG | 4.8 APG | 15.8 RPG | 3.4 STL | 57% FG.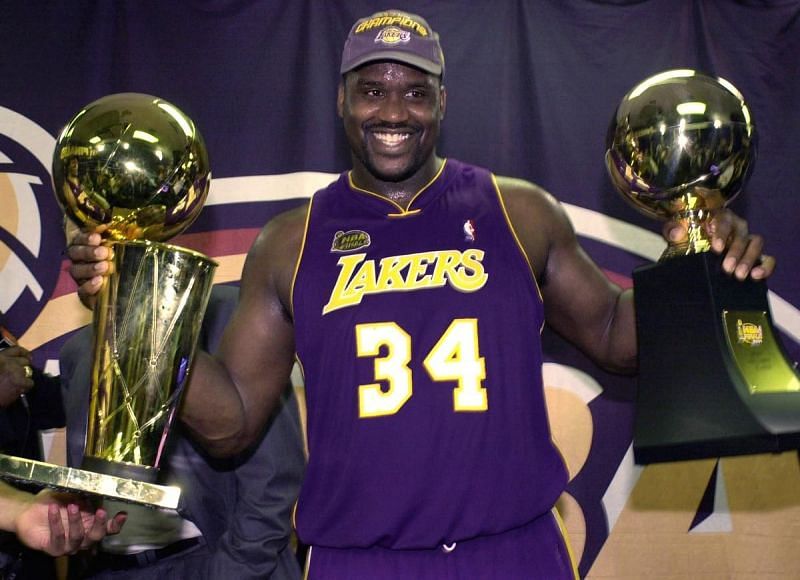 The reigning champions LA Lakers reached the 2001 NBA Finals with a perfect 11-0 record in the Western Conference, beating three 50-win teams in their first three rounds.
In the NBA Finals that year, Allen Iverson and the Philadelphia 76ers, looking to end the Lakers' historic run, took a shock game-one win courtesy Iverson's iconic performance. However, Shaquille O'Neal and the Lakers eventually proved to be too strong for the 76ers.
Shaq produced an incredible 33 points and almost 16 rebounds per game as the Lakers beat the 76ers in five games.
The 2002 NBA Finals were better for O'Neal from a statistical perspective. However, he averaged 33 points on 57% shooting against a four-time NBA Defensive Player of the Year (Dikembe Mutombo), which was indeed a fabulous achievement.
In the process, O'Neil took home his second consecutive NBA Finals MVP award.
---
#2 Shaquille O'Neal - 2000 NBA Finals MVP
Stats: 38.0 PPG | 2.3 APG | 16.7 RPG | 2.7 STL | 61% FG.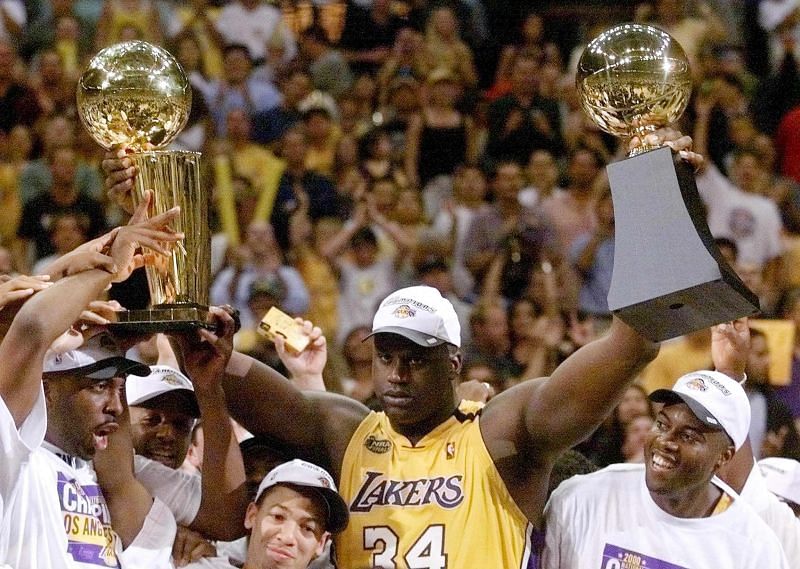 We are not done yet with Shaquille O'Neal and his videogame-like numbers in the NBA Finals.
Shaq and Kobe Bryant made their LA Lakers breakthrough in the 2000 NBA Finals against the Reggie Miller-led Indiana Pacers. Miller's ring-less career is often attributed to the fact that the player played in the Michael Jordan era; however, the 2000 NBA Finals provided a different narrative in this regard.
O'Neal averaged the second-highest tally of points per game (38) in NBA Finals history. The big man also shot 61% from the field (not unusual from a legendary big man but definitely not so in the NBA Finals and with such dominance).
O'Neal had won the regular-season MVP award that season. He also took home the NBA Finals MVP honors after the Lakers beat the Indiana Pacers in six games.
---
#1 Michael Jordan - 1993 NBA Finals MVP
Stats: 41.0 PPG | 6.3 APG | 8.5 RPG | 1.7 STL | 50% FG | 40% 3P.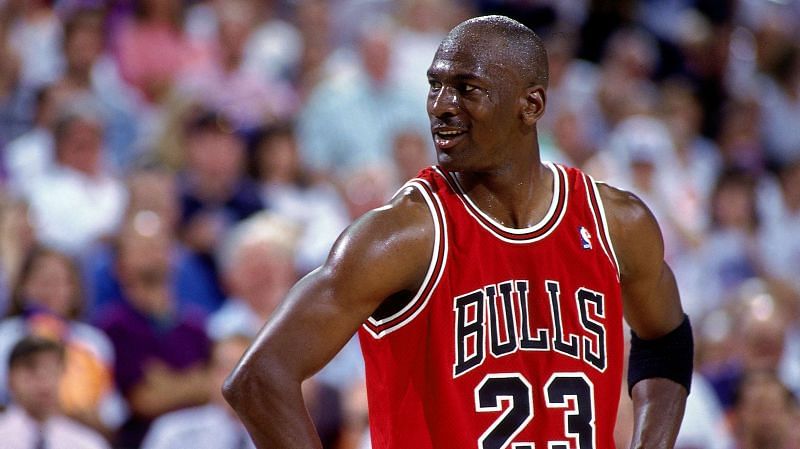 Michael Jordan is the all-time leader with six NBA Finals MVP awards in his career.
Among his six titles won with the Chicago Bulls, his performance in the 1993 NBA Finals triumph against the Phoenix Suns particularly stands out. That year, Michael Jordan became the first player to win three NBA Finals MVP awards in a row.
In sealing the first of the Bulls' two three-peats, Jordan had to find every ounce of energy and ability in his offensive game against the Charles Barkley-led Phoenix Suns, something he did with aplomb.
He averaged 41 points per game in the series and produced a career-high in the NBA Finals with his tally of 55 points in game four to put the series 3-1 in Chicago's favor.
His Airness scored 40 or more points in four games in that six-game series, with four of them coming on the trot between games two and five.
Jordan also averaged 33 shots per game, shooting with 50% efficiency. He also made 40% of his 25 attempts from the three in that series to deservedly earn the NBA Finals MVP recognition.
Michael Jordan's 1993 NBA Finals performance is arguably the greatest in competition history.
---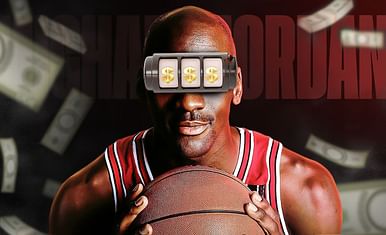 How did Michael Jordan's gambling "habit" taint his image?