The two teams faced each other for the first time on 23 April 2008 at the M. A. Chinnaswamy Stadium in Chennai. CSK won a high-scoring thriller by 6 runs as their 208 proved to be too much for Mumbai in the end. Out of 36 encounters so far, Mumbai Indians have won 21 and Chennai Super Kings have won 15.
MI vs CSK Head to Head Stats
| | |
| --- | --- |
| Matches Played | 36 |
| CSK Won | 15 |
| MI Won | 21 |
| Tie | 0 |
| No Result | 0 |
Chennai Super Kings (CSK) and Mumbai Indians (MI) are statistically the best two teams in the Indian Premier League (IPL) since its inception in 2008. These two teams have been consistent with their performances throughout. They have had some fierce battles not only in the IPL but also in the now defunct Champions League T20 (CLT20). Both the teams have won the CLT20 twice. There are a total of 9 IPL trophies between these two teams, MI have won 5 times while CSK have won 4 times.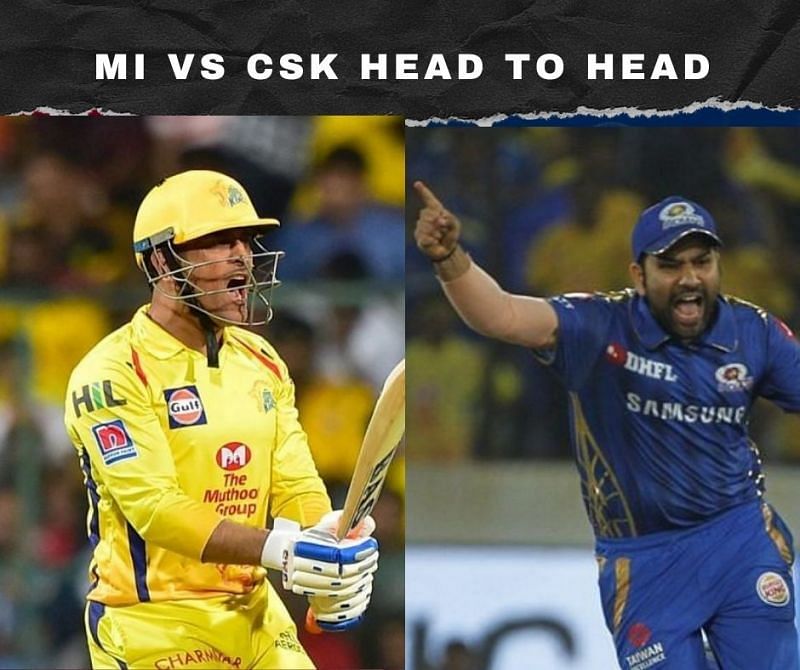 You can now check the updated IPL 2022 Schedule and today IPL news here.
In MI v CSK games, The highest runs scorer from these two teams are Suresh Raina of Chennai Super Kings with 736 runs in 32 matches against Mumbai Indians, followed by Mumbai Indians skipper Rohit Sharma with 693 runs in 28 matches. The highest total in MI v CSK games is 208 by CSK and the lowest total is 79, also by CSK.
Both these teams will again meet in the fifteenth edition of the IPL. MS Dhoni, DJ Bravo and Ravindra Jadeja will be the players to look out for from CSK and Rohit Sharma, Jasprit Bumrah, and Suryakumar Yadav from MI.
Mumbai Indians vs Chennai Super Kings Head to Head
| | | | | | |
| --- | --- | --- | --- | --- | --- |
| Date | Tournament | Venue | Winner | Margin | MoM |
| 12-May-2022 | 2022 IPL | Mumbai | MI | 5 Wickets | Daniel Sams - MI - 3/16 |
| 21-Apr-2022 | 2022 IPL | Mumbai | CSK | 3 wickets | Mukesh Choudhary - CSK- 3/19 |
| 19-Sep-2021 | 2021 IPL | Dubai | CSK | 20 runs | Ruturaj Gaikwad - CSK- 88*(58) |
| 1-May-2021 | 2021 IPL | Delhi | MI | 4 Wickets | Keiron Pollard - MI - 87(34) |
| 23-Oct-2020 | 2020 IPL | Sharjah | MI | 10 Wickets | Trent Boult- MI- 4/18 |
| 19-Sep-2020 | 2020 IPL | Abu Dhabi | CSK | 5 Wickets | Ambati Raydu-CSK- 71 (48) |
| 12-May-2019 | 2019 IPL | Hyderabad | MI | 1 Run | Jasprit Bumrah-MI- 2/14 |
| 7-May-2019 | 2019 IPL | Chennai | MI | 6 Wickets | Surya Kumar Yadav-MI- 71*(54) |
| 26-Apr-2019 | 2019 IPL | Chennai | MI | 46 runs | Rohit Sharma- MI - 67(48) |
| 3-Apr-2019 | 2019 IPL | Mumbai | MI | 37 runs | Hardik Pandya - MI - 25 (8) |
| 28-Apr-2018 | 2018 IPL | Pune | MI | 8 wickets | Rohit Sharma - MI - 53 (33) |
| 7-Apr-2018 | 2018 IPL | Mumbai | CSK | 1 wicket | DJ Bravo - CSK - 68 (30) |
| 23-May-2015 | 2015 IPL | Kolkata | MI | 41 runs | Rohit Sharma - MI - 40 (26) |
| 18-May-2015 | 2015 IPL | Mumbai | MI | 25 runs | Kieron Pollard - MI - 41 (17) |
| 7-May-2015 | 2015 IPL | Chennai | MI | 6 wickets | Hardik Pandya – MI – 21* (8) |
| 16-Apr-2015 | 2015 IPL | Mumbai | CSK | 6 wickets | Ashish Nehra - CSK - 3/23 |
| 27-May-2014 | 2014 IPL | Mumbai | CSK | 7 wickets | Suresh Raina – CSK – 54* (33) |
| 9-May-2014 | 2014 IPL | Mumbai | CSK | 4 wickets | Dwayne Smith – CSK – 57 (51) |
| 24-Apr-2014 | 2014 IPL | Dubai | CSK | 7 wickets | Mohit Sharma – CSK – 4/14 |
| 25-May-2013 | 2013 IPL | Kolkata | MI | 23 runs | Kieron Pollard – MI – 60* (32) and 1/34 |
| 20-May-2013 | 2013 IPL | Delhi | CSK | 48 runs | Michael Hussey – CSK – 86* (58) |
| 4-May-2013 | 2013 IPL | Mumbai | MI | 60 runs | Mitchell Johnson – MI – 3/27 |
| 5-Apr-2013 | 2013 IPL | Chennai | MI | 9 runs | Kieron Pollard – MI – 57* (38) and 1/40 |
| 19-Oct-2012 | 2012 CLT20 | Johannesburg | CSK* | 6 runs | Ben Hilfenhaus– CSK – 2/14 |
| 22-May-2012 | 2012 IPL | Bangalore | CSK | 38 runs | Mahendra Singh Dhoni – CSK – 51* (20) |
| 5-May-2012 | 2012 IPL | Mumbai | MI | 2 wickets | Dwayne Smith – MI – 24* (9) |
| 3-Apr-2012 | 2012 IPL | Chennai | MI | 8 wickets | Richard Levi – MI – 50 (35) |
| 23-Sep-2011 | 2011 CLT20 | Chennai | MI* | 3 wickets | Lasith Malinga – MI – 1/29 and 37* (18) |
| 21-Apr-2011 | 2011 IPL | Mumbai | MI | 8 runs | Harbhajan Singh – MI – 5/18 |
| 24-May-2010 | 2010 IPL | Navi Mumbai | CSK | 22 runs | Suresh Raina – CSK – 57* (35) and 1/21 |
| 5-May-2010 | 2010 IPL | Chennai | CSK | 24 runs | Suresh Raina – CSK – 73 (28) and 1/12 |
| 24-Apr-2010 | 2010 IPL | Mumbai | MI | 5 wickets | Sachin Tendulkar– MI – 72 (52) |
| 15-May-2009 | 2009 IPL | Port Elizabeth | CSK | 7 wickets | Matthew Hayden – CSK – 60* (57) |
| 17-Apr-2009 | 2009 IPL | Cape Town | MI | 19 runs | Sachin Tendulkar– MI – 59* (49) |
| 13-May-2008 | 2008 IPL | Mumbai | MI | 9 wickets | Sanath Jayasuriya– MI – 114* (48) |
| 22-Apr-2008 | 2008 IPL | Chennai | CSK | 6 runs | Matthew Hayden – CSK – 81 (46) |
(*) - Champions League Twenty20