| | |
| --- | --- |
| Full Name | Ruturaj Dashrat Gaikwad |
| Date of Birth | January 31, 1997 |
| Age | 25 Years |
| Nationality | Indian |
| Birth Place | Pune |
| Height | 5ft 9 inch |
| Current Team(s) | |
| Role | Batsman |
| Batting Style | Right hand Bat |
| Bowling Style | Right arm Offbreak |
| Debut | July 28, 2021 |
| Jersey No. | 31 |
| Family | Dashrath Gaikwad (Father), Sarita Gaikwad (Mother) |
| Game Type | Mat | Inn | R | BF | NO | Avg | S/R | 100s | 50s | H | 4s | 6s | Ct | St |
| --- | --- | --- | --- | --- | --- | --- | --- | --- | --- | --- | --- | --- | --- | --- |
| ODIs | 4 | 4 | 106 | 145 | 0 | 26.50 | 73.10 | 0 | 1 | 71 | 14 | 0 | 0 | 0 |
| T20Is | 17 | 15 | 458 | 317 | 3 | 38.16 | 144.47 | 1 | 3 | 123 | 44 | 19 | 9 | 0 |
| T20s | 120 | 114 | 3870 | 2808 | 11 | 37.57 | 137.82 | 4 | 27 | 114 | 365 | 149 | 60 | 3 |
| LISTAs | 75 | 74 | 4121 | 4095 | 5 | 59.72 | 100.63 | 15 | 17 | 220 | 400 | 119 | 20 | 0 |
| FIRSTCLASS | 28 | 47 | 1941 | 3443 | 1 | 42.19 | 56.37 | 6 | 9 | 195 | 238 | 26 | 19 | 0 |
| Game Type | Mat | Inn | O | R | W | Avg | E/R | Best | 5w | 10w |
| --- | --- | --- | --- | --- | --- | --- | --- | --- | --- | --- |
| ODIs | 4 | 0 | 0 | 0 | 0 | 0 | 0 | 0 | 0 | 0 |
| T20Is | 17 | 0 | 0 | 0 | 0 | 0 | 0 | 0 | 0 | 0 |
| T20s | 120 | 0 | 0 | 0 | 0 | 0 | 0 | 0 | 0 | 0 |
| LISTAs | 75 | 0 | 0 | 0 | 0 | 0 | 0 | 0 | 0 | 0 |
| FIRSTCLASS | 28 | 2 | 2.1 | 4 | 0 | 0 | 1.84 | 0 | 0 | 0 |
Ruturaj Gaikwad: A Brief Biography
Ruturaj Gaikwad is one of the up-and-coming talents in the domestic cricketing setup of the country. He has been praised by former Indian skipper MS Dhoni for his sharp brain and immaculate understanding of the game. Gaikwad leads the Maharashtra cricket team in domestic cricket. He is the only batter in the history of cricket to smash seven sixes in one over.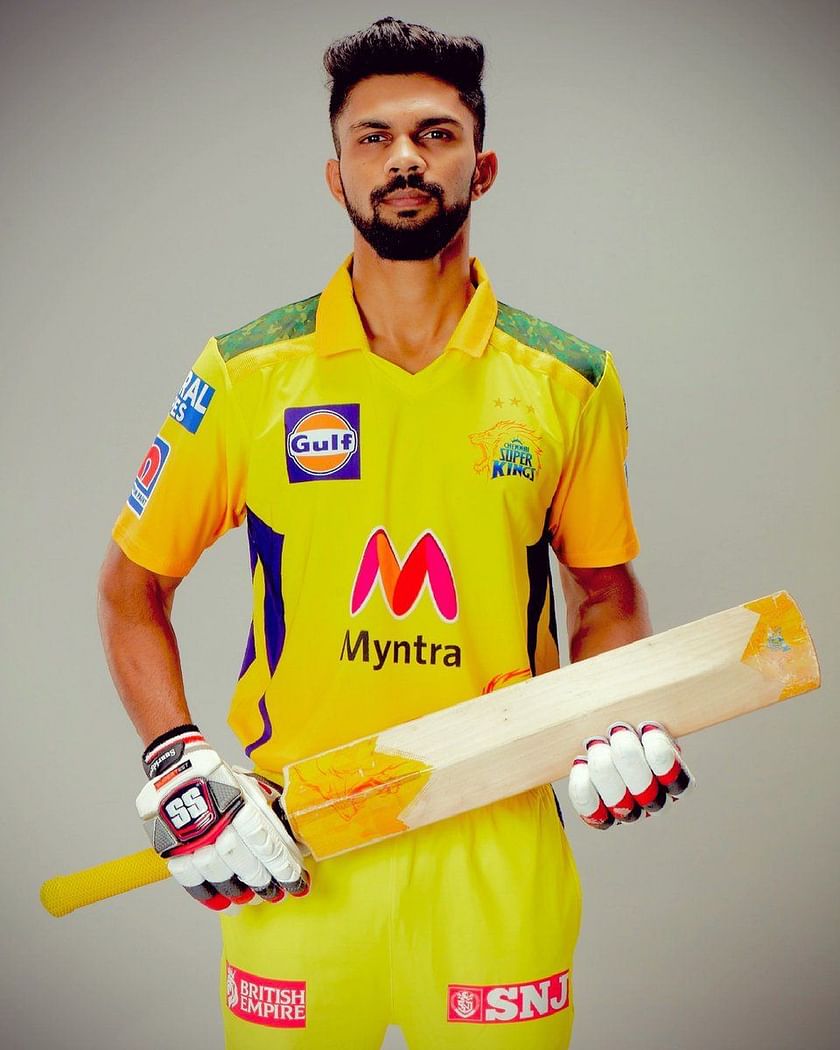 Career
Domestic Career
The stylish right-handed batsman made his first-class debut at the age of 19 for Maharashtra during the Ranji trophy 2016-17. On his India A debut, shortly after his first-class debut, Gaikwad was out on a golden duck, against England Lions in January 2019. It was to be, however, just a small blip in the course of a glorious summer.
His scores for India A in List A cricket during the home series against Sri Lanka A and in the Caribbean against West Indies A read: 187*, 125*, 94, 84, 74, 3, 85, 20, 99. That's 677 runs at an average of 112.83 and a strike rate of 116.72.
In October 2018, he was named in India B's squad for the 2018–19 Deodhar Trophy. In December 2018, he was named in India's team for the 2018 ACC Emerging Teams Asia Cup. Gaikwad scored 365 runs at 45.62 in the 2018-19 Vijay Hazare Trophy.
In October 2021, Ruturaj Gaikwad was appointed as Maharashtra captain for the white-ball formats. He made 259 runs in five innings at a strike rate of 149.71 in the Syed Mushtaq Ali Trophy 2021-22 and followed with an astounding campaign in the Vijay Hazare Trophy 2021-22, where he was the highest run-getter in the season with 603 runs in just five innings, including four centuries.
In the following VHT season, Gaikwad hit more than 600 runs for the second time in a row. Ruturaj scored an unbeaten 220 runs in the quarter-final game against Uttar Pradesh. In the penultimate over of the Maharashtra innings, Gaikwad slammed left-arm spinner Shiva Singh for seven sixes in six balls as the bowler bowled a no-ball on the fifth delivery.
Maharashtra reached the final of that season but ended up as runners-up following their five-wicket defeat to Saurashtra. Gaikwad's 108 against Jaydev Unadkat & co. went in vain, however, he was awarded Player of the series for scoring 660 runs in just five matches at a staggering average of 220.
IPL Career
Ruturaj Gaikwad was sold to CSK for his base price of INR 20 lakh in the 2019 IPL auction but warmed the bench throughout the season. He played just six games in the next season played in UAE and aggregated 204 runs in six innings with three fifty-plus scores came in the last three of his innings in IPL 2020.
Gaikwad was promoted to bat along with Faf du Plessis in the IPL 2021. It turned out to be a game-changing season for the Maharastra player. He scored a splendorous unbeaten 88 against Mumbai Indians in the first game of the second leg in UAE. He pushed CSK to a respectable 156 after they were in tatters at 24/4 at one stage and they eventually won by 20 runs.
Gaikwad scored his maiden IPL century (101*) against Rajasthan Royals in Abu Dhabi but it turned out to be a losing cause with the opponent chasing 190 with 15 balls to spare. Gaikwad pipped his CSK opening partner Faf du Plessis by two runs to bag the Orange Cap of IPL 2021, scoring 635 runs in 16 innings at a strike rate of 136.26 with four half-centuries and a fifty.
Ahead of the IPL 2022 mega auction, Gaikwad was retained by CSK along with the likes of Ravindra Jadeja, MS Dhoni, and Moeen Ali. However, the youngster added 368 runs in 14 games in CSK's disappointing campaign in IPL 2022. The only solace of the season was Gaikwad's 99 against SRH in CSK's 13-run win in Pune.
International Career
In between the two legs of the IPL 2021, Gaikwad earned his maiden call for the Indian national men's team. He was named in the 20-member squad under Shikhar Dhawan to tour Sri Lanka for a combined six limited-overs matches. He played in the last two T20I matches in Colombo and scored 21 & 14 respectively.
In February 2022, Gaikwad was given the opportunity to open the innings with Ishan Kishan in the third T20I against West Indies with sipper Rohit Sharma slotting himself to bat at No.4. Gaikwad missed the chance as he departed for just four runs from eight balls.
Ruturaj scored 96 runs in five matches against South Africa with the best score of 57 in the third T20I in Visakhapatnam. He played in the first match against Ireland in Dublin but did not bat in the rain-truncated match. The Indian team management took a precautionary measure by resting Gaikwad in the second game as he had a calf niggle.
Gaikwad made his ODI debut against South Africa in the first match on October 6, 2022. He batted at No.3 and scored 19 runs from 42 balls before getting stumped by Quinton de Kock off Tabraiz Shamsi's bowling.
Background
Ruturaj Gaikwad was born on 31 January 1997 and rose through the age group system of the Maharashtra team, and consistently made it to India A side as well. Gaikwad is from a Pune-based family that has always valued academics highly. His father, Dashrath Gaikwad is a Defence Research Development Officer, and his mother is a teacher at a municipal school. None of his cousins, with whom he grew up in a large joint family played sports.
As of now, his success rate has been much higher in List A, where he is consistent and also makes his runs at a healthy strike rate. However, given his temperament and technique, Ruturaj should be able to better his already reasonable returns in First-class cricket.
Ruturaj Gaikwad's highest score in T20 Internationals is 57, which was scored against South Africa in the thrid T20I in Visakhapatnam in June 2022. However, Ruturaj's best T20 score happens to be 114 against Kerala in the 2022 Syed Mushtaq Ali Trophy.
Ruturaj Gaikwad's highest score in the IPL is 101 that came against Rajasthan Royals in IPL 2021 in Abu Dhabi.
Ruturaj Gaikwad has scored 1207 runs in 36 IPL matches at an average of 37.32 and a strike rate of 130.35, including 10 fifties and a solitary century.