| | |
| --- | --- |
| Name | Mike Tyson |
| Mike Tyson's Net Worth (2022) | Approx $10 Million |
| Age (2022) | 56 years (born 30th June 1966) |
| Residence | Henderson, Nevada |
| Marital Status | Married |
| Wife | Lakiha Spicer |
| Sources of Wealth | Former Pro Boxer, Acting, Ranch, and Podcasting |
| Salary | Retired |
| Recent Endorsements | Smart Cups, Parimatch, Manscaped, and CopperGel |
| Philanthropy | Laureus Sport for Good Foundation |
| Last Updated | 2022 |
Mike Tyson reigned as the undisputed world heavyweight champion from 1987 to 1990 and is often considered the best heavyweight boxer.
'Iron Mike' always made headlines for his Boxing accolades or his much-discussed lifestyle. Tyson's in-ring career brought him into popular culture, starring in movies like Hangover, IP Man, and Rocky Balboa and guest appearing in TV shows like How I met your mother, The Last O.G., Webster, and many others.
Tyson made his boxing comeback in an Eight-round split draw vs. Roy Jones Jr, and you can regularly follow him on his new podcast - "Hotboxin with Mike Tyson"'
What is Mike Tyson's Net Worth in 2022?
According to Celebritynetworth.com, Mike Tyson's net worth is $10 million as of 2022.
For someone who's had such an illustrious career as Tyson's had, money shouldn't be a problem.
However, he lost most of that money due to lawsuits and being a lucrative spender, which included buying expensive mansions, cars, and, we all know, the story of the big cats he owned. In 2003, Tyson filed for bankruptcy, as it was reported he was $23 million in debt.
Podcasting and his recent bout with Roy Jones Jr. have contributed to his current net worth hike.
Read here: What is Floyd Mayweather's Net Worth?
Mike Tyson's Career Earnings
Even after being deceived of millions of dollars from his fortune, Tyson earned around $375 Million through fight purses.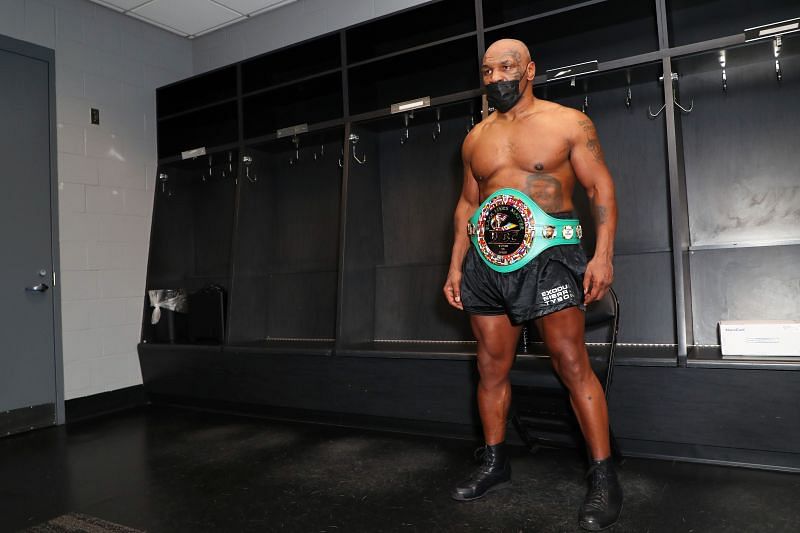 Below are his top 10 fight purses:
| | | | |
| --- | --- | --- | --- |
| SR.No. | Fights | Purse | Year |
| 10 | Danny Williams | $27 Million | 2004 |
| 9 | Donovan Ruddock | $30 Million | 1991 |
| 8 | Peter McNeeley | $30 million | 1995 |
| 7 | Evander Holyfield | $30 Million | 1996 |
| 6 | Evander Holyfield | $30 million | 1997 |
| 5 | Kevin McBride | $30 million | 2005 |
| 4 | Julius Francis | $30 million | 2000 |
| 3 | Frank Bruno | $35 million | 1996 |
| 2 | Bruce Sheldon | $35 million | 1996 |
| 1 | Lennox Lewis | $35 Million | 2002 |
He earned around $3.5 million for his guest appearance on WWE Wrestlemania XIV. In his comeback fight against Roy Jones Jr., it is believed that Tyson made a whopping $10 million purse.
Read here: When Mike Tyson spent $2.2 million to buy a 24-karat gold bathtub.
Mike Tyson Endorsements
In 1986, when Tyson became the youngest heavyweight champion in history, he got endorsement deals from notable brands like Pepsi, Nintendo, Eastman Kodak, and EA Sports, to name a few. However, when it came out that Tyson was hitting his then-wife Robin Givens, naturally, brands began to distance themselves away from him.
Mike Tyson's most recent endorsements include starting his ranch and merchandise. He even started new auditory edible, "Mike's Bites," referring to his incredible fight with Evander Holyfield.
Tyson cleared his public image by appearing in various movies and TV shows, which earned him new endorsements. Mike Tyson also got recent sponsorships from brands like CopperGel, Black Energy Drink, Smart Cups, etc.
Credit: Luxury Homes of Las Vegas
Tyson currently resides in Henderson, Nevada. As reported by The Sun, Tysonbought the 8,148 square-foot mansion in 2016 for £2.5 million.
For those of you wondering, it's not the house they showed in the Hangover movie. The place that they used in the film is the famous 'Seven Hills Mansion' in Las Vegas. Tyson listed that house in 2016 for 1.5m dollars.
Find out here: Manny Pacquiao's Net Worth.
Mike Tyson's Investments
Besides small business ventures, Tyson had his eyes set on legal cannabis. Hence, in 2017 he founded the 'Tyson Ranch,' which approximately sells over£500,000 worth of Medical Marijuana per month.
He hosts his popular podcast, "Hotboxin' with Mike Tyson," near the ranch.
Some of the Most Popular Mike Tyson Quotes
How Mike Tyson Lost so much money
Tyson admitted that, coming from the streets, he never knew how to manage his money. He was seen as a careless spender. He frequently bought expensive houses, cars, and giant wild animals. He was also exploited for millions by his promoter Don King. Tyson later sued King for 100 million dollars.
Also Read: What is Don King's Net Worth?
He lost all his endorsement deals as in 1992, Tyson was convicted of rape and sentenced to 6 years, but was released on parole after serving half the term.
Due to all this, the heavyweight King of the world filed for bankruptcy in 2003 as it was reported he was $23 million in debt.
In an interview with Graham Bensinger, Tyson was asked about his spending habits, and he had this to say-
"That's just how I lived my life. That's my addictive personality, that's a lot of things, that's my ego, that's so many other things,"
"From me being poor and never having anything, from me being bitter, angry from being in prison. It stems from a lot of things."
What does Mike Tyson Spend money on
As mentioned above, Tyson was a heavy spender. He bought cars like the 1997 Bentley Continental T for 500,000 dollars, Jaguar XJ220 for a reported 470,000 dollars, and a Bentley Azure, which cost him a whopping 1.5m dollars.
The famous pet tigers he owned reportedly cost him around $60,000 per tiger. Tyson also spent nearly $400,000 on maintaining his beloved pigeons and tigers.
For his 30th birthday, Tyson threw a party worth $580,000 and had celebrities in-house, including Donald Trump.
Tyson bought an estate for $4 million and sold it to 50 Cent for $3 million during bankruptcy. Mike is said to have gifted Robin Givens, his then-wife, a golden bathtub worth $2 million.
Moreover, Tyson started his cannabis empire called the Tyson Ranch as his latest venture, along with other merchandise on Tyson 2.0.
See Here: What does Mike Tyson's Workout Routine comprise?
Mike Tyson's Charity Work
Mike Tyson claims himself as a "product" of poverty and has an organization running the name of the Mike Tyson Cares Foundation. The primary aim of this organization is to fund lower-income people and give them a fighting chance.
Per several reports, Mike Tyson seems to donate a lot of money from his earnings to various programs and help people in need.
Net Worth of other Popular MMA Fighters
FAQs on Mike Tyson's Net Worth
Q1. Who is the richest boxer in the world?
Floyd Mayweather, with a net worth of $560 million, is currently the richest boxer in the world.
Q2. What was Mike Tyson's highest net worth?
At his peak, Mike Tyson's net worth was around $300 million.
Q3. How did Mike lose his money?
Mike Tyson was one of the highest-paid athletes of all time but spent so lavishly that he filed for bankruptcy to repay millions in debt in 2003.
Q4. What is Mike Tyson's current net worth?
As of November 2022, Mike Tyson is worth $10 million.
Q5. What was Mike Tyson's payment for The Hangover?
According to reports, Mike Tyson earned a lump sum of $100,000 and $200,000 for parts 1 and 2.
Q6. Who is playing MikeTyson's role in the limited series "Mike"?
The Moonlight actor Trevante Rhodes plays the role of Mike Tyson in the series.
*Last Updated: 1st November 2022