One of the greatest heavyweight boxers of all time, Michael "Iron Mike" Tyson, has etched his name in boxing history. The youngest heavyweight champion in history, he reached the top of the boxing world at the young age of 20. He was the first boxer to hold the WBA, WBC, and IBF titles simultaneously and remains the only heavyweight to unify them in succession.
Born on June 30, 1966, in Brownsville, Brooklyn, Tyson had a troubled childhood. He never knew his birth father, Purcell Tyson. His step-father, Jimmy Kirkpatrick, walked out on the family when Tyson was born.
The youngest of three siblings, Tyson was often neglected at home and spent a large amount of his time outdoors. Being from a rough neighborhood, Tyson got into a lot of fights as a child, usually against bullies who made fun of his high-pitched voice and lisp. By the age of 13, he had been arrested 38 times.
As a young teenager, Tyson's boxing ability was discovered by Juvenile detention counselor Bobby Stewart, who was also a former boxer. Stewart trained him initially before introducing him to Christopher "Cus" D'amato. D'amato, who was initially Tyson's trainer, also became a father figure and his legal guardian when his mother passed away in 1982. It was with D'amato that Tyson really started working out and training to become the legend he is today.
Iron Mike was undoubtedly the best in the ring in his prime. The first heavyweight boxer to be #1 in the Men's pound-for-pound rankings, Tyson was an incredible fighter. He won 26 of his first 28 fights by TKO, 16 of which came in the first round. Tyson was incredibly fast for a fighter in his weight class. He brilliantly combined his agility and ferocious strength along with the"peek a boo" style taught to him by Cus, which allowed him to weave in between punches. He would also frequently crouch when attacking to let the "spring" in his legs add power to his punch. One of his more famous combos was a right hook to the body followed by a right uppercut on the chin.
Tyson defeated many big names to earn his status as the best. Among those he defeated, his most iconic fight was his bout against Michael Spinks. Both were undefeated heavyweight fighters. Tyson held all three major titles, but Spinks was the number one boxer in "the Ring" magazine and was considered to be "the people's champion." Tyson won that fight by TKO in 91 seconds, easily defeating Spinks.
Check out here: 5 Tips for a More Effective Workout
Tyson vs. Spinks, this marks the second time Spinks has been knocked down in his career.
Exploring the diet of the Boxing Superstar Mike Tyson
What is Mike Tyson's workout routine?
Mike Tyson's workout routine would include 2000 sit-ups, 500-800 dips, 500 press-ups, and 500 shrugs with a 30kg barbell. He would also do around 10 minutes of neck rolls on a folded towel. Tyson's improved neck strength drastically reduced the chances of him getting knocked out during a fight. The neck roll is a somewhat common exercise in boxing, but no boxer was known for it the way Mike Tyson was.
Tyson would end his workout with a half hour on the exercise bike at 8 pm and would sleep at around 10 to get a full 7 hours of sleep a night.
Before Mike Tyson became a household name, he was just a kid from Brooklyn. He trained obsessively to become the boxer he is. With one of the most brutal workout regimes, Iron Mike built his iron body rep by rep.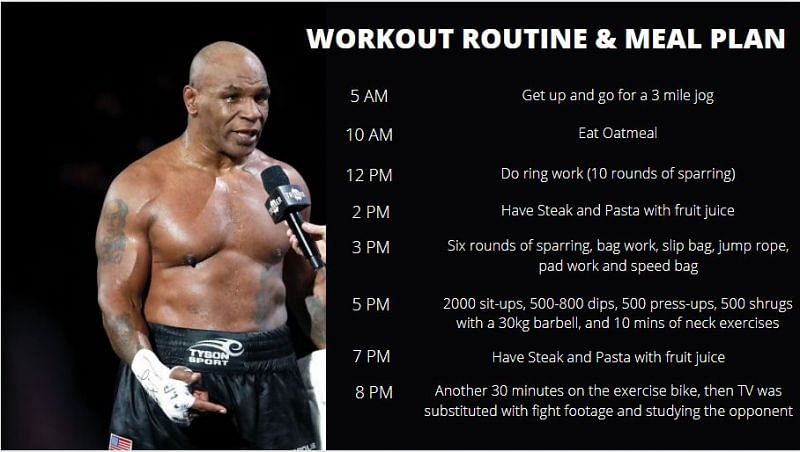 Tyson was truly dedicated to becoming a master of his craft. He would spend 8-10 hours a day working out on an average day. He would also study for upcoming fights and followed a rigorous diet to ensure his body got the right nutrition.
He would start his day at 5 am and run for 3 miles to improve his lung capacity and stamina for long fights. Following this, he would come home at 6 am and rest till 10. Tyson would then wake up at 10 am and start sparring practice.
A Look at: Jake Paul's Unorthodox Open Workout
Coach D'amelio believed that shadowboxing was one of the most important exercises for a fighter, and thus Tyson used this technique often.
A Look at Logan Paul's Training before he fought Floyd Mayweather
Here is Mike Tyson's full workout routine and meal plan according to Muscle Prodigy:
| | |
| --- | --- |
| Time | Workout Routine & Meal Plan |
| 5 AM | Get up and go for a 3-mile jog |
| 6 AM | Come back home, shower, and go back to bed |
| 10 AM | Wake up and then eat oatmeal |
| 12 PM | Do ring work (10 rounds of sparring) |
| 2 PM | Have another meal (steak and pasta with fruit juice) |
| 3 PM | Six rounds of sparring, bag work, slip bag, jump rope, pad work, and speed bag |
| 5 PM | 2000 sit-ups, 500-800 dips, 500 press-ups, 500 shrugs with a 30kg barbell, and 10 mins of neck exercises |
| 7 PM | Steak and pasta meal with fruit juice |
| 8 PM | Another 30 minutes on the exercise bike, then watch TV and go to bed. Before fights, TV was substituted with fight footage and studying the opponent. |
A lot of Tyson's success has to do with this routine. While he may have been a talented boxer as a child, his hard work and effort were integral to his victories, and if he hadn't worked the way he had, it's quite possible he wouldn't be the legend he is today.
Check out here: Deontay Wilder looks absolutely ferocious in training for the Tyson Fury trilogy fight
A Video Compilation of Mike Tyson's Workout Routine
FAQs on Mike Tyson's workout routine
Q: How many pushups did Mike Tyson do in a day?
Mike Tyson would usually do more than 500 pushups a day.
Q: How much could Mike Tyson bench?
Although he mainly focused on calisthenics and boxing exercises, it has been reported that Mike Tyson could bench over 200 pounds.
Q: How many squats did Mike Tyson do?
Mike Tyson would usually do 400 squats in a day.
Q: How much weight did Mike Tyson lose?
Mike Tyson lost 100 pounds for his comeback fight against Roy Jones Jr. by going vegan.
Q: How many hours a day did Mike Tyson work out?
Mike Tyson trained 8-10 hours a day during his prime.
Here's the Perfect Workout Routine To Build Strength and Endurance
Last Updated: October 22, 2022