| | |
| --- | --- |
| Full Name | Kartik Tyagi |
| Date of Birth | November 8, 2000 |
| Nationality | Indian |
| Current Team(s) | |
| Role | Right-arm fast bowler |
| Family | Yogendra Tyagi (Father) |
| Game Type | Mat | Inn | R | BF | NO | Avg | S/R | 100s | 50s | H | 4s | 6s | Ct | St |
| --- | --- | --- | --- | --- | --- | --- | --- | --- | --- | --- | --- | --- | --- | --- |
| T20s | 32 | 7 | 13 | 16 | 3 | 3.25 | 81.25 | 0 | 0 | 7 | 1 | 0 | 3 | 0 |
| LISTAs | 16 | 7 | 21 | 64 | 4 | 7.00 | 32.81 | 0 | 0 | 8 | 1 | 0 | 2 | 0 |
| FIRSTCLASS | 2 | 4 | 14 | 51 | 2 | 7.00 | 27.45 | 0 | 0 | 7 | 2 | 0 | 1 | 0 |
| Game Type | Mat | Inn | O | R | W | Avg | E/R | Best | 5w | 10w |
| --- | --- | --- | --- | --- | --- | --- | --- | --- | --- | --- |
| T20s | 32 | 32 | 103.3 | 952 | 25 | 38.08 | 9.19 | 2/23 | 0 | 0 |
| LISTAs | 16 | 16 | 130.5 | 740 | 29 | 25.51 | 5.65 | 3/24 | 0 | 0 |
| FIRSTCLASS | 2 | 4 | 38 | 106 | 3 | 35.33 | 2.78 | 3/40 | 0 | 0 |
Kartik Tyagi: A Brief Biography
Kartik Tyagi was one of the standout performer from India's 2020 U19 campaign. He is able to consistently clock 140+ clicks and is all set to make his IPL debut in the 2020 season.
Table of Contents
Career
Domestic career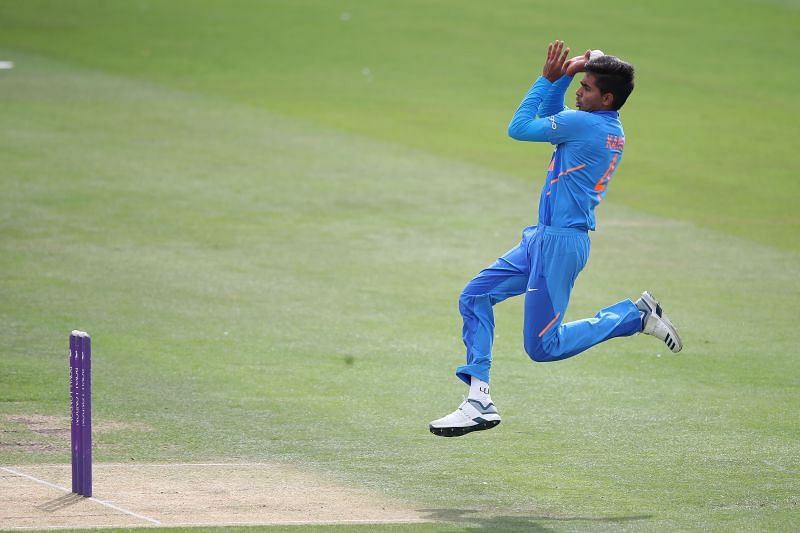 Tyagi, who crosses the 140kmph mark consistently, impressed former Uttar Pradesh captain Rizwan Shamsad at a selection trial. The former bowled at good lengths and hit the target more often than not and soon found himself playing for his state side in the Under-19 Cooch Behar Trophy.
Kartik Tyagi made his First-class debut against Railways in October 2017 where he picked 3 wickets during the course of the two innings. Although his debut Ranji match ended up in a loss, Tyagi impressed one and all with his impeccable line and length and specifically his pace. He later made his List A debut for Uttar Pradesh in the 2017–18 Vijay Hazare Trophy on 5 February 2018 against Delhi in Bilaspur. He bowled 9 overs in the match and picked up 2 wickets by shelling 50 runs.
Before going into the U19 World Cup Tyagi took nine wickets in only five matches in the Youth ODI series in England this year to further enhance his reputation as a strike bowler. In only three games, Tyagi picked up six wickets against a strong Afghanistan U-19 side.
However, Kartik rose to prominence when he was selected for the Under 19 World Cup 2020. The 19-year-old returned with 11 wickets including a game-changing 4/24 against Australia in the quarterfinal.
IPL Career
The right-arm pacer impressed one and all with his ability to move the ball around with good pace during the World Cup and that led to him being picked by Rajasthan Royals for a whopping sum of INR 1.3 crores. Kartik has the pedigree to excel at the world's most competitive T20 league and if he can fend off the injuries for the coming two-three seasons then he surely will be donning the India colours in no time.
Background
Kartik Tyagi developed the strength for pace by carrying sacks of produce from his father's farm. They did not have the finances for cricket training but then, the talented teenager whooshed past the obstacles at 140 clicks an hour on the field. His father even had to sell most of his possession when he had fractured his leg and couldn't play cricket anymore.