It is no secret that the Eastern conference is weaker than the west.
Last year, we saw players like Jimmy Butler and Paul George take their talents from the east to join the west. However, the east could always say that they had the best player in the game today: LeBron James. That all changed a few days ago, where LeBron decided to suit up in the purple, and gold.
There are teams in the West such as the Denver Nuggets that may not make the playoffs but could make the playoffs if they were in the east. The eastern conference is resembling a joke in comparison to the west, but there is still some quality talent. Let's evaluate the talent in the east and rank the ten best players now that the King has set out west. The top talent is pretty tough to rank, and may cause disagreements among readers.
•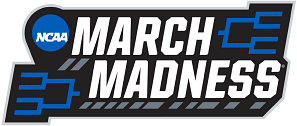 All of the players who are/were injured were included, and we are basing their talent off of their more recent seasons and not off of their entire career. This is the top 10 players in the east today:
Honorable mention: Bradley Beal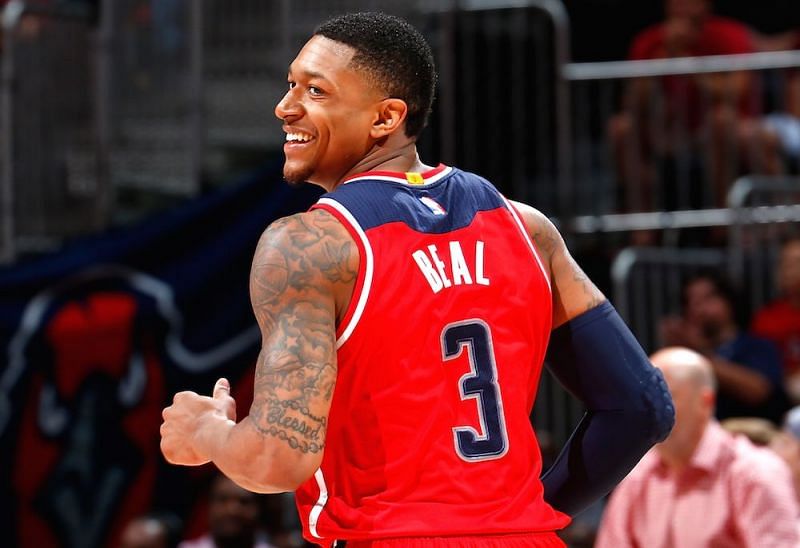 The Robin to John Wall's Batman made his first All-Star appearance this year. He averaged 22.6 points per game, 4.5 assists, and 4.4 rebounds. He's a great scorer and has been a core member of the Washington Wizards team for the last few seasons. He is an efficient shooter who shot 46% from the field and 37.5% from three.
Some people have brought up the idea that Bradley could possibly lead his own team, rather than stay in the shadow of his backcourt teammate John Wall. Beal is a top 3 shooting guard in the east and has established himself as one of the best young scorers in the league. He is still relatively young at 25, and not yet in his prime.
Expect him to possibly rise in this list as the Wizards grow their roster or if he becomes the primary scorer on an eastern conference team
#10 Andre Drummond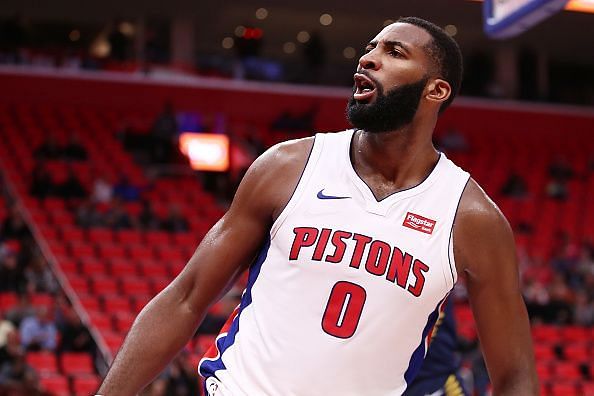 It feels like Andre Drummond has been in the league forever, but he is only 24 years old. He is one of the most talented big men in the league, however, his talent is hidden because of the lack of success he has had in Detroit. At such a young age, he is already a two-time all-star and has the led the league in rebounds in 2016 and 2018.
This past season, he's coming off of a monstrous 16 rebounds, along with 15 points per game and a player efficiency rating of close to 23. His most impressive improvement has to be his increased free throw percentage. It started at 37%, when he entered the league, to 60%, just this past season. Drummond is still very young and could very well become a top 3 centre in the league if and only if his team is able to have some success rather than underachieving and wasting Drummond's prime.
#9 Victor Oladipo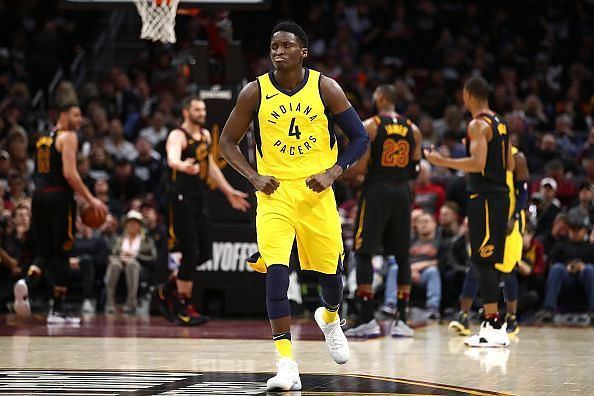 The runaway Most Improved Player, Victor Oladipo has gone from a decent starter to an All-NBA talent. All he needed was a change of scenery and a new system. The Pacers may have come out as the winners from the Paul George trade after the rejuvenation of Oladipo's career. He has become a big fan favourite and puts in 110% every game with a very high intensity.
This past season, Oladipo averaged 23 points, 4 assists, and 5 rebounds a game. He was able to push LeBron and the Cavs to seven games in the playoffs and looks to be the future star and centrepiece of the Indiana Pacers for years to come. If Oladipo keeps up this level of play, he could rise up in the rankings of this list.
#8 Kemba Walker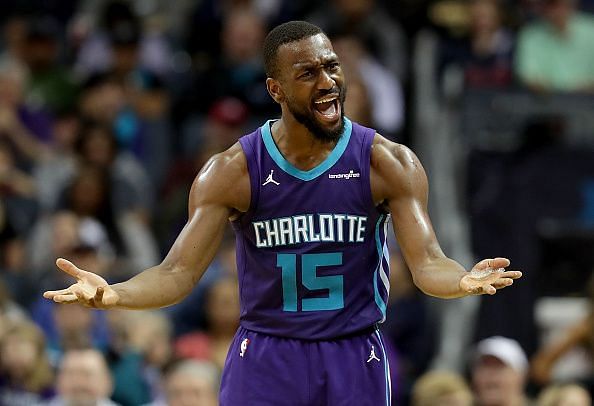 Walker has become one of the most underrated players in the league, probably because he plays for the always underachieving Charlotte Hornets. He's coming off a season where he averaged 22.1 points, 5.6 assists, and 3.1 rebounds a game. He was selected to the All-star game due to injuries to other players, but nonetheless, he is an all-star talent.
In my eyes, I see Walker as a second-tier point guard, just a tier below point guards like Curry, Westbrook, and Lillard. He's had three consecutive seasons of averaging 20+ seasons, but similar to Drummond he hasn't had much team success which is why he isn't as highly regarded as some of his peers. Hopefully, the Hornets will either trade him to a playoff contender or they adjust their roster to help Kemba make a run in the playoffs.
#7 DeMar DeRozan
A top 3 or 4 shooting guard in the entire league, DeMar DeRozan has been a key piece in returning Toronto back onto the NBA map after years of mediocrity and underachieving. Demar has been a four-time all-star, and just this past season he was elected to the All-NBA second team. He still plays an old-school game, as he is one of the best mid-range players in the game.
One of the most impressive things about DeMar is that he spends every summer improving an aspect of his game. Statistically, this past season may not have looked the greatest for Demar, but it was important to note the Toronto Raptors changed their style of play and adopted a more flowing offence. Typically he can average anywhere from 24 to 27 points per game. Unfortunately for him, he could be the sixth place slot, but because of his recent playoff struggles against Cleveland, his stock won't be as high as it could be.
#6 John Wall
For my list, I'm ranking John Wall higher than DeMar, because they have both achieved a similar level of team success in the playoffs, but to me, Wall is the more talented basketball player. John Wall is one of the best point guards in the game, arguably top 5. He can score and give nice passes to set up teammates.
On any given night, he could give you 20 points and 10 assists. This past season, he battled with injury and so his numbers won't fully reflect his impact. He's been the face of the Wizards franchise since he was drafted, and he has not disappointed in terms of individual success.
He plays strong on offence and on defence, shown by his mentions as an All-NBA third team member in 2017, and All-defensive second team member in 2015. John needs to be able to stay healthy and push his teammates deeper into the playoffs now that the King has left.
#5 Ben Simmons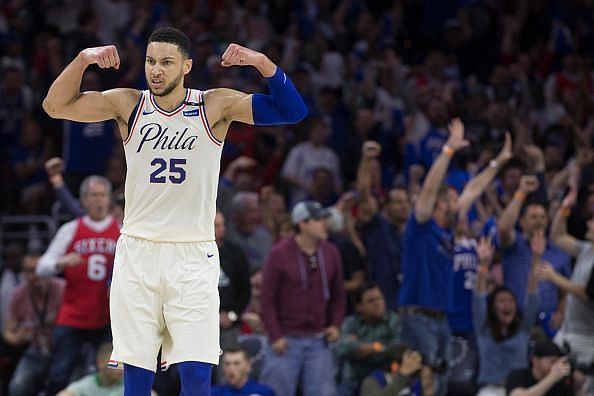 The 2018 Rookie of the Year had such an incredible season that people will view him as possibly a top 20 player in the league already. He is 6'11 and plays the point guard position amazingly. He has great court vision and is able to use his size and speed to cut to the basket. His style of play resembles LeBron James, but Simmons' shooting woes are much more of a concern than LeBron's ever was.
His inability to shoot effectively did not prevent him from scoring 15.8 points per game along with 8 assists and 8 rebounds. Simmons is part of the 76ers future and will look to be a multi-time all-star and potentially a top 10 player in the league, maybe even top 5. For now, he ranks as the fifth best player in the Eastern Conference.
#4 Kristaps Porzingis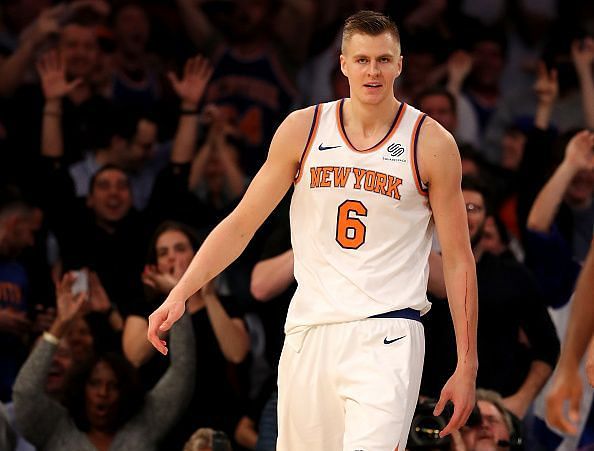 He's only 22 years old and could very well be the reincarnation of his childhood hero, Dirk Nowitzki. Their style of play is similar, but they are still two different players. Porzingis was able to silence all of the criticism with the flashes of potential he displayed during his rookie year. For the first couple of years in Madison Square Garden, he had to be the second option behind Carmelo Anthony.
After Carmelo was traded to OKC, fans were excited to see how Kristaps would perform as the starring centrepiece. He did not disappoint. After the first 6 games of the season, Porzingis drew up some MVP rumbles after averaging 29.3 points and 8.3 rebounds a game. Obviously, he began to cool down after that hot start, and finished the season prior to his injury averaging 22.7 points, 6.6 rebounds, and 2.4 blocks per game.
These numbers for a 22-year-old are insane and fans will have to wait for Porzingis to return from his injury to see if he can grow into the potential superstar that leads the Knicks back into the playoffs.
#3 Joel Embiid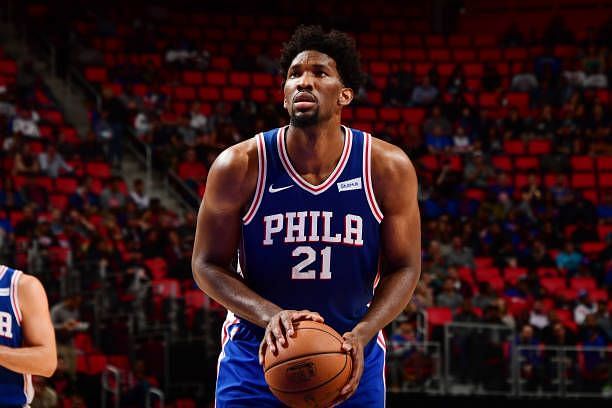 Speaking of injuries. Joel has easily become one of the most liked players by fans in the league, with his vibrant and hilarious personality. Some of his comments and tweets hide how talented he actually is. When healthy, Embiid could be the best centre in the league. This past season, he averaged 23 points, 11 rebounds, and close to 2 blocks a game.
Joel is able to score in many different ways while also being a strong presence on defence. He was a candidate for defensive player of the year but ultimately lost to Rudy Gobert. He has shown that he and Simmons could be the centrepieces that bring the 76ers to the NBA finals, but the key is his health.
Embiid could become the number one player on this list if he becomes less injury prone and is able to play more than 63 games in a season. He's only 24 and will be a force for years to come.
#2 Kyrie Irving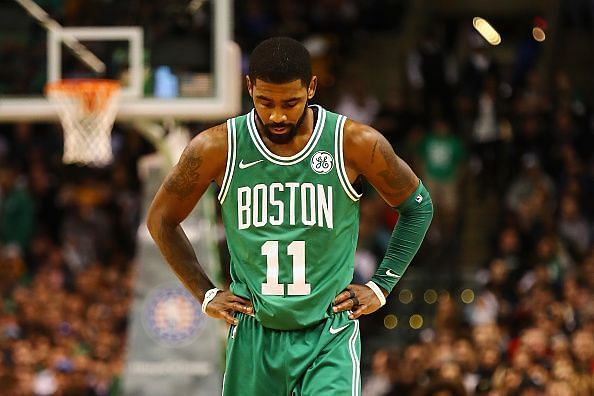 There were many who doubted whether Kyrie Irving could be the man on a successful NBA team, and he did prove those people wrong. He did struggle with injuries this year and lost some of the spotlight to the Celtics' young guns in Tatum and Brown. Kyrie did average 24 points, 5 assists, 4 rebounds per game as well as a PER of 25.03.
Brad Stevens was able to elevate Kyrie's game and it showed if you watched the Celtics games. There is no doubt the biggest moment of Kyrie's career is the dagger 3 point shot in Game 7 of the 2016 NBA Finals which put the game out of reach, helping secure the win for the Cavs.
The video of Kyrie breaking Brandon Knight's ankles during the rising stars game, was also a very memorable moment. Kyrie will come back next season as the face of a Celtics team that is not short on talent and is the favourite to come out as the Eastern Conference champions.
#1 Giannis Antetokounmpo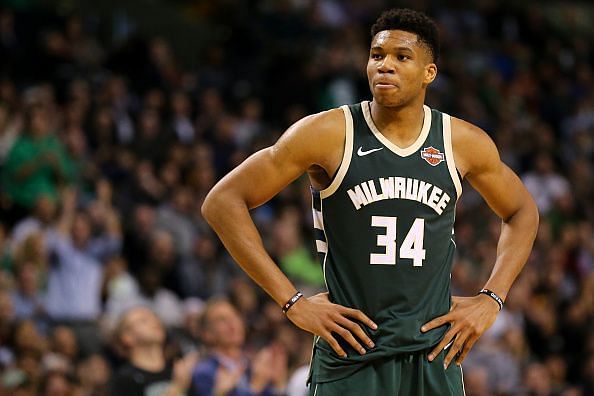 The Greek Freak has had an incredible journey in the NBA. He started off as a very raw prospect that the Bucks took a chance on with the 15th pick to a potential future MVP player.
Giannis Antetokounmpo is coming off a year where he put up 27 points, 10 rebounds, and 5 assists per game. He has clearly established himself as a top 10 player in the league right now and is only 23 years old.
Every season he has improved, and if that trend continues the league should be scared by what Antetokounmpo could accomplish. His team still lacks much success and is right now seen as a team that will make the playoffs but won't make it past the first or second round. Hopefully, newly hired coach, Mike Budenholzer, will help not only develop Giannis' game but also be able to lead the Bucks deep into a weaker eastern conference.