Shaquille O'Neal will be Bobbi Althoff's guest in the upcoming new episode of her The Really Good Podcast on Thursday. Althoff shared a snippet of Shaq's appearance, which sparked a memefest online amid industry plant allegations against her.
In the video below, the LA Lakers legend joins a shortlist of popular celebrities who made an appearance on Althoff's fresh podcast. Some of her guests in the first few episodes of the podcast include Drake, Lil Yachty, J Balvin, Mark Cuban and Rick Glassman.
However, fans on social media were quick to bring up the industry plant allegations against Althoff. One fan was baffled how she was able to get someone like O'Neal, who's among the busiest people in the world due to his work as a DJ and countless businesses.
•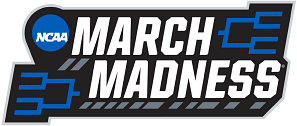 "How is this industry plant landing all these interviews," the fan wrote.
When Bobbi Altoff got Drake for an interview, plenty of speculations arose that she could be an industry plant. For those who don't know, an industry plant is a term usually used for music artists who appear to be independent or self-made but are associated with a record label.
Another fan is confused about why Altoff remains relevant despite the allegations:
"Why is this industry plant girl still relevant?"
Another fan claimed that Althoff is the first industry plant for podcasts:
"She's the first podcast industry plant."
Another fan is not a fan after seeing a snippet of Althoff:
"God, she seems so annoying."
Here are other memes and reactions to Bobbi Althoff's upcoming interview with Shaquille O'Neal:
---
Also Read: Ahead of clash with Canada, ESPN Insider believes Slovenia's Luka Doncic could earn $80,000,000 a year on next NBA contract
---
Bobbi Althoff industry plant allegations
The allegations against Bobbi Althoff began when she got Drake for the fourth episode of The Really Good Podcast. Althoff had denied the rumors in an interview with Cosmopolitan last month, claiming that she offered to pay people $300 to get celebrities on her podcast.
However, people on the internet dug deeper into Althoff's history and personal life. X user @98sThoughts shared that Althoff is a liar because she's signed to talent agency WME, which also represents Drake.
The user added that Althoff's agent is TJ Bernardy, and she's married to a millionaire named Cory Althoff, who serves as senior vice president at CompTIA.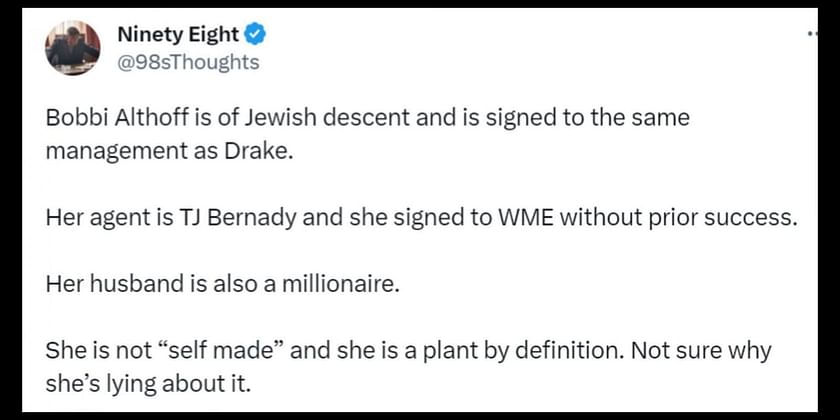 Before launching her podcast, Althoff was on TikTok sharing her pregnancy videos. Her dancing video holding a banana was viewed around two million times.
---
Also Read: "They better start working on their professionalism" - Rich Paul issues warning to James Harden and NBA stars about new CBA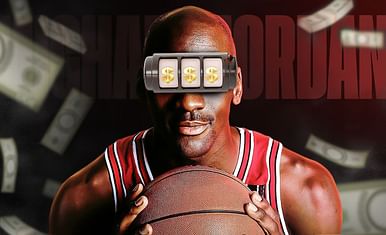 How did Michael Jordan's gambling "habit" taint his image?
Edited by Juan Paolo David