The World T20 was an interesting gala. There were some vicious turning tracks, some batting paradises, some amazing catches, some nail-biting thrillers and an extremely popular winner – sounds like the perfect movie isn't it? And it is almost that time of the year, when all the bitterness and rivalries in cricket dissolve away as a new season of IPL begins.
People who were at war with each other couple of weeks ago will be sharing hi-fives and dressing rooms, playing in the same colours. This year's IPL will be without the beloved Chennai Super Kings team, the team that had the biggest fan following arguably. There will not be a Rajasthan Royals either.
However, two new teams emerge, sharing the spoils of the two suspended teams. Gujarat Lions and Rising Pune Supergiants do not lack in talent or experience as they have shared most of the players from the two suspended teams.
It will not be a bad time though to check out some of those numbers that will excite any IPL enthusiast – after all stats make cricket fun, whether it is runs, wickets, sixes, averages or any of the other plethora of numbers that let the ardent cricket fan distinguish one player's value from another's.
Stats Courtesy: Cricinfo
Most runs – Suresh Raina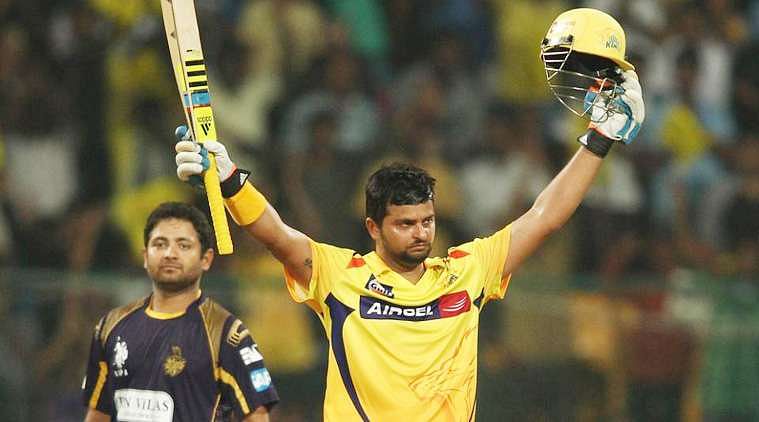 Suresh Raina was the lynchpin of the Chennai Super Kings batting order. He was MS Dhoni's able lieutenant with many big innings. The man who has played the most games in IPL holds the record for most IPL runs – 3699 at an average of 34.25 and a strike rate close to 140. 26 50+ scores translate to a substantial knock once every five innings, massive returns for a man feared for his hitting capability on good batting surfaces.
Raina is a little more than 300 runs ahead of his India teammate Rohit Sharma, who has 3385 runs in four innings fewer. Gautam Gambhir, at the helm of Kolkata Knight Riders (3133), Virat Kohli (3137), the in-form Royal Challengers Bangalore skipper and Chris Gayle (3199), member of the West Indies 2016 T20 World Cup winning squad are the only other players with more than 3000 runs in the IPL, although Gayle has played nearly 40 games fewer than the other four. Gayle averages 46 with the bat at a strike-rate of 153 with a whopping 5 centuries.
Most wickets – Lasith Malinga
Once the world's most feared death bowler, Lasith Malinga, unsurprisingly holds the record for most wickets and will surely add to it this season, hoping he has recovered well from his injury that cut his World T20 campaign short. Malinga has 143 wickets at 17.8 apiece with an economy of 6.7, head and shoulders above any other bowler in the IPL. Malinga is only one of five bowlers with more than 100 IPL wickets.
Amit Mishra, Harbhajan Singh and Piyush Chawla are the three Indians with 111, 110 and 109 wickets respectively with Harbhajan boasting of a sub-7 economy rate. Dwayne Bravo completes the top 5 with 105 wickets in just 91 games. Malinga also stands apart because of his 8 maiden overs. Only Irfan Pathan has more maiden overs (10) amongst the top 25 wicket-takers at the IPL.
Best overall bowling average – Sunil Narine
This is hardly a surprise considering how miserly Narine was in the four seasons that he played. He was instrumental in the revamped KKR's success. Narine's average of 17.77 puts him on top of the pile for anyone who has more than 20 wickets. Malinga is second with 17.8.
Narine has picked up 74 wickets in 55 matches while Malinga has 143 from 98 games. However, Narine has 7 hauls of four wickets or more, the most for any IPL bowler, followed by Malinga and Ravindra Jadeja who have 5 and 4 respectively. For anyone with more than 50 wickets, Bravo is next on the list with an average of 21.44 and 105 wickets.
Best overall bowling economy rate – Sunil Narine
Once again it is Sunil Narine whose economy rate of 6 puts him out of reach of any other bowler in the IPL, amongst anyone who has played at least 15 games. Ravichandran Ashwin is the next with an economy of 6.45 from 97 games.
Shaun Pollock, Anil Kumble and Glenn McGrath are the three veterans who occupy the next three spots with economies of 6.54, 6.57 and 6.61 but only one of them, Kumble, played for more than one season. Malinga is sixth with an economy of 6.67. Overall there are just 16 bowlers with an economy of below 7 in the IPL showing how tough a tournament it can be for the bowlers.
Most sixes – Chris Gayle
One need not even take a guess at who owns this list. Chris Gayle has 230 sixes from 81 innings, 80 more than Suresh Raina's 150 from 128 innings. Rohit Sharma has 147, followed by Yusuf Pathan and MS Dhoni with 127 and 126 respectively. There are 12 players in all with more than 100 sixes. However, as far as sixes are concerned there is Gayle, then daylight, then the rest.
Interestingly, Gayle has just 261 fours compared to Raina's 321 and Virender Sehwag's 334, showing the mighty West Indian southpaw deals mostly in the monster hits, which somehow always captivate the Chinnaswamy audiences.
Gayle averages close to three sixes per match. He also holds the record for most sixes in one innings – 17, against Pune Warriors in his knock of 175* breaking Brendon McCullum's record of 13 in the inaugural match of the IPL. Gayle shared that record of 13 sixes for a while, having hit the same number against Delhi Daredevils in 2012.
Highest batting strike-rate – Andre Russell
Well, if it is IPL, you've got to expect fireworks. For anyone who has faced at least 125 balls, Russell has a sensational strike-rate of 177.88. However, if our benchmark is 500 runs, Glenn Maxwell, will be on top of the charts with 739 runs scored at a strike-rate of 166.44.
Sehwag and Gayle are next on the list with strike-rates of 155 and 153, having scored more than 2000 runs each. Only four batsmen who have faced more than 125 balls have managed to keep their strike-rate above 150 with Harbhajan Singh just missing out with a strike-rate of 149.89, scoring 691 runs.
Most team wins – Chennai Super Kings
It would be a shame that the most successful franchise will not be a part of this year's IPL. CSK has a win percentage of 60.68, with MS Dhoni at the helm (Raina stood in for him when he missed a few matches). CSK won 79 and lost 51 in 132 matches.
Mumbai Indians has the next highest win percentage of 57.93 with 73 wins and 53 losses in 126 matches, followed by Rajasthan Royals with a win percentage of 53.41, with 61 wins and 53 losses. KKR, RCB and Sunrisers Hyderabad are the three other teams with win percentage of 50 or more with SRH winning 22 and losing 22 of a total of 45 matches played.