With the cricket world cup and its full on excitement already in progress, it would be highly surprising if there is no change of records in the current Cricket World Cup. Every World Cup brings with it a set of records that are generally broken one way or the other. Therefore, in this article we shall take a look at the different World Cup records and their status in the current world cup, and also we shall take a flashback at the World Cup records from 1975 to 2019.
Also see – ICC World Test Championship points table
Cricket World Cup Records- Batting
With ICC World Cup 2019 going on and the pitch conditions available in England, we expect this world cup to be a batsmen game. Also we can expect some records to be broken.
World Cup Record for Most Sixes :
At present, the Most Sixes in World Cup record is with Chris Gayle who has smashed 49 sixes in total. However, before this world cup, the record was jointly held by Gayle and de Villiers with both the players having 37 sixes each. But with AB de Villiers not playing this world cup, Gayle had a free hand to this World Cup Record.
Also Read : World cup most man of the match
World Cup Record for Most Runs :
When it comes to the World Cup Record of Highest Run Scorer in World Cup, there is not a single challenger to the God of Cricket, Sachin Tendulkar. Even after retirement, Sachin Tendulkar continues to hold the record of having the most runs in the World Cup. He has 2278 runs in 44 World Cup innings, and there is no chance that he would be losing his place in this section anytime soon.
World Cup Record for Most Ducks :
Nathan Astle still stands tall on the list of the Most Ducks in World Cup, with 5 ducks to his name from 1996 to 2003. Also, Eoin Morgan is very close to reaching this point as he too has 4 ducks in world cup. If this cricket world cup record takes a new player this time, it won't be a surprise at all.
World Cup Record for Most Centuries :
Batting records and Sachin Tendulkar go together, and that's the reason why Sachin, even after retirement hold this record of having the Most World Cup Centuries. Also, his record at 6 centuries is only close to Rohit Sharma to be broken.
Highest Batting Average in World Cup :
Lance Klusener holds the record for Highest Batting Average in World Cup with a whooping average of 124 in just 11 innings he played. Indian Hitman Rohit Sharma takes third position in the list with an average of 63.62
Highest Strike Rate in World Cup :
Glenn Maxwell holds the record for Highest Strike Rate in World Cup with a brilliant strike rate of 169.25. Jos Buttler of England seizes the second position.
Highest Individual Score in World Cup :
Martin Guptill with an unbelievable 237 deserves to be at the top of the Highest Individual Score in World Cup List. Chris Gayle who scored 215 stands second. Its interesting that both of them scored the highest scores in World Cup 2015 itself.
Cricket World Cup Records- Bowling
This section may seem highly biased to the readers, but it is true that the Australian fast bowler Glenn McGrath, holds almost all the Bowling Records in World Cup. He holds the record for Most Wickets in World Cup, Most Maidens in World Cup and also Best Bowling Figures in World Cup which are highly impossible to be broken any sooner. Lasith Malinga holds the Most Hat Tricks in World Cup. He is also the bowler to take highest consecutive wickets in World Cup. He reached this feat after dismissing 4 batsmen of South Africa in World Cup 2007.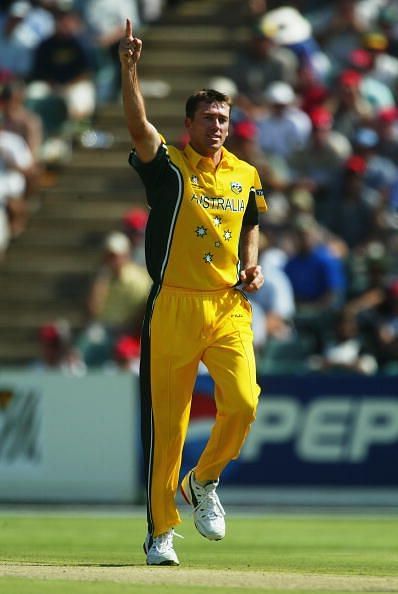 Also Read : World cup head to head stats
Cricket World Cup Records- Teams
World Cup Record for Most World Cup Wins :
It is highly obvious that Australia will have most of the records, including the Most World Cup Wins as they have won the most world cups. Also they having Ricky Ponting who has records for Most Catches in World Cup and also Most Matches Played in World Cup.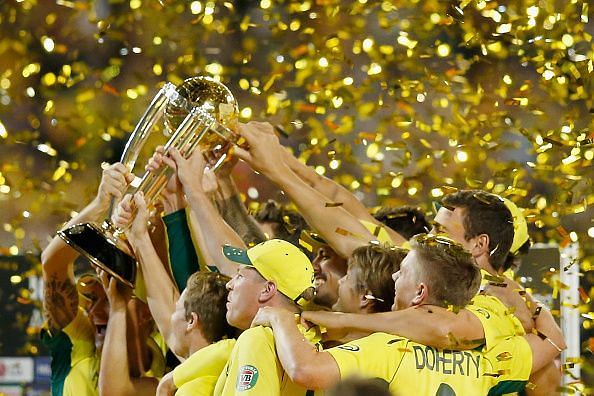 World Cup Record for Highest Total Chased :
Ireland, an underdog team in the world cup holds this record for Highest Total Chased in World Cup after it successfully managed to chase down 329 runs against England in the 2011 World Cup. Despite of many high scoring games this year, no team was able to break this record.
World Cup Record for Lowest Total Defended :
Surprisingly Zimbabwe holds this record of Lowest Total Defended in World Cup by restricting England while the English were chasing a simple total of 132. This occurred in World Cup 1992 where Zimbabwe shocked the world with this feat.
World Cup Record for Biggest Win :
Australia tops the table for Biggest World Cup Win by runs by defeating Afghanistan by a huge margin of 275 runs in World Cup 2015. The second position is occupied by India and South Africa together after winning by 257 runs against Bermuda and West Indies respectively.
World Cup Record for Highest Team Total :
The Aussies once again tops the table of Record for Highest Team Totals in World Cup by scoring a mighty total of 417/6 against Afghanistan in World Cup Cricket 2015. They listed their name 3 times in that table. The second highest score in cricket world cup is registered by India against Bermuda in World Cup 2007 when they scored a total of 413/5.
World Cup Record for Lowest Team Total :
Canada stands top of the table for Lowest Team Totals in World Cup after registering a very low total of 36 against Sri Lanka in World Cup 2003. Interestingly they also bag the second position by scoring 45 against England in World Cup 1979
Also Read : World cup 2019 highlights