Timothy Filiga Cahill, commonly known as Tim Cahill is an Australian former professional football player who played for Australian national team as well as Championship club Millwall. Starting his career with his current club Millwall in 1998, he has also played for eminent clubs such as Everton, Shanghai Shenhua, New York Red Bulls and Melbourne City.
Cahill, who was an attacking midfielder is still Australia's leading scorer with 50 goals from 108 appearances. The Australian has made 226 appearances in the Premier League representing Everton and has managed to score 56 goals for the Merseyside club.
Cahill played a single season in the Indian Super League representing Jamshedpur FC where he scored 2 goals from 11 appearances. JFC became the last professional club of Tim Cahill as he retired from professional football after playing for 21 years. Cahill was 39-years-old when retired in 2019. Cahill is currently chief sports officer at the Aspire Academy in the UAE and is on the board at Belgian side KAS Eupen.
Tim Cahill Net Worth & Salary
Cahill is often considered as one of the Australia's richest athletes. Back in 2018, Cahill's net worth was reported tobe US$30 million. However, according to the latest report from Celebrity Net Worth Tim Cahill's current net worth is estimated to be $12 Million.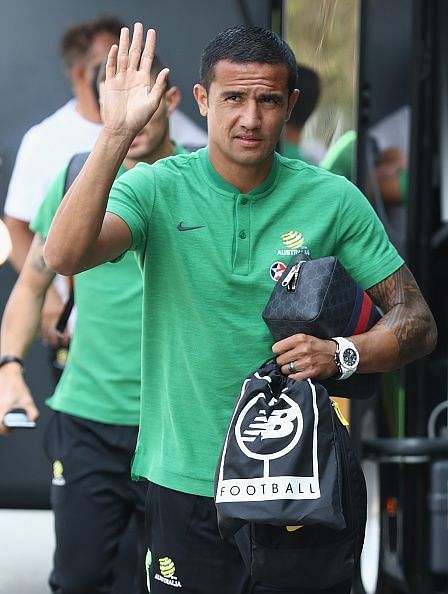 Tim Cahill's current salary is $4.3 Million according to Celebrity Net Worth.
In November 2017, he has bought a 13-hectare farm land in Byron Bay worth US$1.7 million. This land is formally in the name of his parents. He is also a car lover and owns Bugatti Veyron and Lamborghini.
Endorsements
Cahill has proud partnership with many brands including Australia's main sponsor Caltex. Caltex is a petroleum company which runs in more than 60 countries in Asia-Pacific region. Recently, Cahill's selection in Australian squad to play 2018 FIFA World Cup was criticized, as media and fans around the world think his selection is just about Caltex promotion and commercial reasons.
Travel outlet TripADeal is also one of his individual sponsor that pays him a big sum of money. During 2018 World Cup Qualifiers, he has pulled everyone's attention. After kicking a goal against Syria, he celebrated the goal by making a 'T' sign which was later appreciated by TripADeal in an Instagram post. However, Cahill received a lot of criticism after that.
Tim Cahill recently announced that he has invested in EVDirect, a company that is bringing BYD electric vehicles to Australia. The Australian is also one of the brand ambassador for the World Cup in Qatar 2022.
Other sources of income
Cahill is also a partner in two football academies. First one is based in Wollongong, Australia and the second one is Elite Sporting Academy based in Dubai. Wollongong based academy is in partnership with Wollongong Police and Community Youth Club.
He has also featured in the famous FIFA video game from EA Sports. He has also appeared on the cover of several editions of the game.
| | |
| --- | --- |
| Age | Nationality |
| 42 | Australian |
| DOB | Source of wealth |
| 6/12/1979 | Football |
| Salary and Endorsements | Residence |
| US$4.3 million | Sydney, Australia |
| Marital status | Children |
| Married | 3 |
Frequently Asked Questions
What is Tim Cahill doing now?
Tim Cahill was announced as Chief Sports Officer of Aspire Academy, an athletic development program in Qatar in April 2021. He also served as an ambassador for the 2022 Qatar World Cup.
Why did Tim Cahill retire?
Tim Cahill retired in March 2019. The player was 39 and cited old age as his reason for retirement. He last played for Jamshedpur FC in the Indian Super League.
Did Tim Cahill play in the Premier League?
Tim Cahill played over 200 games for Everton in the Premier League, scoring 56 goals for the Toffees.