| | |
| --- | --- |
| Full Name | Liam Stephen Livingstone |
| Date of Birth | August 4, 1993 |
| Age | 29 Years |
| Nationality | English, British |
| Birth Place | Barrow-in-Furness, United Kingdom |
| Height | 6ft 2inch |
| Current Team(s) | |
| Role | All-rounder |
| Batting Style | Right hand Bat |
| Bowling Style | Legbreak |
| Debut | June 23, 2017 |
| Jersey No. | 23 |
| Family | Father: Steve Livingstone, Brother - Callum Livingstone |
| Game Type | Mat | Inn | R | BF | NO | Avg | S/R | 100s | 50s | H | 4s | 6s | Ct | St |
| --- | --- | --- | --- | --- | --- | --- | --- | --- | --- | --- | --- | --- | --- | --- |
| ODIs | 22 | 20 | 496 | 467 | 3 | 29.17 | 106.20 | 0 | 3 | 95 | 35 | 22 | 8 | 0 |
| TESTs | 1 | 2 | 16 | 18 | 1 | 16.00 | 88.88 | 0 | 0 | 9 | 0 | 1 | 0 | 0 |
| T20Is | 33 | 27 | 461 | 316 | 6 | 21.95 | 145.88 | 1 | 0 | 103 | 25 | 28 | 16 | 0 |
| T20s | 238 | 225 | 5710 | 3936 | 24 | 28.40 | 145.07 | 2 | 31 | 103 | 382 | 346 | 98 | 0 |
| LISTAs | 78 | 66 | 2048 | 2027 | 6 | 34.13 | 101.03 | 1 | 13 | 129 | 147 | 82 | 33 | 0 |
| FIRSTCLASS | 63 | 96 | 3085 | 5180 | 15 | 38.08 | 59.55 | 7 | 15 | 224 | 385 | 32 | 74 | 0 |
| Game Type | Mat | Inn | O | R | W | Avg | E/R | Best | 5w | 10w |
| --- | --- | --- | --- | --- | --- | --- | --- | --- | --- | --- |
| ODIs | 22 | 16 | 73.4 | 400 | 13 | 30.76 | 5.42 | 3/16 | 0 | 0 |
| TESTs | 1 | 0 | 0 | 0 | 0 | 0 | 0 | 0 | 0 | 0 |
| T20Is | 33 | 23 | 59 | 501 | 18 | 27.83 | 8.49 | 3/17 | 0 | 0 |
| T20s | 238 | 128 | 312.1 | 2625 | 101 | 25.99 | 8.40 | 4/17 | 0 | 0 |
| LISTAs | 78 | 53 | 301.1 | 1584 | 37 | 42.81 | 5.25 | 3/16 | 0 | 0 |
| FIRSTCLASS | 63 | 68 | 562.3 | 1554 | 43 | 36.13 | 2.76 | 6/52 | 1 | 0 |
Liam Livingstone: A Brief Biography
Liam Stephen Livingstone is an English cricketer who represents his nation in international cricket. He is a middle-order right-handed batsman and can bowl right-arm leg break and off-spin.
He currently represents Lancashire in County cricket, Punjab Kings in the Indian Premier League (IPL), Birmingham Phoenix in the Men's Hundred, Peshawar Zalmi in the Pakistan Super League (PSL). Livingtone, who has represented BBL franchise Perth Scorchers in the past, was recently taken as the first pick by the Melbourne Renegades in the pre-2022 season draft.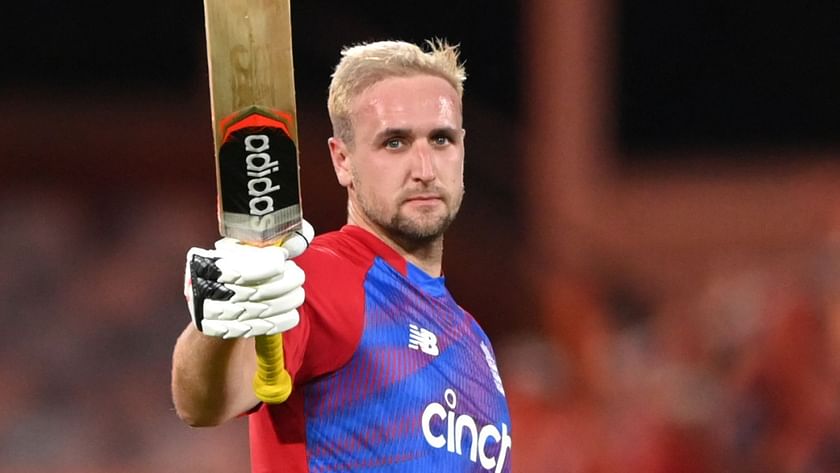 Liam Livingstone Background
Liam Livingstone was born on August 4, 1993, at Barrow-in-Furness, Cumbria, England. Liam is an all-rounder who bats right-handed in the middle order and can bowl both leg breaks and off-spins.
Liam Livingstone

International Career
Livingstone had always had a highly rated prospect and eventually went on to become a regular international. He was named in England's Twenty20 International in the squad, in 2017, for the series against South Africa. On 23 June 2017, he made his T20I debut for England against South Africa.
Since then, the Lancashire cricketer has featured in 12 T20Is and has scored 368 runs at a strike rate of 152.06 with 1 100 besides claiming 12 wickets @ 25.75.
In July 2021, Livingstone scripted history as he smashed the fastest T20I ton (in 42 balls vs Pakistan) by an English batter.
Livingstone made his ODI debut against India on March 26, 2021, and has since then, added 11 more caps to his tally. In 12 games (10 innings), he has managed 250 runs at an average of 31.25 and a strike rate of 122.54 with 1 50+ score. He has also taken 6 wickets at 24.16 apiece.
In June 2022, Livingstone added another record to his tally after he hammered Netherlands' bowler Philippe Boissevain for 32 runs in one over- the most by an English batter in a single over during an ODI.
In his pursuit, the Lancashire swashbuckler also hammered the fastest 50 (in just 16 deliveries) for England in ODIs.
In October 2022, Livingstone earned a call-up to the Test squad for England's three-match series in Pakistan in December.
Liam Livingstone

Domestic Career
Livingstone made his Twenty20 debut for Lancashire against Leicestershire on May 2015. He scored just 15 runs on his debut. On April 19, 2015, Livingstone gained a lot of attention, on scoring 350 off 138 balls for his club side Nantwich CC. it was undoubtedly one of the highest individual scores in one-day history.
On November 30, 2017, Liam was appointed as captain of Lancashire for the 2018 season. He replaced Steven Croft.
Livingstone endured a thumb injury during a Roses game in what proved to be a forgettable 2018 season for the newly appointed Lancashire captain. He failed to cross the 50-run mark in the 10 Championship games and saw Lancashire relegated.
His hundred on the T20 Blast Finals day against Derbyshire proved to be the lone shining point for Livingstone in an otherwise abysmal season, and he proceeded to relinquish leadership duties at the end of it.
Livingstone enjoyed a fruitful 2019 Championship season albeit in Division 02 as he racked up 599 runs in 14 innings at 46.07 apiece with 6 50+ scores, including 1 hundred.
Since then, Livingstone has featured in just 8 games- 2 in 2020, 6 in 2021 and 0 in 2022- with minimal returns.
Liam Livingstone

IPL Career




Following his head-turning exploits in the BBL, Liam Livingstone was picked by the Rajasthan Royals for INR 50 Lakhs ahead of the 2019 season. He was subsequently retained (at INR 75 Lakhs) in the 2021 auction, but he managed just 9 caps across those two seasons.




With his stock at an all-time high in 2021/22, Livingstone broke the bank in the mega-auction and was finally claimed by the Punjab Kings for a staggering amount of INR 11.5 Crores.




He lived up to his billing as he smashed 437 runs in 14 outings @ 36.42/182.08 with 4 50+ scores besides chipping in with his handy leg-breaks.



Liam Livingstone

Career Statistics
| | | | | |
| --- | --- | --- | --- | --- |
| Competition | T20I | FC | LA | T20 |
| Matches | 2 | 43 | 53 | 63 |
| Runs | 16 | 2,356 | 1,526 | 1,432 |
| Batting Average | 8.00 | 40.62 | 37.21 | 27.01 |
| 100s/50s | 0/0 | 6/10 | 1/10 | 1/6 |
| Top Score | 16 | 224 | 129 | 100 |
| Balls Bowled | - | 1,889 | 1,227 | 189 |
| Wickets | - | 24 | 22 | 14 |
| Bowling Average | - | 40.20 | 48.36 | 17.71 |
| Best Bowling | - | 6/52 | 3/51 | 4/17 |
| Catches/Stumpings | 0/- | 61/- | 25/- | 26/- |