| | |
| --- | --- |
| Full Name | Reece James William Topley |
| Date of Birth | February 21, 1994 |
| Age | 28 Years |
| Nationality | Ipswich, England |
| Birth Place | Ipswich, Suffolk |
| Height | 2.01 m |
| Current Team(s) | |
| Role | Bowler |
| Batting Style | Right hand Bat |
| Bowling Style | Left arm Fast medium |
| Debut | August 31, 2015 |
| Jersey No. | 38 |
| Family | Father - Don Topley |
| Game Type | Mat | Inn | R | BF | NO | Avg | S/R | 100s | 50s | H | 4s | 6s | Ct | St |
| --- | --- | --- | --- | --- | --- | --- | --- | --- | --- | --- | --- | --- | --- | --- |
| ODIs | 28 | 14 | 35 | 70 | 11 | 11.66 | 50.00 | 0 | 0 | 15 | 3 | 1 | 7 | 0 |
| T20Is | 22 | 7 | 13 | 16 | 5 | 6.50 | 81.25 | 0 | 0 | 9 | 1 | 0 | 5 | 0 |
| T20s | 148 | 32 | 98 | 99 | 24 | 12.25 | 98.98 | 0 | 0 | 14 | 11 | 2 | 33 | 0 |
| LISTAs | 74 | 26 | 82 | 143 | 18 | 10.25 | 57.34 | 0 | 0 | 19 | 7 | 2 | 18 | 0 |
| FIRSTCLASS | 46 | 54 | 132 | 642 | 22 | 4.12 | 20.56 | 0 | 0 | 16 | 14 | 0 | 8 | 0 |
| Game Type | Mat | Inn | O | R | W | Avg | E/R | Best | 5w | 10w |
| --- | --- | --- | --- | --- | --- | --- | --- | --- | --- | --- |
| ODIs | 28 | 28 | 214.1 | 1114 | 43 | 25.90 | 5.20 | 6/24 | 1 | 0 |
| T20Is | 22 | 22 | 78.1 | 649 | 22 | 29.50 | 8.30 | 3/22 | 0 | 0 |
| T20s | 148 | 144 | 502 | 4126 | 192 | 21.48 | 8.21 | 4/20 | 0 | 0 |
| LISTAs | 74 | 74 | 572.1 | 3158 | 123 | 25.67 | 5.51 | 6/24 | 1 | 0 |
| FIRSTCLASS | 46 | 76 | 1322 | 4382 | 163 | 26.88 | 3.31 | 11/85 | 8 | 2 |
Reece Topley: A Brief Biography
Reece Topley is a professional cricketer from England born on 21 February 1994 in Ipswich, Suffolk. He is primarily a left-arm medium-fast bowler who bats right-handed.
He was a part of England's T20 World Cup 2016 squad when they finished as Runners Up.
Background
Coming from a cricketing family, his father and uncle were First Class cricketers. He made his First Class debut for Essex in 2011 coming up through their youth program.
In his debut match for Essex, he impressed with a five-wicket haul in the second innings against Kent. He continued to impress the selectors in the County Championship and raised his stakes for an international debut.
He also got selected to play for England Lions U19 team against South Africa U19. Four years later, a day after making his T20I debut, the Hampshire County Club signed him to play for their side in the County Championship. This news also brought another good news for Topley as he got his ODI call-up just a few days later.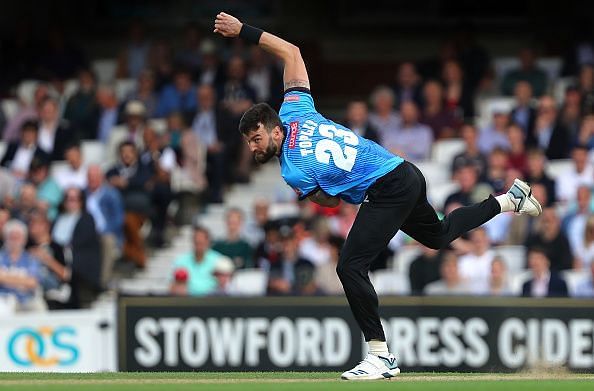 Debut
Reece made his international debut in a T20I against Australia at Cardiff on 31 August 2015. This was the beginning of a career marred with numerous injuries. England scored 182/5 in their 20 overs. In the second innings, Topley got the wicket of Mitchell Marsh as he finished with figures of 1/35 in his 4 overs. Eventually, the Australians fell short of the target by just 5 runs.
He made his ODI debut just 13 days later against the same opposition at Manchester on 13 September 2015. The home side were bowled out for just 138 in 33 overs. Australia chased down the total quite easily with 8 wickets in hand and 154 balls to spare. Topley returned with figures of 0/33 in 5.2 overs.