Rose Namajunas is an American MMA fighter currently signed to the UFC. Competing in the women's strawweight division, "Thug Rose" is a former holder of the title. She's currently ranked #1 in the women's strawweight rankings, and #4 in the women's pound for pound rankings.
Namajunas has had a long career in the UFC. After signing in 2013, the first year with a women's strawweight champion, Rose has had a total of 13 fights till date, with a 9-4 record. A skilled grappler, she has won five of her fights by submission. Adept in both karate and jiu jitsu, she uses a combination of jabs and high kicks to wear out the opponent, opting for grappling at close range.
Currently, Namajunas is scheduled to fight strawweight title holder and Chinese national Weili Zhang on April 24th, in the Jacksonville arena, for the title. The match has a lot of buildup, thanks to anti-communist remarks made by Rose about China's system of governance during an interview.
Who is Rose Namajunas' Fiance,

Pat Barry

?



Source: BleacherReport.com
Outside the ring, Namajunas is a 29-year-old woman, engaged to be married. Her fiance is also her training partner, Pat Barry. A former UFC heavyweight fighter himself, Barry was a practitioner of Sanshou ( a chinese martial art originally made for their military) in college. He has been a member of both K-1 (2005-07) and the UFC (2008-13), with a 5-7 fight record in the latter.
What is the relationship between Rose Namajunas and Pat Barry?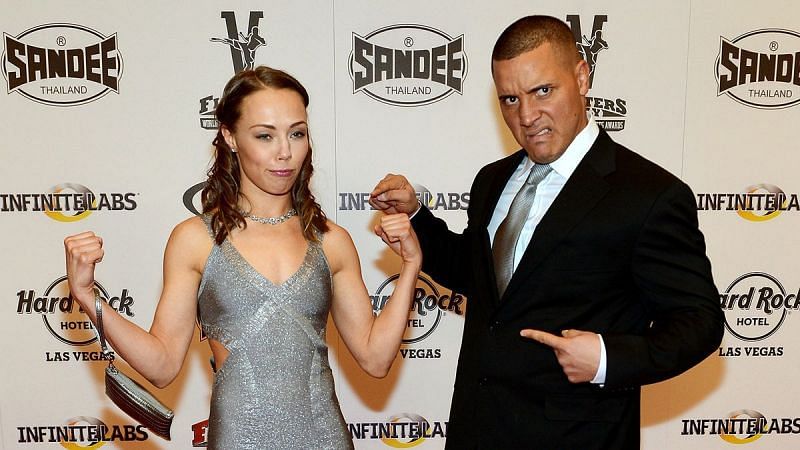 According to Barry's statement in an interview with Bleacher Report, he said that he was working out at Roufusport, when a girl came out of nowhere and punched his face. Surprised, he turned to look at her.
"You're Pat Barry, right?," Namajunas said.
"I am," he said.
"Well, you should have seen that coming," she said, before walking away.
Rose doesn't remember the incident, but according to Barry, that was the moment he fell in love with her. He said he liked her poise and attitude. It took a while, but she eventually returned his feelings.
When asked how long they'd dated, both had different answers. "I say we've been dating for more than five years, but she says two or three years," Said Barry. "We were apparently together a lot longer than I was aware of," Namajunas replied with a laugh. "It took him a while to chip away at my cold heart, but he did." Eventually, they got engaged, and are currently waiting to marry.
Today, Barry acts as Rose's personal secretary. Not only does he take calls, plan her schedule and make sure she has everything she needs when travelling, but he also trains with her and acts as both sparring partner and hype-man number 1. Barry set aside his own career in 2013, to help Rose pursue hers, because he truly believes she has the talent and the ability to be the best in the world. This is something Rose has spoken about, in this interview with MMAfighting:
The two have also appeared together for various camera appearances, like the Jim and Sam Show. These interactions shed more light into their relationship and also how they act around each other.
Did Pat Barry battle addiction?
Pat Barry has had a long battle with addiction. He's had issues with whiskey and prescription pain pills. It all started with a pill and drink a night but quickly escalated. His addiction led to issues with both training and fights, and led to his career being derailed for a time.
Things Finally came to a head for Barry when Rose broke up with him before her fight vs Karolina Kowalkiewicz, in UFC 201. Watching the fight on TV, which ended in a split decision loss, Barry was devastated.
According to him, he saw every single little mistake and flaw during the fight as something he could've helped fix if he wasn't out drinking and popping pills. It was then that he quit his addictions. It took a while, but Rose eventually forgave him, and both have since moved on.
FAQ:


Q. How tall is Pat Barry?
A. Pat Barry is 41 years old and 5'10 inches (180 cm)