Everyone loves a good comeback story. This is not the first time Tyson Fury has reached the pinnacle of the boxing world. However, things went downhill the last time when he was on top. In 2015, after beating Wladimir Klitschko, Fury's mental demons got the better of him. The then WBA (super), IBF, WBO and The Ring heavyweight champion tested positive for cocaine, weighed an enormous 400 lbs and had to cancel his rematch against Klitschko. Fury also relinquished all his belts.
Fury got in all sort of trouble and on a gripping episode of Joe Rogan Experience Fury revealed some lowest points he reached during that period -
"I felt very, very low at times, very low," Fury said to Rogan. "I started thinking all these crazy thoughts, this, that and the other. I was in my car. I had bought a brand new Ferrari convertible in the summer of 2016. I was in it and I was on the highway, on this strip of the highway where at the bottom of a five-mile strip there is a massive bridge which crosses the motorway. I knew that and I got the car up to 190 miles an hour and I was headed toward that bridge.
"I didn't care what no one was thinking. I didn't care about hurting my family, my career, people and friends, anybody. I didn't care. I didn't care about anything. I just wanted to die so bad. I gave up on life."
This episode of Fury lasted a whole three years before the Gyspy King had enough of it. In 2018, he completed an incredible comeback by losing 112 pounds and getting off cocaine. His comeback was well documented and reported by various media outlets.
Fury revealed to Joe Rogan what initially inspired him -
"I was out at Halloween in 2017 dressed as a skeleton but I was 29 and everyone was younger and I thought, 'is this what I want from my life?"
"No matter how many people told me before that I needed to change my life, I didn't know it."
"I left early and went home into a dark room, took the skeleton suit off and I prayed to God to help me. I'd never begged God to help me. I could feel tears running down my face."
"For the first time in my life, I thought I was going to be OK. I knew I couldn't do it on my own."
As we now know, Fury is on top again. Dominating Deontay Wilder, becoming a two - time world heavyweight champion and signing the deal for the Joshua Matchup. The super fight is likely to take place later this year.
How long is Tyson Fury's reach?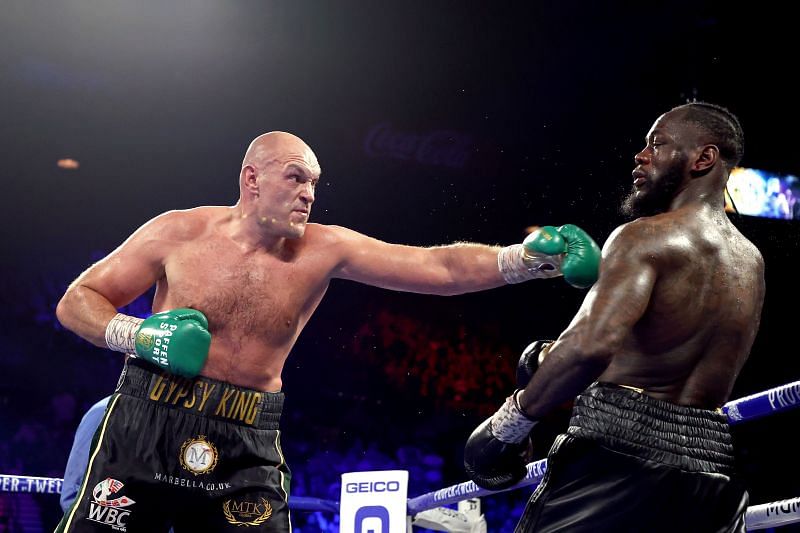 Fury's height and reach advantage has always been a talking point before his fights. He has an enormous reach of 85 inches (215.9 cm). This is way more than the average reach in boxing for a heavyweight viz. 76.3 inches (194 cm).
The Gypsy King is also on the list of top 5 longest reaches in boxing. While his arsenal is packed with different tools, reach is one of his major weapons.
In his upcoming fight with Joshua, Fury will enjoy the advantage in both height and reach.
A 3 - inch advantage in both height and reach is what Fury will experience.
The case was similar against Deontay Wilder and Fury certainly made all of that advantage.
FAQ


Q. How long is Mike Tyson's reach?
A. Reach wasn't Tyson's strong area. He had a below - average reach of 71 in (180 cm). However, for what he lacked in reach he certainly made up for in pace and power.
Also Read: How many children does Tyson Fury have?