| | |
| --- | --- |
| Name | Nina Nunes |
| Age (2023) | 37 |
| Height | 5 feet 5 inches |
| Weight | 126 lbs |
| College/ University | Lake Region High School |
| Profession | Mixed martial artist |
| Birth Place | Florida, United States |
| Nationality | American |
| Spouse | Amanda Nunes |
| Married In | 2019 |
| Children | 1 |
MMA fans cross swords over every possible question in the sport. However, when it comes to the female G.O.A.T in the UFC, only one name rings a bell: Amanda 'The Lioness' Nunes. The Brazilian has been one of the most dominant fighters in the world of MMA. Currently, she holds and defends the belt in multiple weight classes, bantamweight, and featherweight.
Holding two tiles simultaneously means she joins the elite list, which includes only two other fighters in the UFC so far - Conor McGregor and Daniel Cormier. Quite the company, huh?
Married to Nina Ansaroff, Nunes is also the first openly lesbian UFC champion.
Let's get to know more about the person who Nunes credits the most for her decorated career.
Who is

Amanda Nunes' wifeNunes'

Ann Nunes?



Amanda Nunes married fellow UFC fighter Nina Nunes in 2019.
The 37-year-old holds an 11 - 7 - 0 professional record and trains with American Top Team (ATT), Nunes's team.
To everyone's surprise, Ansaroff once revealed the couple is open to fighting each other. Speaking to TMZ Sports ahead of Nunes' titlNunes'nse against Holly Holms, Ansaroff had this to say -
"We already talked about it. After she gets the belt, I'm gonna get my belt at [115 pounds], and then we're gonna do a super-fight at 125 ... we're so down. We really would try to kill each other. Why not? Bring the money home in the same household."
In the same video, Nunes confirms that she's well she's the fight -
"My last fight is gonna be against Nina, and then I'm gonna retire."
Compared to Nunes, Ansaroff lacks in the achievements cabinet. However, she certainly makes up for it in the passion department. In 2019, She revealed to TMZ Sport that she wasn't planning to stay away from her MMA gym during pregnancy -
"I'm gonna be training throughout my pregnancy. I'm gonna stay in shape. I'm not gonna, ya know, just like not do anything and jump in."
Nina is scheduled to face Mackenzie Dern on April 11, 2021. She has adopted her partner Amanda's suAmanda'sd wants to be referred to as Nina Nunes henceforth, starting with the fight against Dern.
How did Amanda Nunes and Nina Ansaroff meet?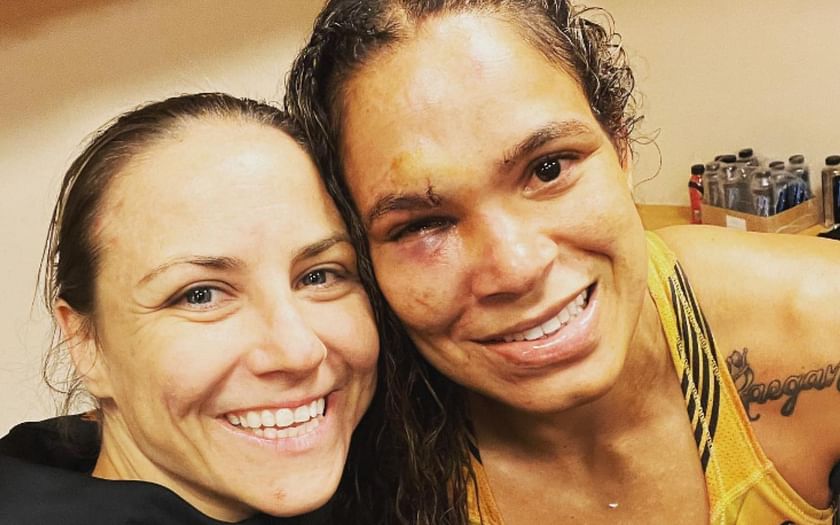 As mentioned above, both Nunes and Ansaroff trained at the same gym, American Top Team. The chemistry was there from the start. The pair was even signed together to the UFC together in 2014. In an interview with Bleacher Report, Nunes had this to say about the relationship -
"We enjoy being around each other and we are also best friends. We go fishing together and we go training together and sometimes we go a little heavier in the sparring session and then we just smile after. ... It's not that bad. It really does help [sparring]. The best thing about it is, is that it's not something that's ever really talked about. It's kinda like you know what's up, I know what's up. We get it out in our training and then it's never left the cage and it's never left the gym. That's it. It's amazing."
The couple got engaged in 2018. The couple welcomed their baby daughter, Raegan Ann Nunes, on Sept. 2020.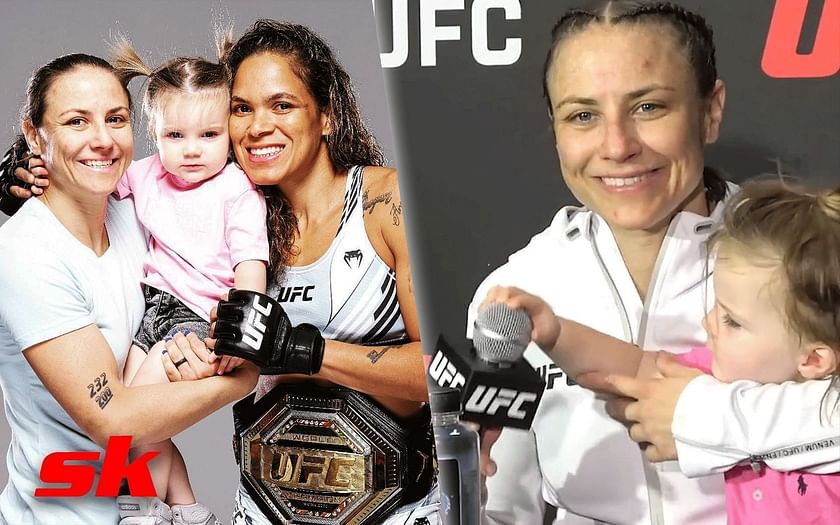 Both Nunes and Ansaroff are very supportive of each other and have been credited as an inspiration to LGBTQ fighters. When Nunes beat Ronda Rousey and became the first openly gay UFC champion, Ansaroff had this to say -
"It is huge, Not so much for us or the fact we are trying to get recognition as a gay couple, but for the human race as it is. People are people. They could be your neighbour or your next UFC champion. Treat everybody the same." (USA TODAY)
*Last updated on May 16, 2023.
FAQs
Do Amanda Nunes and Nina Ansaroff have a baby?
Yes, they do. Raegan Ann Nunes, their daughter, was born on 24th September 2020.
Where is Nina Ansaroff from?
Ansaroff is American and was born in Weston, Florida.