Former two-time UFC light heavyweight champion, Jon Jones is one of the most recognizable names in the world of combat sports. The youngest champion in UFC history has a near-perfect career record of 26-1-0. The 33-year-old has broken innumerous records in the light heavyweight division and if all goes to plan, he will soon make his mark in the heavyweight division.
It seems like the 'athlete blood' runs in the Jones family as both of Jon's brothers, Arthur and Chandler have achieved applaudable accolades in their respective sports.
Let's get to know more about them -
Who is Jon Jones' brother, Chandler Jones?
Credits: Jeffrey Beall
Chandler is the youngest of the Jones brothers. The 31-year-old is part of the National Football League (NFL) playing for the Arizona Cardinals as the outside linebacker. He is a Syracuse graduate and was placed in the PFWA All-Rookie team in 2012. He was a round: 1 pick by the New England Patriots in the NFL draft 2012. He represented the Patriots between 2012-2015.
Chandler won his first ever Super Bowl with the Patriots in 2014. He was picked up by his current team, Arizona Cardinals in 2015. Apart from one Super Bowl, He has made 2 appearances in First team All-Pro and thrice in Pro Bowl.
Speaking to the NFL, Jon had this to say about his younger brother -
"The nerves -- all this stuff is exactly what I live for. I believe that I was born to do it. I believe my little brother was born to be a great football player."
Who is Jon Jones' brother, Arthur Jones?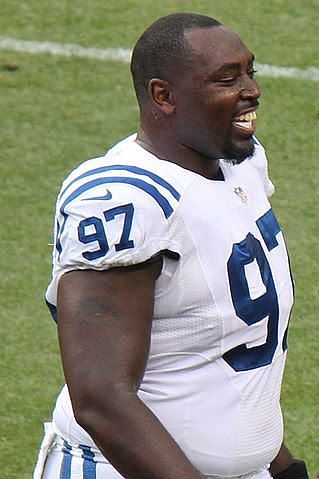 Credits: Jeffrey Beal
It seems like the little one followed the footsteps of his older sibling. Arthur Jones, the oldest of Jones' brothers also played in the NFL as a defensive tackle. Like Chandler, Arthur is a Syracuse graduate and was picked in the 5 round of the 2010 NFL draft by the Baltimore Ravens. He spent 3 years with the Ravens where he won his first Super Bowl in 2012.
In 2014, Arthur was picked up by Indianapolis Colts where he spent 2 years before being released in 2017. While he signed with the Washington Redskins in 2017, due to a dislocated shoulder he was sidelined for the season. Arthur eventually announced his retirement post the 2017 season.
Jon has been nothing but in awe of his older brother. Speaking to the NFL, Jon lauded his elder brother's football as well as wrestling credentials -
"My older brother was born to be a great football player."
"My brother is one of the best heavyweights in New York state wrestling history and I would wrestle him every day in high school and I would get my ass kicked by my older brother my whole life. So I'm very comfortable going against guys that are bigger and stronger than me."
The Impact of Jon Jones' Brothers on his Career
Credits: MMA Junkie
Chandler mentioned in an interview with azcentral, that all three brothers pushed each other to their limits -
"I just feel like we all three pushed each other"
"We were very competitive. We still are. But I mean three brothers who all ended up being professional athletes? You always want to do better than the other brother, so the compe

titive

nature, I think it helped make each of successful."
Jon emphasized something similar to this in an interview with Mike and Mike. He said that he was getting beat up by none other than his brothers as out of the three, he was the smallest in size. This is what led to him getting into martial arts -
"When it comes to size, I'm the smallest by far. So, I've been getting my butt kicked since I was a little boy and I just became comfortable with combat"
Older brother, Arthur used to regularly train with Jon Jones and MMA trainer Greg Jackson during his off seasons -
"I was a really good wrestler, so that was my base, but I do a lot of boxing in my off-season training," "I train at Greg Jackson's pretty much every off-season."
Also read: How many daughters does Jon Jones have?
FAQs
Q. Does Chandler Jones have a Super Bowl ring?


Yes, he does. Chandler won the Super Bowl in 2014 with the New England Patriots.


Q. How much does Chandler Jones Weigh?


Chandler Jones weighs in at 260 lb (118 kg).