| | |
| --- | --- |
| Relationship | Name |
| Father | Jasbir Singh |
| Mother | Daljit Kaur |
| Elder sister | Juhika Bumrah |
| Wife | Sanjana Ganesan |
Jasprit Bumrah is an Indian cricketer who plays in all three formats of the game. Bumrah is a right-arm fast bowler. He plays domestic cricket for his home state Gujarat.
Jasprit Jasbirsingh Bumrah was born on December 6, 1993 in Sanand, Gujarat, India. He belongs to a middle-class Sikh Ramgarhia family. His family's financial condition was earlier not so good, but Bumrah is currently one of the highest-paid cricketers in India.
Table of Contents
Jasprit Bumrah's Father
Image source: imagevars.gulfnews.com
Jasprit Bumrah was born to Jasbir Singh and Daljit Kaur. Jasbir was an industrialist. Jasbir assisted his father Santokh Singh Bumrah in running their three factories.
However, Jasbir died when Jasprit Bumrah was only five years old. Since Jasprit lost his father early, there are not many pictures of the father-son duo.
Jasprit Bumrah's Mother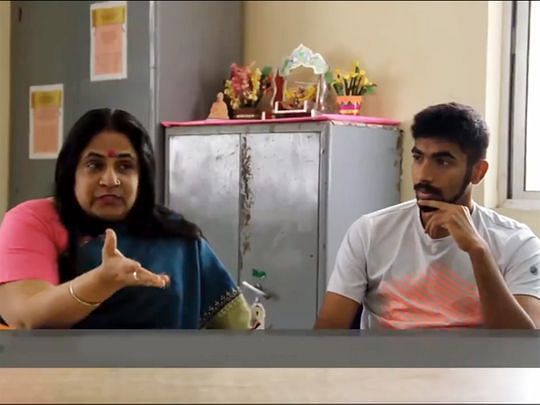 Image source: imagevars.gulfnews.com
Jasprit Bumrah's mother's name is Daljit Kaur Bumrah. She worked as the principal of Ahmedabad's Nirman High School, a school where Jasprit used to study. Bumrah's mother has played a vital role in his success.
Since childhood, Bumrah loved playing cricket. However, his practice would disturb his mother's afternoon nap. Bumrah's mother then asked him to play without disturbing her. As a result, Bumrah started aiming to bowl at the floor skirting, a thing that did not make much noise, and ultimately, helped Jasprit learn the art of bowling yorkers.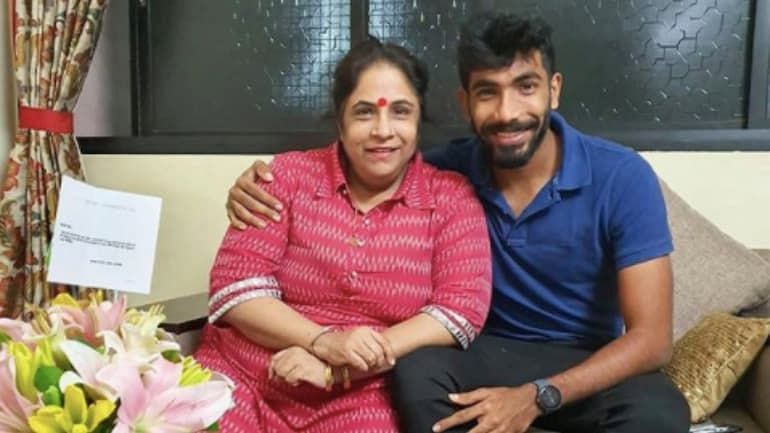 Image source: Indiatoday.com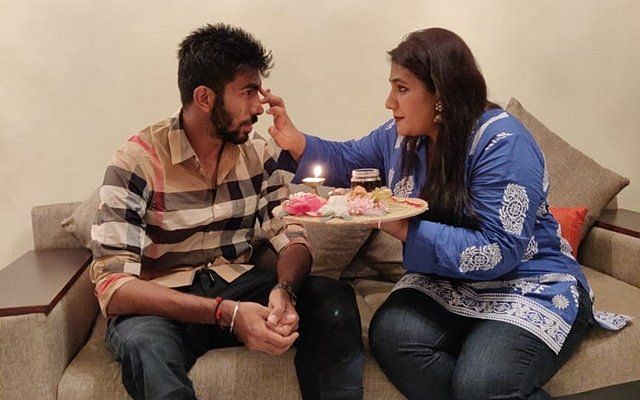 Image source: Twimg.com
Jasprit Bumrah has one elder sister named Juhika Bumrah, who is a teacher. Jasprit is very close to his sister. He celebrates Rakshabandhan with her every year, and wishes her on her birthday on July 2.
Even Juhika regularly posts about her younger brother's achievements on social media. In an interview, Juhika had revealed that Jasprit was always into cricket, and she had to fight with her younger brother for the TV remote as he would never miss a match.
Juhika Bumrah got hitched to Varun Celly in February, 2016.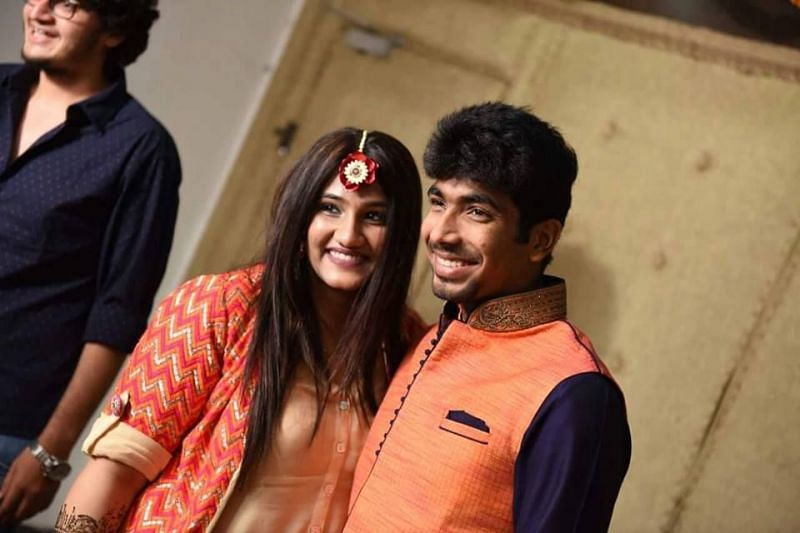 Image source: Twing.com
Jasprit Bumrah's Family
Jasprit Bumrah's Wife
Jasprit Bumrah got married to Sanjana Ganesan in March, 2021 in Goa. Bumrah took a break from international cricket, citing personal reasons during that period. Later, it was revealed that the fast bowler was going to get married.
Bumrah and Ganesan never spoke a word about their relationship in public before their marriage. Sanjana is a sports presenter and anchor. She has worked as the host of IPL team Kolkata Knight Riders' show Knight Club. Besides, she has also worked as a model and appeared in TV shows.
Sanjana shared the news of the couple's marriage through a heartwarming post on Instagram with glimpses from their marriage. The newly wedded couple left everyone in awe with pictures that were too good to be true. In the caption, she wrote:
"Love, if it finds you worthy, directs your course."
"Steered by love, we have begun a new journey together. Today is one of the happiest days of our lives and we feel blessed to be able to share the news of our wedding and our joy with you.
Sanjana & Jasprit"
Instagram
https://www.instagram.com/p/CMb2B2THR96/?utm_source=ig_web_copy_lin
The couple is highly active on Instagram where they regularly share pictures and happenings of their life together. Sanjana posted an adorable picture with her husband Jasprit Bumrah on the occasion of his birthday on December 6, 2022.
In the caption, she wrote: "to my today and all of my tomorrows, happy birthday. I love you more than words can say 💕"
Instagram
https://www.instagram.com/p/Cly_qcZorfC/?utm_source=ig_web_copy_link
Jasprit Bumrah Family Photos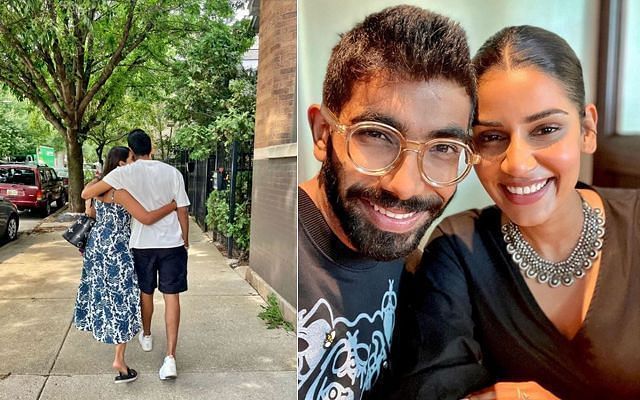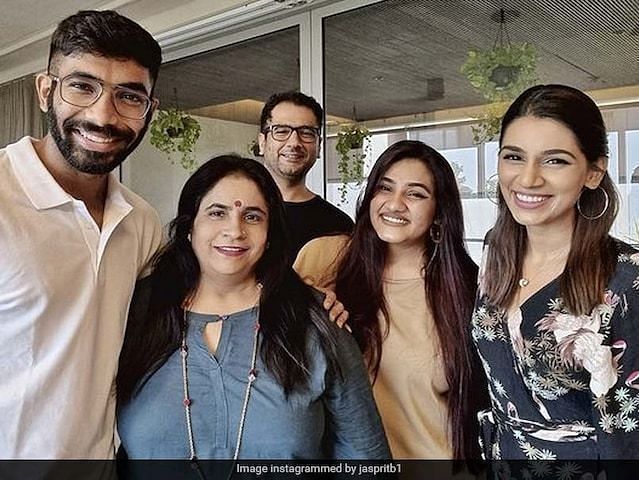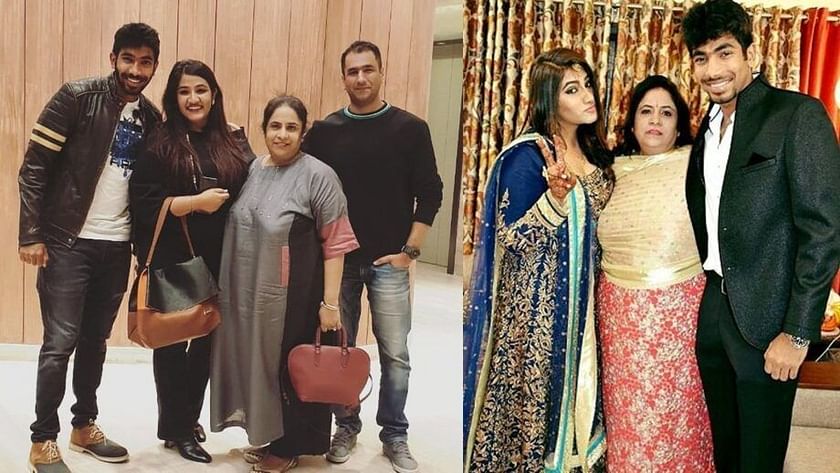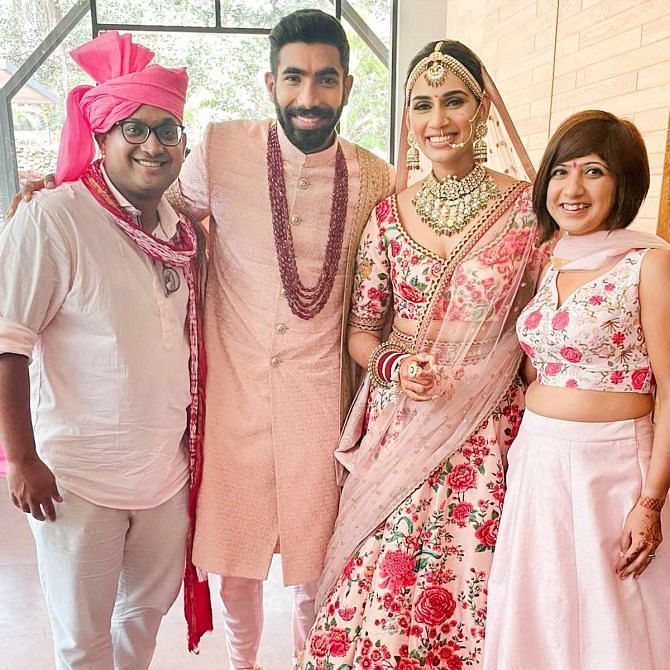 Who are parents of Jasprit Bumrah?
Late Jasbir Singh was the father of Jasprit Bumrah and lost his father when he was just 5 years old. Daljit Kaur Bumrah is the mother of the Indian star pacer who was the Principal of Nirman High School in Ahmedabad, the same institute where Bumrah completed his schooling.
Who is the wife of Jasprit Bumrah?
Sanjana Ganesan is the wife of Indian cricketer Jasprit Bumrah. She is a famous and renowned TV Presenter and Anchor by profession.
How did Sanjana and Bumrah meet?
Bumrah first met Sanjana when she interviewed him during the 2013-14 edition of the IPL, which was also the debut season for the Indian speedster. Soon after they became friends after chatting with one another. However, they thought of each other as being arrogant to the other which led to a decline in their talking. But they crossed paths again in the 2019 World Cup and started interacting as well as enjoying time spent together. That's when their bonding turned into love and they got in a relationship before marrying in 2021.
Is Jasprit Bumrah married?
Yes, Bumrah is married to Sanjana Ganesan. The couple tied the knot on 15 March 2021 in Goa and when they revealed about their marriage through social media, it came as a big surprise to the fans as there was no news of the duo being in a relationship.
Other Similar Pages