| | |
| --- | --- |
| Relationship | Name |
| Father | Yograj Singh |
| Mother | Shabnam Singh |
| Brother | Zoravar Singh |
| Wife | Hazel Keech |
Yuvraj Singh is one of the greatest all-rounders in cricket history. The southpaw made a name for himself by bringing his 'A' game to the table in the ICC tournaments. He helped India win many games with his excellent batting, bowling and fielding.
Yuvraj Singh was born on December 12, 1981 in Chandigarh, India. He achieved success in multiple sports during his school days. However, he ultimately became a cricketer.
Table of Contents
Image source: Thesportsrush.com
Yuvraj Singh was born to Yograj Singh and Shabnam Singh on December 12, 1981. Yograj is a former Indian cricketer himself. He played one Test and six ODIs for the Indian cricket team.
As mentioned before, Yuvraj was interested in many sports during his childhood days. However, Yograj wanted him to fully focus on cricket.
Apart from playing cricket, Yograj has also worked in movies. He has appeared in popular films like Singh is Bling and Bhaag Milkha Bhaag. Besides, Yograj has also been in the news for his controversial comments.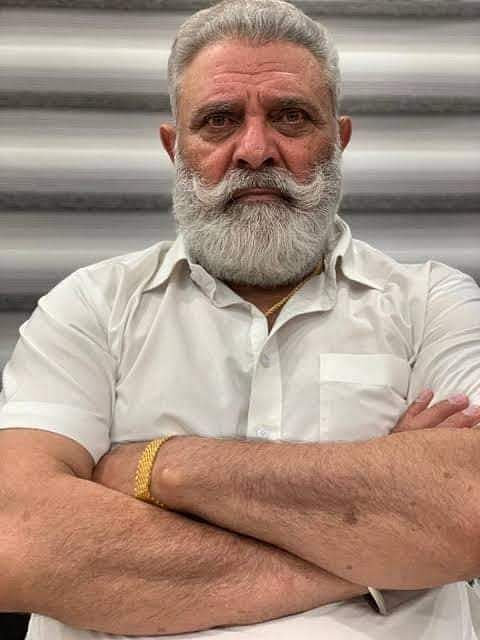 Image source: Twimg.com
Yuvraj Singh's Mother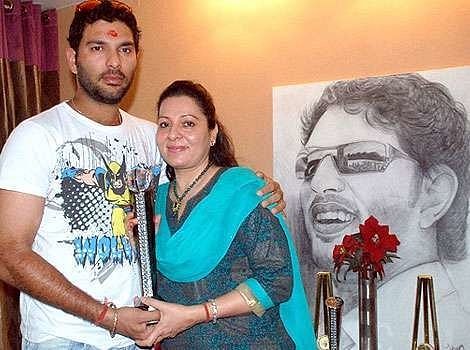 Image source: Indiatimes.in
Yograj Singh married twice. His first wife was Shabnam Singh. Yograj has two kids with Shabnam, namely Yuvraj and Zoravar. Shabnam has played an important role in the rise of Yuvraj Singh.
The former Indian all-rounder has often credited his mother for his success on the field. In one of her interviews, Shabnam revealed that she always knew Yuvraj would achieve success as a cricketer. Hence, she never pressured him to score 100% marks in his academics. She only wanted her son to fulfill his goals. Shabnam supported Yuvraj a lot during his battle with cancer.
Yuvraj Singh's stepmother's name is Neena Bundhel. She is a Punjabi actress and model.
Yuvraj Singh's Brother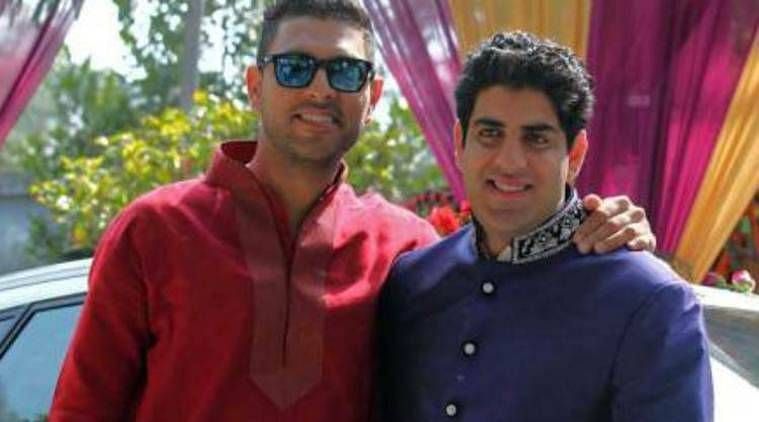 Image source: Images.indianexpress.com
Yuvraj Singh has one younger brother named Zoravar Singh. As per Stars Unfolded, he was born in 1992 and he has completed his Diploma in Acting.
Zoravar got married to Akanksha Sharma in 2014, but a few years later, they got divorced. Zoravar had to pay INR 48 lakh to Akanksha after their divorce.
Yuvraj Singh has two step-siblings, Punjabi actor Victor Yograj Singh and female tennis player Amarjeet Kaur.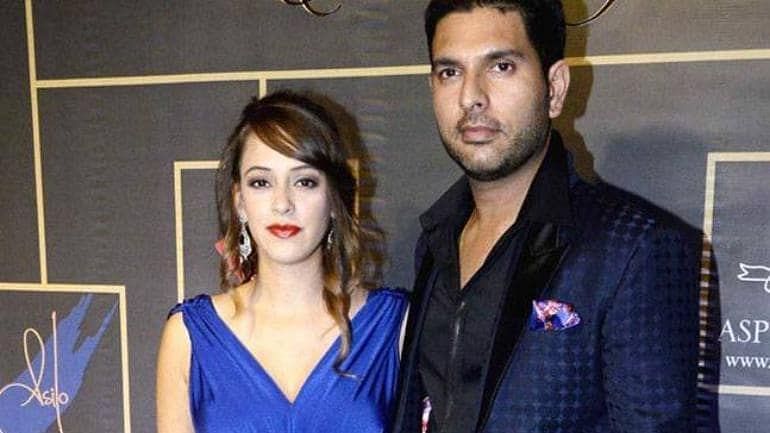 Image source: tosshub.com/indiatoday
Yuvraj Singh got married to English model and actress Hazel Keech in 2016. Hazel's real name is Rose Dawn. She has appeared in a few reality shows, music videos and films.
She began performing on the stage when she was just three years old. The couple got engaged in Bali in November, 2015. In one of her interviews, Hazel revealed that she did not follow cricket much during her younger days, and when Yuvraj hit six sixes in the 2007 T20 World Cup match against England, it did not make much of a difference to her.
However, after marriage, Hazel has gone to the stadiums to watch her husband play.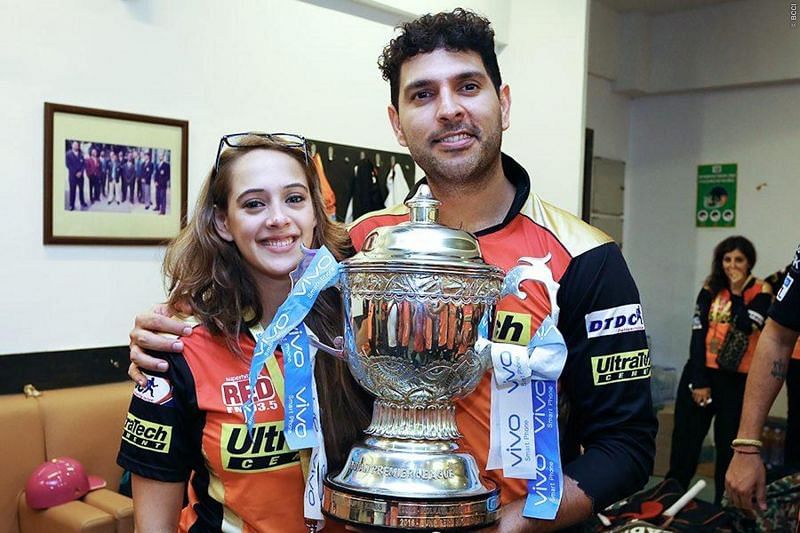 Image source: resources.platform.iplt20.com
Yuvraj Singh's Son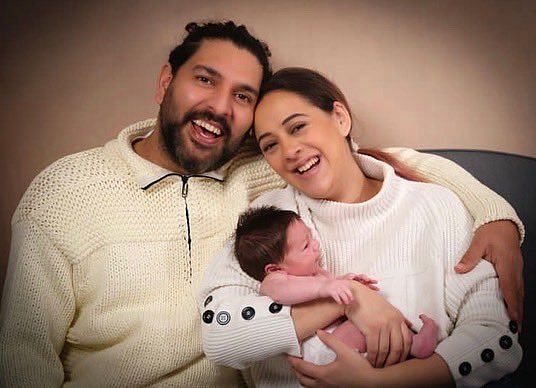 Yuvraj Singh and his wife, Hazel Keech became parents for the first time in January 2022 when the latter gave birth to a baby boy. The couple named their baby boy 'Orion Keech Singh', which they announced via a social media post on Father's Day.
Taking to his Twitter account, Yuvraj wrote: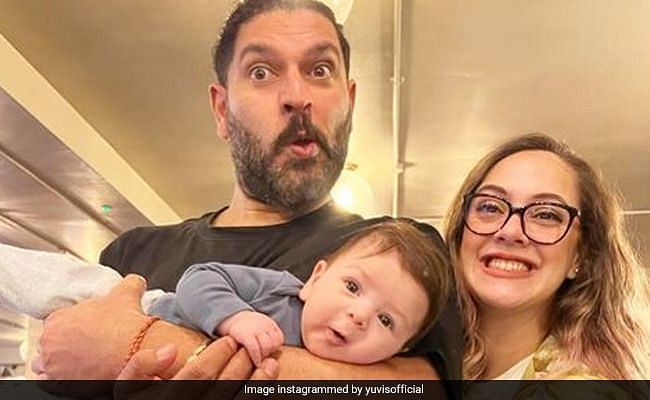 "Welcome to the world 𝗢𝗿𝗶𝗼𝗻 𝗞𝗲𝗲𝗰𝗵 𝗦𝗶𝗻𝗴𝗵 ❤️. Mummy and Daddy love their little "puttar". Your eyes twinkle with every smile just as your name is written amongst the stars ✨ #HappyFathersDay @hazelkeech"
Other Similar Pages