Conor McGregor is the Richest MMA fighter in the world. He's the first man to hold multiple UFC titles in different weight divisions at the same time. He's loud, brash and incredibly popular with a fan base spanning across the MMA world.
McGregor is the most financially successful MMA fighter of all time. A former featherweight and lightweight champion, with a 22-5-0 record, "Notorious" knows how to cash in on his skill and fame.
With time, McGregor's net worth as well as his brand value kept growing. A big spender, McGregor spends his millions to support his extravagant and bold lifestyle.
From Cars, yachts, mansions and more, McGregor likes living large. And one of his most famous passions is his love for designer suits.
What suits does Conor McGregor wear?
Conor McGregor is known for his outlandish, expensive and trend-setting fashion sense. He only chooses the best when it comes to clothing. From Gucci t-shirts to crocodile skin loafers and $100,000 watches, McGregor's clothing choices are both stylish and expensive.
The Notorious One owns a large number of designer suits. A big fan of three-piece fits, he has a preference for Blues and Greys when it comes to suits. He usually accompanies these with white, blue or light pink shirts to complete the look.
He also occasionally wears two-piece suits, but is more well known for the fit with the waistband. In addition to this, he always keeps a pocket square. The colour of the handkerchief either compliments the suit, or blends in with it.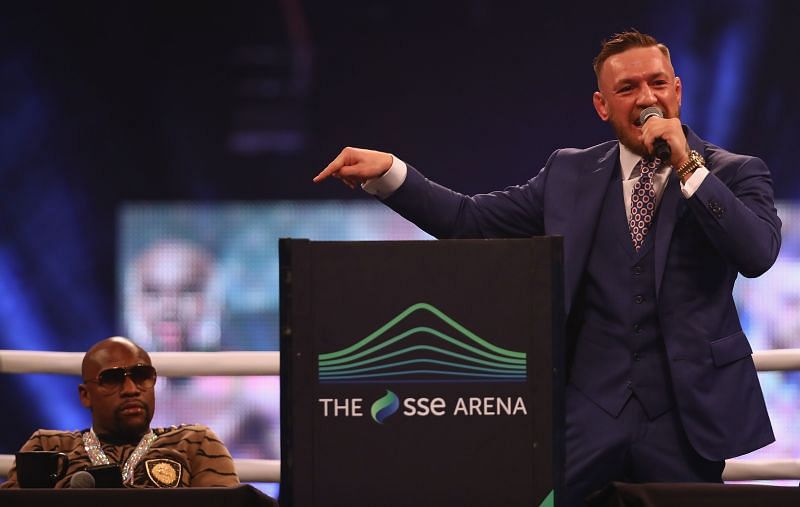 In addition to single colors, McGregor also wears printed and check suits, which perfectly suit his loud personality. He also has a few special suits, like the Famous "F**k you" suit he wore in the press conference against Floyd Mayweather.
It initially looks like a regular three-piece with a white dotted line pattern. However, a closer look shows that the white lines are actually the word "F**k you" written over and over again. Known for his trash talking, this was a verbal blow for which he didn't even open his mouth.
Credit: owenscott.co.uk
McGregor is also a fan of tuxedos, and rocks all sorts including black, maroon and even navy blue. With all his formal wear, He usually wears a tie, but has no particular preference between a windsor or a bow tie.
Who is Conor McGregor's tailor?
Being the fashion aficionado that he is, McGregor has one tailor he goes to for all his formal clothing needs. That man is David August Heil. An extremely well known figure in the entertainment industry, heil has worked with Kobe Bryant, Warren Buffett, Elon Musk, Tony Robbins, Clint Eastwood, Sylvester Stallone and others.
He has also designed and made almost all the suits McGregor wears today. It is said that an August Heil suit can cost as much as $10,000 per suit. McGregor usually buys 5-10 in a sitting, spending anywhere between $50,000 to $100,000 in a single shopping spree, sometimes even more than that.
The two have also launched a clothing line, named August McGregor. This brand sells copies of McGregor's famous suits at a lower cost, allowing fans of his fashion to dress like him. These suits are made of the same materials, and allow a larger audience to experience Heil's designs. However some of them, like the "F**k You" suit still costs a premium. That suit sells for $6500 on the official website.
While it's true that McGregor lavishly spends on his clothing, he is capable of sustaining it because of his massive earnings.
The suits also help his image, act to grow his brand, and through his partnership with August Heil, also bring him profit. Due to this, I don't see the Fashion Fanatic slowing down with his purchases anytime soon.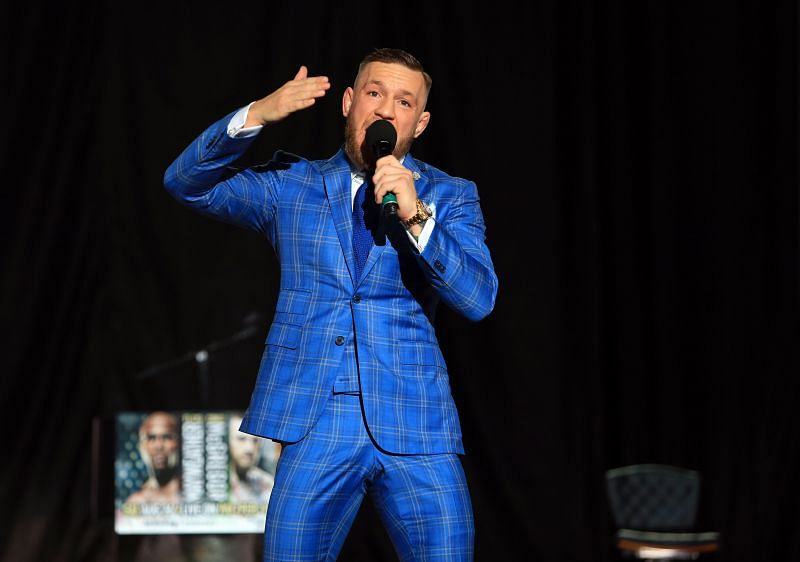 Check here: 5 Instagram posts of Conor McGregor that show off his insane wealth


FAQ


Q: How much does a typical Connor Mcgregor fit cost?
The 3-piece suit costs somewhere between $4000-10,000. The shirt is between $1000-$2000. The shoes can be as much as $10,000.
The belt is $5,000 And the watch is $50,000-$100,000. So in all, The average Conor McGregor fit is well over $100,000. For reference, you can buy a Lamborghini or an apartment with that much money.
Also Read: How much money does Conor McGregor spend on his suits?

*Last Updated: 6th January 2022