| | |
| --- | --- |
| Date of Birth | November 26, 1987 |
Matthew Ebden: A Brief Biography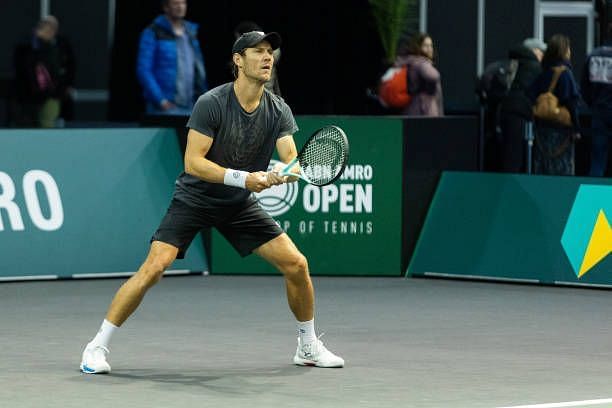 Matthew Ebden is an Australian professional tennis player who specializes in doubles. Although he represents Australia, Ebden was born in Durban, South Africa on November 26, 1987. He is currently ranked No. 8 on the doubles circuit, which is his career-high. His doubles partner is Indian legend Rohan Bopanna. Ebden turned pro in 2006.
Before becoming a full-time doubles specialist, Matthew Ebden was also a potent singles player. He has a career-high ranking of No. 39 in singles, and his best singles Grand Slam result was reaching the third round at the 2018 Wimbledon.
Ebden has won nine ATP doubles titles till date, including two majors. Apart from this, Ebden has also been a constant in the Australian Davis Cup and Commonwealth Games teams.
Most recently, Matthew Ebden reached the 2023 US Open final alongside Rohan Bopanna. Unfortunately for the pair, they fell short in the last hurdle against Rajeev Ram and Joe Salisbury. Ebden's game style can be termed simple and compact. His best shot is his forehand, and there are no surprises for guessing his favorite tournament - the Australian Open.
Matthew Ebden Personal Information
| | |
| --- | --- |
| Name | Matthew Ebden |
| Age | 35 |
| Date of Birth | November 26, 1987 |
| Nationality | Australian |
| Mother Name | Ann Ebden |
| Father Name | Charles Ebden |
| Profession | Professional tennis player |
| Net Worth | $4 million |
| Height | 6' 2" |
| Weight | 176 lbs |
| Education | Hale School |
| Relationship Status | Married (to Kim Doig since 2012) |
Matthew Ebden Early Life
Matthew Ebden started playing tennis at the age of five. When he was around 12-years-old, his parents moved to Perth to give their kids more opportunities in athletics and sports. The lesser known fact is that he wasn't a prodigy, and only bloomed relatively later in his career. Ebden attended high school at the prestigious Hale School in Perth. Since he couldn't complete his university studies, he is taking up a commerce degree alongside his tennis.
Matthew Ebden Personal Life
Growing up, Matthew Ebden's tennis idols were Stefan Edberg and Andre Agassi, despite Australia having a rich tennis history. If not for tennis, the 35-year-old revealed to the ATP World Tour website that he would have loved to take up law. In fact, he even enrolled at the University of Western Australia to study commerce or law, but later chose professional tennis instead.
Outside of tennis, Ebden spends time with his family by going to the beach, surfing or binging on some movies. He also studies horology and collects watches. An avid sports fan too, he supports the Wallabies.
Matthew Ebden Family Background
Matthew Ebden is the son of Charles and Ann Ebden. His father is a chief financial officer by profession. Before the family moved to Australia, Charles used to play tennis and cricket at the state level in South Africa. Ebden's mother is a homemaker. Both his parents were members of a local tennis club in Durban, where his journey started. Matthew also has two older sisters - Tarryn and Candice. They were both nationally ranked tennis players as well.
Matthew Ebden Wife
In 2012, Matthew Ebden tied the knot with his partner Kim Doig in an intimate wedding ceremony. According to online sources, Doig is a lawyer by profession. They have been married for 11 years now.
Matthew Ebden Children
Matthew Ebden and wife Kim Doig have one son as of 2023. They welcomed a baby boy named Harvey in the beginning of 2022. Back then, Ebden nearly missed the birth of his child, having reached the Australian Open 2022 final alongside Max Purcell.
"It was touch and go if I would make the birth, but luckily the laws changed mid-quarantine and I was able to be with Kim. So it all ended well," he divulged to the ATP World Tour.
Matthew Ebden Social Media
Instagram: @matt_ebden
X (Twitter): @mattebden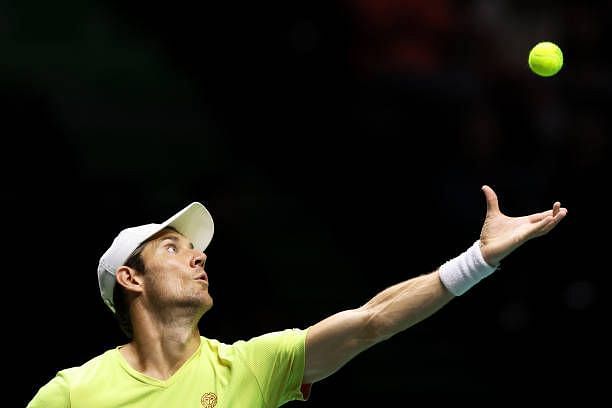 Matthew Ebden Net Worth
Australian Grand Slam winner Matthew Ebden has an approximate net worth of around $4 million as of 2023. He has managed to make massive strides on tour, owing to his doubles success. Not to forget that he has racked up some good brand partnerships in Australia, as well as global sponsorships. According to the ATP website, Ebden has won over $5.2 million in prize money till date, including over $839k so far in 2023.
| | |
| --- | --- |
| YEAR | NET WORTH |
| 2023 | $4 million |
| 2022 | $3.5 million |
| 2021 | $2.5 million |
Matthew Ebden Sponsorships and Endorsement Deals
As for his tennis equipment, Matthew Ebden has a deal with Head. After cracking into the Top-20 in doubles, several top brands stood up and looked to add Ebden to their list of partnerships. As a result, Matt currently endorses a bunch of big names like Bidi Badu, Go Markets, Bremont Watches and HHG Legal Group.
Matthew Ebden Investments
According to sources online, Matthew Ebden has taken up investments seriously. In April 2020, Ebden revealed that he has invested some of his money, and has taken other financial routes outside of tennis.
"I already have other business interests and investments in place that occupy some of my time outside of the tennis tour," he told Tennis.com.
Matthew Ebden Best Finish at Every Grand Slam
Singles:
Australian Open - R2 (2012, 2014, 2018, 2019)
Roland Garros - R1 (2012, 2014, 2018, 2019)
Wimbledon - R3 (2018)
US Open - R2 (2012, 2014, 2018)
Men's Doubles:
Australian Open - F (2022)
Roland Garros - QF (2012)
Wimbledon - W (2022)
US Open - F (2023)
Mixed Doubles:
Australian Open - W (2013)
Roland Garros - QF (2022)
Wimbledon - F (2022)
US Open - QF (2022)
Matthew Ebden Achievements and Records
Matthew Ebden has a career win-loss of 160-141 in doubles. In the year 2023, where he has performed exceedingly well, he has a win percentage of over 66% in doubles. Below are some of his career highlights:
2x Grand Slam champion (2013 Australian Open w. Gajdošová, 2022 Wimbledon w. Purcell)

9x ATP Tour doubles titles

Commonwealth Games bronze medalist (Delhi 2010)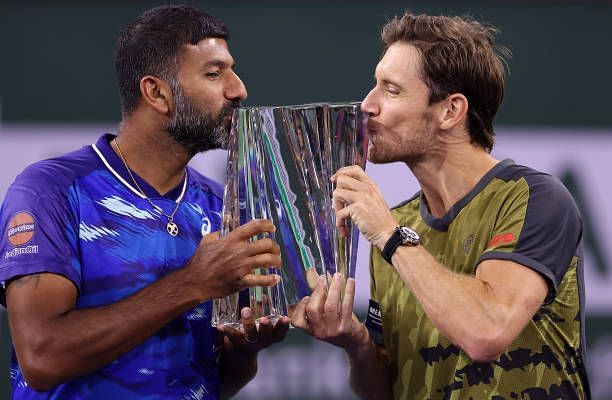 Matthew Ebden Coach
Matthew Ebden is currently being coached by Omar Hejleh.
Matthew Ebden Charity Work and Philanthropy
According to online sources, Matthew Ebden has done some charity work, but the exact details of the same haven't been revealed. In 2022, Matt was nominated for the Sports Dad of the Year in Australia. The winner of this received $5,000 to donate to a charity of their choice.
Matthew Ebden Diet
In June 2023, Matthew Ebden revealed his daily nutritional intake to 9Honey Coach. His breakfast is usually fruits and eggs, along with his coffee. For lunch, he normally eats salmon, rice, vegetables and water or coconut water. He follows a similar routine during dinner.
"Every athlete is different but it is important to get the basics right. If you are missing either of the three elements [proteins, carbs, hydration], you're going to be in trouble."
Matthew Ebden House
Matthew Ebden lives in a big house in Perth, Australia along with his family and newborn son. However, the details of the house are not available on public platforms as of 2023.
Matthew Ebden Cars
There is no data surrounding Matthew Ebden's car collection as of 2023. It will be updated once the Australian goes public about it.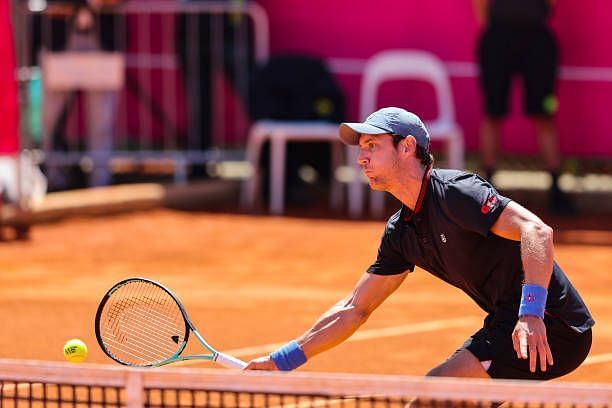 A. No, Matthew Ebden is not from New Zealand. He was born in South Africa and grew up in Australia.
A. Matthew Ebden and Max Purcell are not playing together due to a change of partners. Ebden has now partnered with Rohan Bopanna, while Purcell has reunited with Jordan Thompson.
A. Among others, a lesser known fact about Matthew Ebden is that he was mentored by 24-time Grand Slam champion Margaret Court.
A. As of 2023, Matthew Ebden has won one Grand Slam in men's doubles and one in mixed doubles.
A. Matthew Ebden is 6' 2" tall.
A. Matthew Ebden has faced Roger Federer only once, at Halle 2018. He lost in straight sets.