| | |
| --- | --- |
| Full Name | Brittany Smith |
| Spouse | Chael Sonnen |
| Children | Thero Stephen Sonnen, Blauna Dian Sonnen |
| Married On | 2013 |
Watching Chael Sonnen at press conferences was like watching Picasso paint. His resurgence from being an ignored middleweight to one of the biggest-selling stars in the UFC is a lesson to all young fighters on how to build themselves up. Every time a mic was put in front of him, he used it to his advantage and raised his stock. His promos during the first fight against Anderson Silva are still considered one of the best one-person build-ups in sports entertainment history.
While he never won a world title, Sonnen still managed to be the biggest-selling star alongside Anderson Silva, GSP, and Jon Jones. It would be fair to say Sonnen understood the fight business better than anybody. Dana White had similar things to say about Sonnen to MMA on SiriusXM -
"I like Chael a lot, I have a very good relationship with Chael, I like the fact that [the UFC] is the hardest place in the world to stay and make a living. It's a very hard place. … You have to be one of the best in the world to stick around here. And when guys can't stick around here anymore, and they go somewhere else and get paid and make money; I love it. Good for them."
"I don't think Chael was necessarily a bad guy, I think Chael was very good — before Conor McGregor — Chael was the best guy out there to push buttons and not only piss off other fighters, but piss off fans and stuff like that. He was very calculated and very smart in the way he conducted himself in this business."
Below we'll cover some details about Chael Sonnen's wife, Brittany Sonnen -
Who is Chael Sonnen's wife, Brittany Sonnen?
Chael Sonnen is married to Brittany Sonnen. The trick Chael used to meet her is highly recommended, and only a gangster from the mean streets of West Linn, Oregon, can pull it off.
Chael explains that he was in a fight in Portland, where he met Brittany. After making some light conversation with him, she "ran away." However, he stuck to his guns and followed her through a huge crowd for another shot. When he finally met her, Chael told her that his phone had gone dead and asked to borrow her phone.
He called himself to get her number. Brittany later explains that as her brother dragged her when he saw her talking to Sonnen, she received a text from Chael saying, "don't lend her phone to strangers." They went out the very next day. Brittany is best known for being Chael's wife; details about her life before meeting him are private.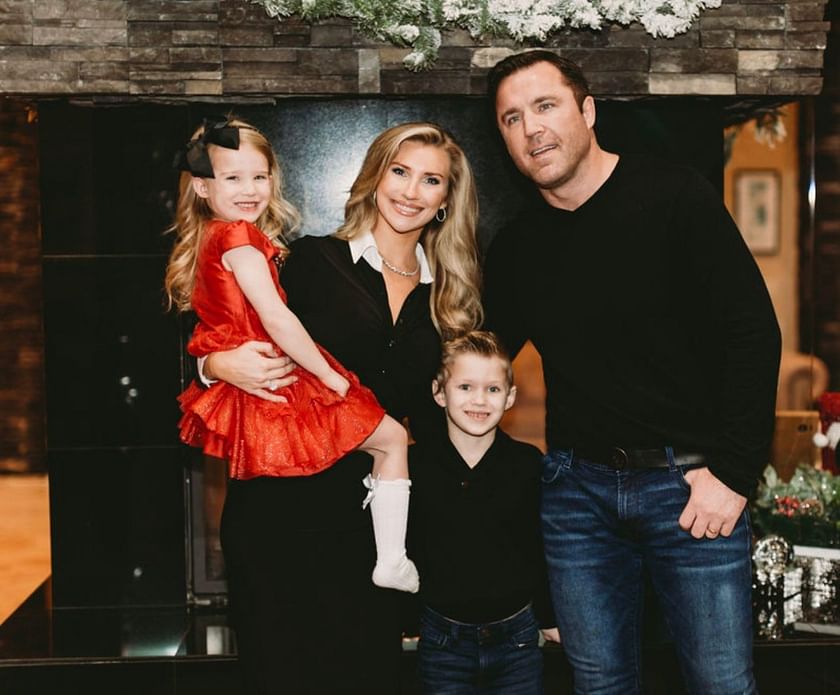 Credit: Brittany Sonnen's Twitter
Know about Partners of Other Popular MMA Personalities
FAQs on Chael Sonnen's Wife
Q1. When did Chael Sonnen and Brittany Sonnen marry?
Chael and Brittany got married in July 2013.
Q2. How many kids do Chael Sonnen and Brittany Sonnen have?
Chael and Brittany have two children. A son named Theo and a daughter named Pria. The couple had a third child in 2015, who died briefly after birth. Her name was Blauna Dian.
Q3. Is Chael Sonnen married?
Chael Sonnen has been married to Brittany Sonnen since 2013.
*Last Updated: 1st January 2023