| | |
| --- | --- |
| Age | 33 |
| Net Worth | $3 Million |
| Source of Wealth | MMA, Endorsements |
| Salary | $600,000 (base salary) |
| Endorsement | Reebok, Trifecta |
| Residence | Delray Beach, USA |
| Nickname | The Nigerian Nightmare |
| Marital Status | Married |
Kamaru Usman was born on May 11, 1987, and is a professional mixed martial artist, former freestyle wrestler, and a graduate folkstyle wrestler from Nigeria. He is the reigning UFC Welterweight Champion. Usman was also the winner of The Ultimate Fighter 21 tournament.
Usman was born in the Nigerian town of Auchi. His father was a Nigerian Army officer, and his mother was a teacher. He has two brothers, Kashetu and Mohammed, the first of whom is a pharmacist and the second of whom is a mixed martial artist. Growing up with his mother and two brothers in Benin City, Usman struggled with difficult conditions throughout his childhood.
Usman's father, who became a pharmacist in the United States, immigrated to Dallas, Texas, with his family when Usman was eight years old. During his tenure at the University of Nebraska at Kearney, 'The Nigerian Nightmare' won the NCAA Division II All-American championship three times. He was a national finalist twice and won the NCAA DII championship in 2010.
What is Kamaru Usman's net worth in 2022?
According to Celebrity Net Worth, Kamaru Usman's net worth is estimated to be around $3 million.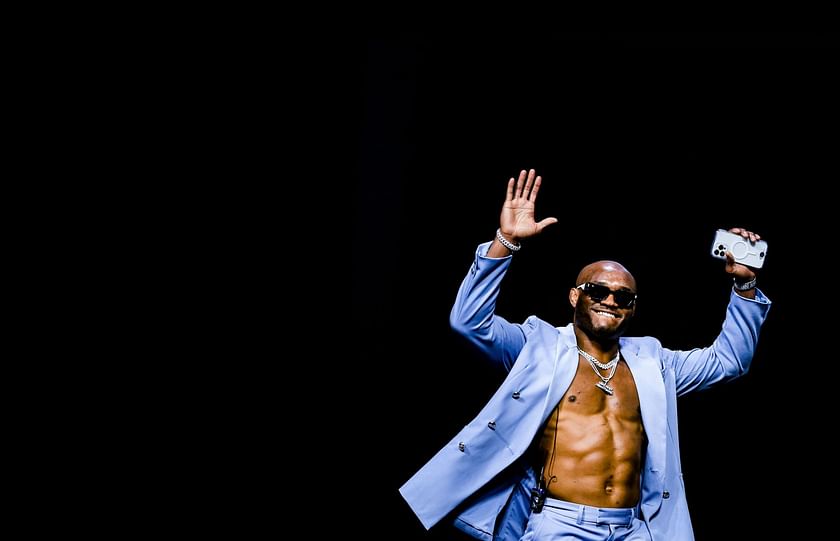 Kamaru Usman Salary
Like all UFC fighters, Kamaru Usman is paid on a per-fight basis and earned $600,000 each from his fight with Jorge Masvidal and Gilbert Burns, which does not include any other bonus payments.
The 33-year-old began his career modestly, earning $72,500 from his first appearance on The Ultimate Fighter. His first UFC fight after that, however, made him just $26,500.
The sum kept gradually increasing, and his first six-figure fight payout was against Rafael Dos Anjos, where he got $205,000. He made $350,000 in the victory over Tyron Woodley and $500,000 after beating Colby Covington as his base salary.
Kamaru Usman's Career
Usman began wrestling in his second year of high school at Arlington's Bowie High School. Usman was given the nickname "Marty" when he joined the team because his wrestling coach at the time had difficulty pronouncing his first name Kamarudeen, and it stuck with him throughout his amateur wrestling career.
Usman wrestled alongside Jon Jones at the senior national tournament before leaving for college after posting a 53-3 high school wrestling record and finishing third at the Texas state championships.
Usman wrestled for one year at William Penn University in Iowa, where he qualified for the NAIA national tournament in 2007 but could not compete due to a snowstorm. He went on to the University of Nebraska at Kearney (UNK), which had attempted to recruit him previously.
Usman finished in the top three in the country in each of his three years at UNK, and he was a two-time national finalist. In 2010, he won the NCAA Division II national championship at 174 pounds, posting a 44-1 record and 30 consecutive victories.
Despite making the US University World Team in 2010, Usman was sidetracked by injuries. After failing to qualify for the 2012 US Olympic Team Trials, he discarded his Olympic ambitions and turned to mixed martial arts instead.
Former NFL star Christian Okoye, whose nickname "The Nigerian Nightmare" had been trademarked, gave his blessing to Kamaru to use it as his nickname too. After amassing a 5-1 record, it was announced in 2015 that he would be on The Ultimate Fighter 21.
On July 12, 2015, at The Ultimate Fighter 21 Finale, Usman faced Hayder Hassan in the finals. He won the fight by submission in the second round, earning a six-figure UFC contract.
He was also awarded the Performance of the Night award. Usman's winning streak continued. Before fighting Tyron Woodley for the welterweight title, he went on a nine-fight winning streak in the UFC. Usman defeated Woodley to win the championship. His victory over Woodley was a landmark, giving Africa its first UFC champion.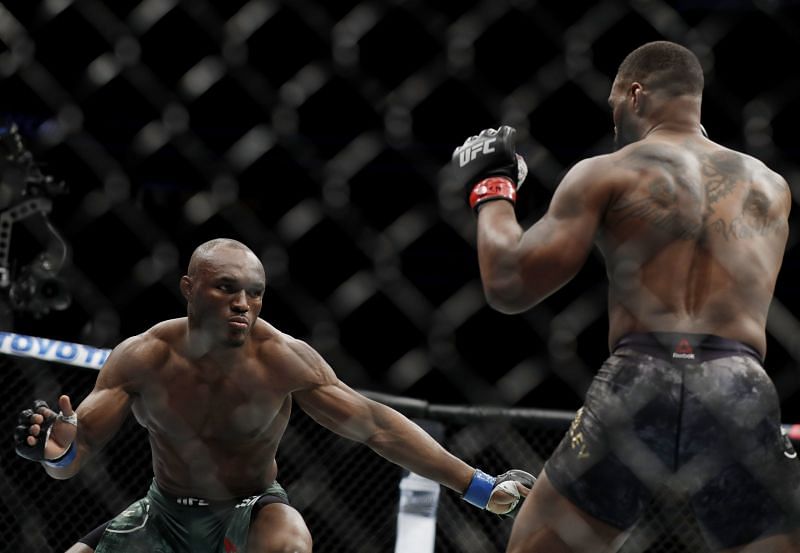 He then successfully defended against Colby Covington and Jorge Masvidal. Usman defended his title for the third time against Gilbert Burns, winning by technical knockout in the third round. He surpassed former UFC Welterweight Champion Georges St-Pierre's record of thirteen consecutive victories.
Overall, Usman has a record of 18-1-0, but his UFC record is a perfect 13-0-0. In Kamaru Usman's second MMA fight as a professional, Jose Caceres, the elder brother of longtime UFC featherweight Alex Caceres, handed him his only defeat.
Kamaru Usman's Career Earnings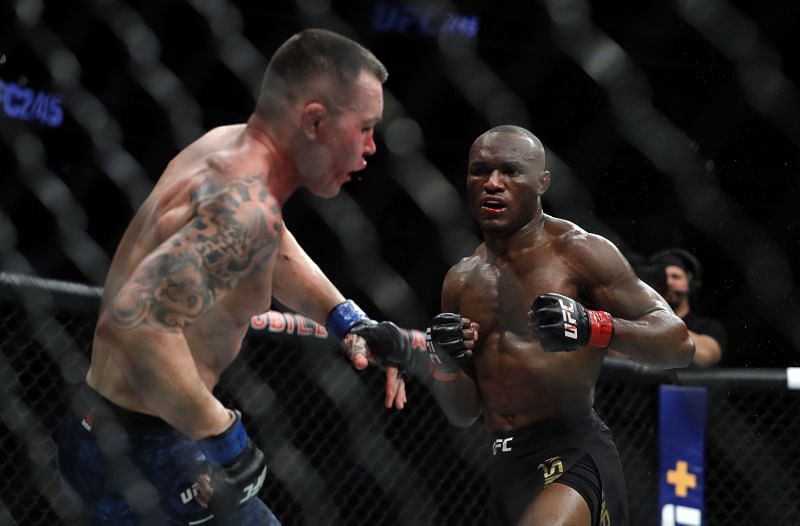 Usman isn't the best striker when he's on his feet. When he adds in his takedowns, however, his striking becomes dangerous. 'The Nigerian Nightmare' may not have a popular style, but his superior wrestling allows him to overpower his opponents. He's got an excellent clinch game.
This dominant and diverse game gets him the big bucks in the UFC. Let's look at his top five purses in the UFC.
| | | | |
| --- | --- | --- | --- |
| SR. NO. | DATE | FIGHT | PURSE |
| 1 | July 12, 2020 | Usman vs. Masvidal | $1,423,333 |
| 2 | March 3, 2019 | Usman vs. Woodley | $1,155,000 |
| 3 | February 14, 2021 | Usman vs. Burns | $1,040,000 |
| 4 | December 15, 2019 | Usman vs. Covington | $790,000 |
| 5 | December 1, 2018 | Usman vs. Dos Anjos | $250,000 |
Also Read: What is Jorge Masvidal's Net Worth in 2021?
Kamaru Usman Charity
When Kamaru Usman defeated Tyron Woodley at UFC 235, he became the first African-born UFC champion. Now that he has the belt around his waist, the Nigerian-born fighter intends to use his celebrity status to help others who may struggle to obtain the conveniences that many of us take for granted.
Usman said that when he was a child in Nigeria, his home didn't have running water and that he had to walk miles to a well to get water.
He's used his adversity as motivation, first to win an NCAA Division II national wrestling championship at Nebraska-Kearney and then to win a UFC championship.
Usman wants to lead this movement by serving as a role model and mentor to African youth. He has charitable endeavors planned across the continent to assist people in overcoming adversity.
FAQs
Q. How much is Israel Adesanya worth?
Reigning UFC middleweight champion Israel Adesanya has a net worth of $2 million.
Q. How much is Francis Ngannou worth?
As of 2020, Francis Ngannou has an estimated net worth of $5 million.
*Last updated on 27th November, 2022.