| | |
| --- | --- |
| Name | Nathan Donald Diaz |
| Age (2022) | 35 Years |
| Nate Diaz's Net Worth (2022) | $8 Million |
| Source of Wealth | Mixed Martial Arts, Endorsements, Cannabis and Winery business. |
| Salary | $790,000 (2022) |
| Endorsements | $20,000 |
| Residence | Stockton, CL |
| Sponsors | Reebok |
| Marital Status | In a relationship with Misty Brown since 2012 |
| Charity | St. Jude's Children Hospital, Nate Diaz Bike Auction |
| Last Updated | 2022 |
Check out all the details of Nate Diaz's Net Worth below.
Nathan Donald Diaz or simply Nate Diaz is an American professional mixed martial artist who is currently signed to the Ultimate Fight Championship (UFC). He joined the UFC in 2006 and participated in World Extreme Cagefighting, Strikeforce, and Pancrase. He won the reality tv show The Ultimate Fighter 5 by defeating Manvel Gamburyan in the final match. He has made himself a name by reveling in fights against Josh Neer, Melvin Guillard, Rory Markham, and Conor McGregor.
Also Read: Nate Diaz career earnings, How much money has the Stockton Slapper made in his fighting career?
He holds the record for the second and fourth highest UFC pay-per-view buy rate of 1.6 million along with Conor McGregor for a rematch at UFC 202 and of 1.3 million along with Conor for their first fight at UFC 196.
Nate also has the second most post-fight bonus awards in the UFC (15) alongside Joe Lauzon and is tied with Frankie Edgar for most Fight Of The Night bonuses (8).
Nate took a hiatus since his rematch against Conor McGregor at UFC 202 in August 2016.
Nate was supposed to face Dustin Poirier for his return in a Co-Main event at UFC 230 on November 4, 2018, however, the matchup was called off after the negotiations went sour. The situation was so messy that even UFC President Dana White didn't want to handle it and the return of Diaz was eventually delayed for the better of everyone. Apparently, Nate was reluctant to compromise and wouldn't agree to anything but his own terms. Poirier however suffered an injury that would have kept him out of the fight anyways.
Nate returned to the competition on August 17, 2019, against Anthony Pettis in a Welterweight bout at UFC 24. He defeated Pettis by unanimous decision and called out Jorge Masvidal for a fight for the BMF title at UFC 244. Masvidal won the fight by technical knockout via doctor stoppage after round three when the cage-side physician determined a cut over Diaz's right eye which made him unable to continue.
Diaz hasn't fought inside the octagon since November 2, 2019, though there are rumors that he will compete in 2021.
What is Nate Diaz's Net Worth in 2022?
According to celebrity net worth, Nate Diaz's net worth is expected to be around $8 million. His valuation hasn't really changed in a while owing to his almost three-year hiatus, however, his return to UFC in 2019 led to an increase in Nate's earnings.
His fight against Anthony Pettis at UFC 241 made him $250,000 and his main event bout against Jorge Masvidal at UFC 244 made him earn $520,000 which doesn't include the Ppv and Sponsor payouts that the fighters get. UFC 244 also had a PPV buyrate of more than 925,000.
Nate Diaz' s net worth in 2016 was around $5 million as that's the same year he earned $2 million for his fight against Conor McGregor.
Also Read: What is Nick Diaz's Net Worth?
Nate Diaz's Salary and Endorsements
Diaz's fight at UFC 202 earned him a whopping $2 million despite being on the losing side and was the highest he had ever made in a single fight. He has also made a significant amount of money by winning the fight of the night bonus awards 8 times and has the second-highest post-fight bonuses. Diaz earned $520,000 after his fight against Jorge Masvidal at UFC 244. Nate Diaz's career earnings come down to $4,891,000.
He has an endorsement deal with sportswear giant Reebok which pays him $20,000 for every fight.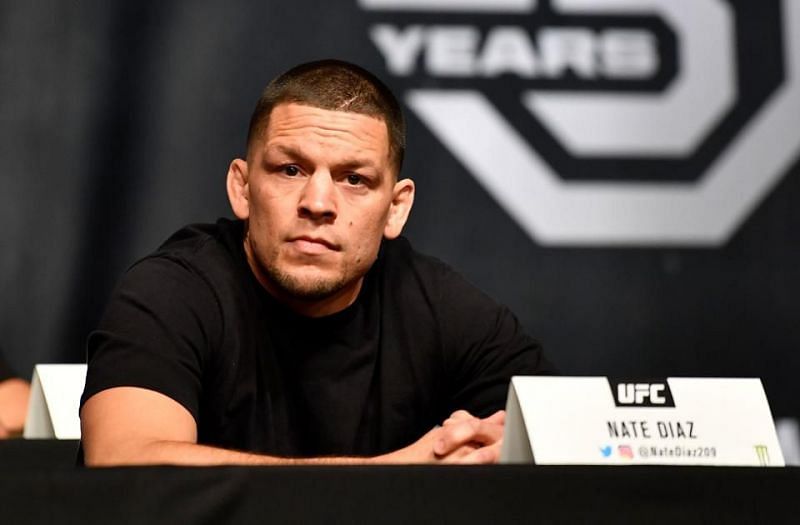 Nate Diaz's Investments
Apart from making a name inside the octagon, Nate Diaz has also made moves outside of it. Nate, along with his brother Nick Diaz, has been involved with numerous business ventures.
The Diaz Brothers have introduced their own CBD company named Game Up Nutrition. The brand involves quality products such as CBD oil, hemp flower, and CBD pre-rolls. Not only are they organic but also vegan-friendly as the brothers have been vegan for the past decade or so.
Nate is also the official spokesperson of Lodi Vintners, a winery based out of California, and has also appeared on their billboards.
In an interview with MMA journalist Ariel Helwani, Nate said he didn't need to fight because he had other business ventures to make money which explains his lack of activity in the UFC.
Nate Diaz comes from an extremely humble background, and the first thing that came upon him when signing his UFC contract was to buy his mother a house and himself a car. He did go to buy himself a car, wishing to buy a Cadillac however he was tricked into buying a Honda Civic. He owns a house in his hometown of Stockton, which is believed to be worth around $430,000.
House
Nate Diaz owns several real estate properties in and out of the country. And the most relevant and known property is his $430,000 house in Stockton, California, U.S.
Charity and Foundation Works
Nate Diaz is known for his community work and for teaching kids Jiu-Jitsu.
In 2016 he was awarded a Legislative Resolution from the State of California for his work in spreading awareness along with martial arts to the kids in need and to those youth at risk.
However, his further charitable works and donations have been kept completely private as he does not look forward to getting the media's attention in this regard.
Cars
According to numerous reports and pictures, Nate Diaz owns a collection of motor vehicles which includes a Chevrolet SUV, a Range Rover, and a Tesla.
Nate Diaz Record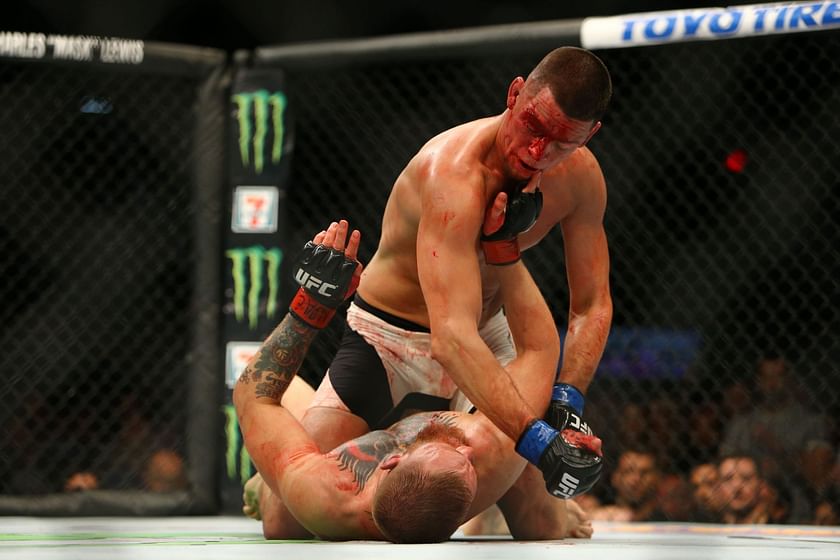 The current Nate Diaz record stands at 5 wins by knockouts, 12 wins by submissions, and 3 wins by decision.
Also Read: Has Nate Diaz ever been knocked out in his MMA career?
Net Worth of other Popular MMA Fighters
FAQs on Nate Diaz
Nate Diaz faced Conor McGregor on two occasions. At UFC 196, where he defeated The Notorious One, Diaz earned $500,000 as base salary, followed by $50,000 bonuses for winning the 'Fight of the Night' and 'Performance of the Night' awards. He was unsuccessful in defeating McGregor when they had their rematch at UFC 202, but Diaz acquired approximately $13 million from that fight.
Q. How much money did Nate Diaz make for UFC 202?
Nate Diaz fought Conor McGregor at UFC 202. Despite losing the bout, he made nearly $13 million that night. He earned $2 million as the base salary, almost $450,000 from sponsorships and bonuses, and $10.5 million from his cut of the pay-per-view revenue.
Q. Is Nate Diaz married?
Nate and his girlfriend welcomed their first child in June 2018, but there's no public report regarding their marriage.
*Last Updated: 9th October 2022