Name
Dustin Glenn Poirier
Nickname

The Diamond

Dustin Poirier's Net Worth (2022)
Approx $4 Million
Age (2022)

32 years (born January 12, 1989)

Residence

Carencro, Louisiana, United States

Marital Status

Married

Spouse

Jolie Poirier

Sources of Wealth

MMA, CBD company, and

Poirier's Louisiana Style

(

Hot Sauce

)

Division

Lightweight ( 155 lbs )

Height

5'9"

MMA Record

27-6-0

Recent Endorsements

Reebok, Robert Graham, and Celsius Energy Drink

Team/Gym

American Top Team
Check out all the details of Dustin Poirier's Net Worth below.
Throughout his UFC run, Dustin Poirier has been one of the most slept-on fighters in the company. Someone who's just started watching MMA wouldn't believe that Poirier has beaten the likes of Eddie Alvarez, Max Holloway, Justin Gaethje, and most recently, Conor McGregor. He certainly has earned himself a spot in the UFC Hall of Fame in the future. Believe it or not, even fighters seem to underlie the former interim champion.
The case was brought up by both Dana White and Chael Sonnen when Poirier beat all odds to defeat McGregor at UFC 257.
Sonnen made the following comments on his YouTube Channel -
"When it's something you've already done and you had no resistance the first time, yes, Conor overlooked Poirier. Yes. And Conor would probably deny that adamantly, prior to the fight – because he would look at – did I skip practice? No, I did not. Did I pay attention to my nutrition? Did I get enough rest? Did I sit down with the coaches? Do we have a strategy? Yeah, I did everything you could do. I'm ready to go. But in hindsight, you'll look back because that's something that's inside. It's not necessarily reflected on the miles on the road or the rounds in the room. What Dana's speaking to of overlooking is a mindset."
The UFC president also made similar claims in an interview with BT Sport -
"I think Conor was overlooking Dustin, let me just get through this and onto other things."
Poirier will have another go at The Notorious to settle the debates on July 10. It would be almost impossible to underrate 'The Diamond' if his hand gets raised again.
What is Dustin Poirier's Net Worth in 2022?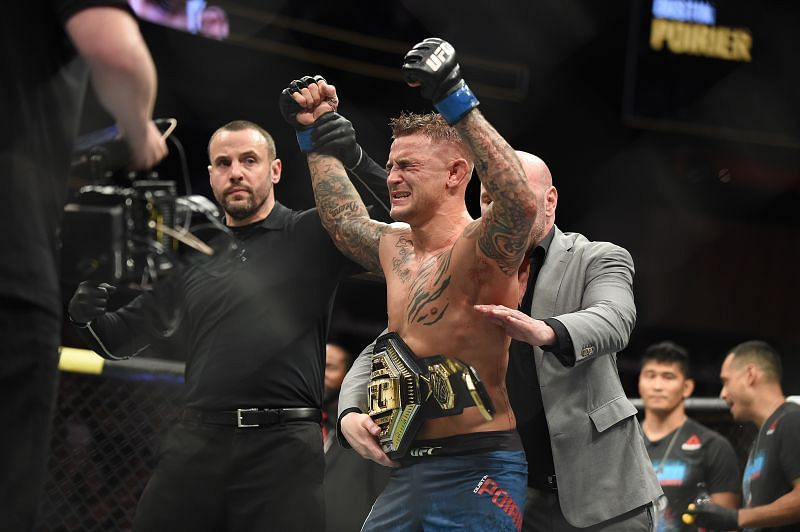 According to Celebrity Net Worth, Dustin Poirier's net worth is around $4 million. So far in his MMA career, he has fought who's who of fighters. Max Holloway, Conor McGregor (x2), Max Holloway (x2), and Eddie Alvarez (x2) are just some of the notable soldiers that Poirier has fought against.
So far, he has cashed 4x Performance of the Night, 1x Submission of the Night, and a whopping 7x Fight of the Night bonuses.
Also, Read Dustin Poirier vs Conor McGregor's net worth comparison.
Outside the octagon, Poirier has kept himself involved in various business ventures. He has connected with REAP and has launched his own CBD line. Along with that, his hot sauce is renowned among the MMA community. In an interview with Forbes, Poirier revealed the story behind launching his hot sauce -
" I just want to give such big credit to Heartbeat Hot Sauce, the quality of products they put out and their attention to detail. I'm so happy that Heartbeat and Al [Bourbouhakis] decided to take this leap of faith with me and launch Poirier's Louisiana Style Hot Sauce. I'm from Louisiana and hot sauce is a big thing. I actually live 35-40 minutes away from a tabasco plant in Avery Island. Louisiana style hot sauce is crystal, tabasco and the list goes on of vinegar-based and cayenne pepper-based hot sauces. It's something I grew up around and something I grew up eating in gumbos and jambalayas. In any cajun dish, there's hot sauce somewhere around."
Dustin Poirier's Career Earnings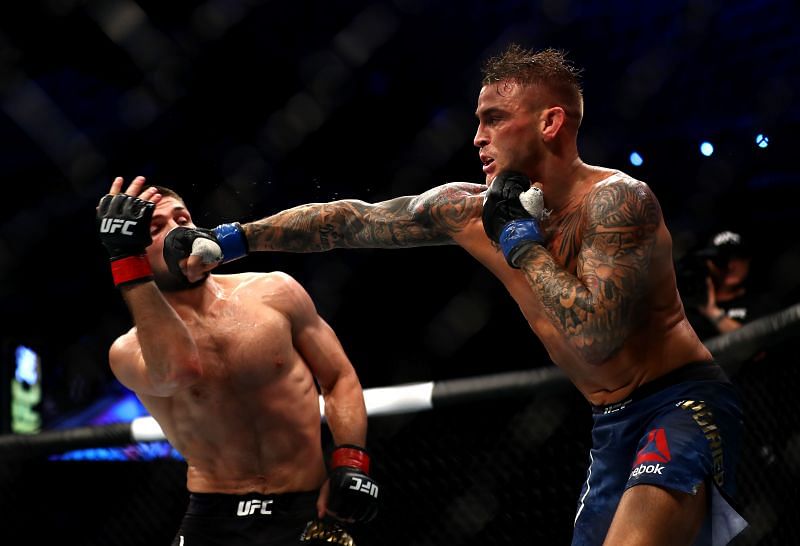 According to Sports Daily, Poirier's career earnings add up to $4,034,700. His latest payday ( $1,070,000 ) against McGregor at UFC 257 was the biggest of his career. However, Poirier isn't the one to rip off in terms of money.
As he says, "Paid in full," so let's have a look at his top 5 paydays in MMA -
Sr. No
Date/Event
Opponent
Purse
W / L

5

July 28, 2018 /

UFC Fight Night: Alvarez vs Poirier 2
Eddie Alvarez

$250,000

W

4

September 7, 2019 /

UFC 242
Khabib Nurmagomedov

$290,000

L

3

April 13, 2019 /

UFC 236
Max Holloway
$330,000
W

2

27th Jun 2020 /

UFC: Poirier vs Hooker
Dan Hooker
$370,000
W

1

January 23, 2021 /

UFC 257
Conor McGregor
$1,070,000

W
Dustin Poirier Endorsements
Credit:
Dustin Poirier Instagram
Poirier has secured lucrative deals from Reebok, Robert Graham, and Celsius Energy Drink.
His partnership with Robert Graham involves helping his Good Fight charity program. Poirier said this about the collaboration -
"I partnered with Robert Graham, one of my wife's and my favourite brands for colour and personality, to raise awareness for The Good Fight Foundation, a charity I started to help local community and underserved populations."
"I challenge my fellow fighters, the UFC community, friends, family and superfans alike to sport this t-shirt and headband and fight the good fight with me."
"I'm proud to work with Robert Graham who is donating a portion of the proceeds from these two styles to The Good Fight Foundation."
Like his hot sauce, his charity is also renowned and appreciated by the MMA community. After their bout at UFC 242, Nurmagomedov and Dana White donated $100K to his charity.
Net Worth of other Popular MMA Fighters
FAQs on Dustin Poirier
Q. Who is Dustin Poirier's wife?
Jolie Poirier is Dustin Poirier's wife.
Q. Does Dustin Poirier have a son?
The couple had their first child, Parker Noelle Poirier, on August 20, 2016.
Q. How much did Dustin Poirier make in his last fight?
Dustin Poirier, for his last fight at UFC 281: Adesanya vs. Pereira, has earned around $1.01 million, including a win bonus and other sponsorships.
*Last Updated on December 9, 2022.