| | |
| --- | --- |
| Net Worth | $30 million |
| Age | 39 |
| Source of wealth | MMA, Movies, Business Partnerships, Commentator, |
| Salary | $3 million guaranteed per fight |
| Luxury Cars Owned | Range Rover, Lamborghini |
| Property | $4 million house in Montreal, Quebec |
| Endorsements | Under Armour, NOS energy drink owned by Coca-Cola, Hayabusa, 888 poker, Electronic Arts, Affliction, Budlight, Reebok, Bacardi, Budweiser and Truconnect by Tv.fit |
| Marital Status | Single but was rumoured to be in a relationship with Divine Kierzy and probably has a 2-year old kid named Liam with her |
| Charities | GSP Foundation, Anti-bullying campaigns, Covid-19 relief |
| Residence | Montreal, Quebec, Canada |
| Last Updated | 2021 |
George St-Pierre is a former Canadian professional mixed martial artist. Popularly known as GSP, he is a 3rd dan Black Belt in Kyokushin Karate, 1st degree black belt in Brazilian Jiu-Jitsu, black belt in Gaidojutsu and a black belt in Shidokan karate.
St-Pierre announced his official retirement on February 21, 2019, at a press conference at the Bell Centre in Montreal. He has been active in the field since the year 2002 at the age of 21. A former two-division champion in the UFC, having won the Welterweight Championship twice and Middleweight Championship once, GSP's mixed martial arts record is 26 wins in 28 matches.
He has won more than 45 awards during his professional MMA career from the UFC, Black Belt Magazine, Sherdog, MMAjunkie.com, Fight Matrix, Rogers Sportsnet, Spike Guys' Choice Awards, Sports Illustrated, Wrestling Observer Newsletter awards, World MMA Awards and ESPY Awards.
Georges St. Pierre's
Net Worth in 2021
As of 2021, Georges St. Pierre's Net Worth is estimated to be $30 million. George St.Pierre's career earnings in the UFC can be more than $7 million and it doesn't include PPV payouts and other undisclosed bonuses that he might have got per fight. Being one of the biggest PPV draws in the UFC, GSP earned more than $2.5 million for his fight against Micheal Bisping alone at UFC 217. His annual income outside the octagon from endorsements, memorabilia and licensing added another $3 million. St-Pierre's total income of $12 million from 2012-2013 made him the top earner in MMA. The 950,000 PPV buys for GSP vs Nick Diaz made him a $5million payday.
Because of GSP's PPV numbers, he is guaranteed almost $3 million before stepping into the octagon. He has also appeared in four Hollywood movies including big earners like Captain America: The Winter Soldier.
Georges St. Pierre's Earnings
GSP has earned more than $7 million in his UFC career excluding the PPV and sponsorship payouts that he got. He has earned more than $9 million alone for his fights against Nick Diaz and Johnny Hendricks.
The 37-year-old endorsed some well set brands in his UFC career, like Under Armour, NOS energy drink owned by Coca-Cola, automobile brand Hayabusa, gaming brands 888 poker and Electronic Arts, Affliction, Budlight, sports brand Reebok and liquor brand Bacardi. These brands made him about $1-2 million per fight. In a year, he earned $12-15 million per year through these endorsement, licensing deals and memorabilia.
GSP has also featured in many films, with appearances in Marvel movies as well. He played a character in Captain America : The Winter Soldier and will play a character in the TV series
The Falcon and The Winter Soldier.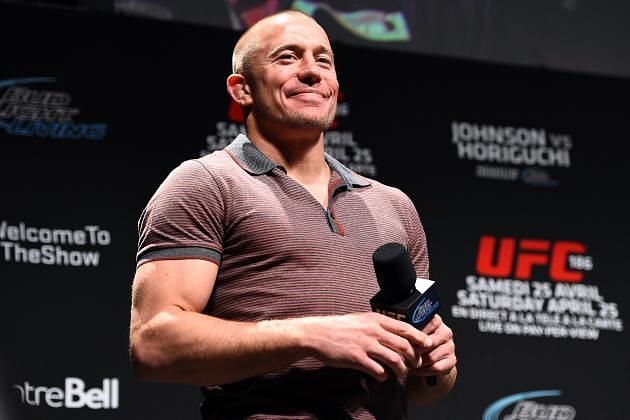 Georges St. Pierre's Investments
GSP has involved himself in various investments and partnerships which makes him a lot of money despite not being active anymore in MMA.
Pierre is currently a French Commentator for the UFC at RDS channel in Quebec. The fighter has helped UFC build gyms in Montreal along with New Evolution Fitness Company. In 2020, Code Investment World High Life Announced Georges St-Pierre as Brand Ambassador Featuring Its Love Hemp Brand.
He launched a health and fitness app, Touchfit: GSP, developed by Zolmo that includes an equity stake for St-Pierre. He released a book, The Way of the Fight, which covered his life story and training methods. The book hit No. 30 on the New York Times hardcover nonfiction bestsellers list.
St-Pierre recently partnered with O2 Industries to develop a first-of-its-kind Fitness Respirator, which is expected to roll out pretty soon. In December 2020, GSP announced his partnership with the alcohol beverage company Budweiser for their new product Bud Zero, their new alcohol free beer, which has the same taste as any other Budweiser beer but produced at only 50 calories and zero grams of sugar.
He has also partnered with TRUCONNECT by online streaming platform Tv.fit to expand its program of focusing on affordable, flexible fitness, mental health and behavioural change solutions for everyone.
George St Pierre Girlfriend
Earlier he was in an affair with Lucy Onyeforo. Further, he is rumored to be dating a beautiful girl with whom he also posted some pictures on his Instagram profile. He is not a married man and he doesn't have any spouse. He does not have any children too.
George St Pierre Record
The current George St Pierre record stands at 26-2-0 as a Canadian professional mixed martial artist.
People Also Ask
Is Georges St Pierre married?
No, Georges St-Pierre is currently unmarried and it is not known if he is involved in any relationship.
How much did Georges St-Pierre make per fight?
Georges St-Pierre was UFC's top draw at one time. It is reported that he was guaranteed $3 million per fight.
Does George St Pierre have a child?
It is reported that Georges St-Pierre does not have any children.


Where does George St Pierre live?
Saint-Isidore-de-Clifton, Quebec
What is George St Pierre's record?
St-Pierre, a two-division champion, leaves with a record of 26-2-0 and a 13-fight winning streak.