| | |
| --- | --- |
| Net Worth | $1 Million |
| Age | 29 |
| Nationality | American |
| Last Updated | 2021 |
Cody Ray Allen Garbrandt also know as Cody Garbrandt nicknamed No Love, is an American professional mixed martial artist (MMA) currently signed to UFC where he is a former UFC Bantamweight Champion. At the time of writing, he is officially ranked #9 in the UFC bantamweight rankings.
Cody Garbrandt Net Worth 2021
As of 2021, Cody Garbrandt's net worth stands at a total of $1 Million.
People have inquired to know about the origins of Cody Garbrandt tattoo for a long time since the MMA star is covered in ink from head to toe.
Garbrandt once told in an interview that he gets a new tattoo after each fight he competes in. He got his first tattoo when he was only 14 years old and cites his uncle who was a tattooist as the inspiration behind him getting inked.
When Cody Garbrandt was in the MMA promotion Pinnacle FC, he started dating a woman named Danny Pimsanguan. They got married in July 2017 and they have a son named Kai Fisher Garbrandt who was born in March 2018.
Cody Garbrandt wife is a professional model of Thai ancestry. She was born Danielle Pimsanguan on June 23, 1986 in Orange County, California. She was raised by her father Suwat Guy Pimsanguan but not much is known about her mother.
Cody Garbrandt Record
Cody Garbrandt record in MMA stands at 12-3-0 after having competed in a total of 15 professional fights throughout his career.
Cody Garbrandt Height
Cody Garbrandt height is 5 ft 8 in (1.73 m).
Cody Garbrandt Haircut
Cody Garbrandt usually gets his hair trimmed by his barber Jose Javier Vazquez who has been cutting Garbarndt's hair since his amateur MMA days. The Cody Garbrandt haircut is a simple low fade hairstyle with a hard top.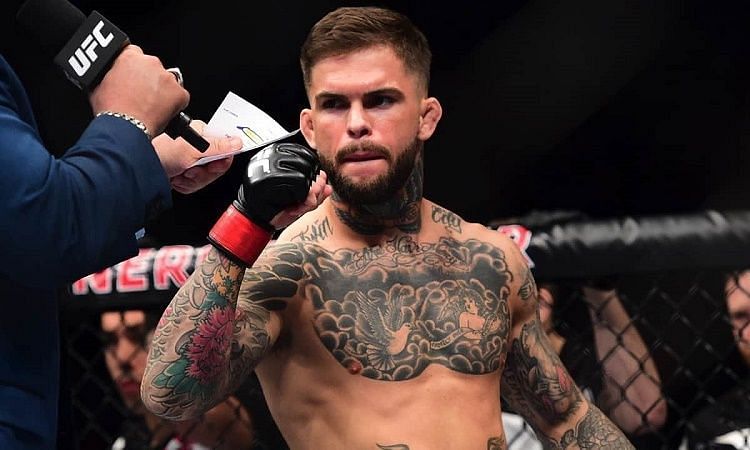 People Also Ask
How much money does Cody Garbrandt make?
It is estimated that Cody Garbrandt has a net worth of $1 Million.
Who is Cody Garbrandt wife?
After a few years of dating, Cody Garbrandt married Danny Pimsanguan in July 2017. The couple have been together since then.
What is Cody Garbrandt's MMA record?
Garbrandt has an MMA record of 12 wins and 3 loses. He's also a former UFC Bantamweight Champion.
Does Cody Garbrandt have a son?
In March 2018, Cody Garbrandt and his wife welcomed their first child, a son, Kai Fisher Garbrandt.