If you are a combat sports fan and do not know who Khabib Nurmagomedov is, then you have been living under a rock. The 32-year-old Russian mixed martial artist is widely regarded as the greatest champion ever in the lightweight division with a perfect record of 29-0. Nurmagomedov was also ranked #1 in the UFC men's pound-for-pound rankings before his retirement was made official.
Nurmagomedov announced his retirement from MMA after his last fight against Justin Gaethje at UFC 254, in which he defended and unified the UFC lightweight championship.


Who is Khabib's father, Abdulmanap Nurmagomedov?
Abdulmanap Nurmagomedov was born in 1962 and had a degree in accounting and economics. He started his sporting career with freestyle wrestling and began to practice judo and sambo while he was in the army. Abdulmanap's name is included in the Russian Book of Records as the coach who raised the largest number of combat sambo champions with a staggering 18 world champions being coached under him.
Abdulmanap started wrestling when he was in sixth grade. He was also fond of playing football. By the time he was 13, Abdulmanap used to cycle 22 km every day apart from 8 km of walking and training 2 hours on the wrestling mat. He used to train on the beach every day except for the weekends. According to him, everyone can truly achieve whatever they want to by training in the cool air of the sea.
He had his first competition in May of 1974 in which he came second. He lost the final, which was a rare occasion for Abdulmanap, but he learned a lot from that. He was also very good at football and played at a second-tier club.
Although he managed to win several regional wrestling and judo tournaments, Abdulmanap ultimately put his competitive career to a halt and embarked upon his coaching stint in 1987.
His first taste of success as a coach came when he trained his brother at the world sambo championship for the national team of Ukraine. He then returned to Dagestan and set up the now-famous Manapov school which has been home to many top fighters, such as Islam Makhachev, Rustom Khabilov, Gadzhimurad Nurmagomedov and of course, his son Khabib Nurmagomedov.


How did Khabib lose his father?
The whole world has been battling with coronavirus since the start of 2020. The virus has been responsible for numerous deaths, with one of them being that of Abdulmanap Nurmagomedov.
Towards the end of April 2020, Abdulmanap was diagnosed with Covid-19 and was hospitalized with pneumonia caused due to the virus.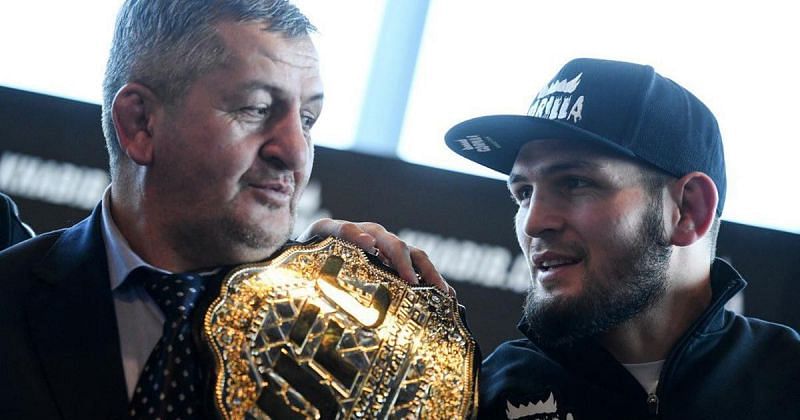 On May 13, it became known that Nurmagomedov was in serious condition in one of the military hospitals in Moscow. After battling with various complications for almost 2 months, he finally breathed his last on July 3, 2020 at the age of 57. Although he beat COVID-19, the 57-year-old succumbed to heart complications.
The entire MMA community and all the UFC fighters mourned Abdulmanap's demise and have expressed their condolences towards Khabib Nurmagomedov and his family. Such was his impact that even Khabib's fiercest rival, Conor McGregor sent his condolences. The UFC said in a statement that his loss will be felt throughout the sporting world.
Khabib did not make any immediate public comment in the wake of his father's death, and he didn't post anything on social media either. He later posted a touching tribute on his Instagram.


Why did Khabib Nurmagomedov retire?
After choking out Gaethje, Khabib extended his immaculate MMA record to 29-0 with another dominant performance at UFC 254. That when he dropped the bombshell that he was retiring from the sport at the peak of his career. Fans were left stunned as Khabib dropped his gloves at the center of the octagon and declared that it was his last fight in the UFC.
In an emotional post-fight interview, Khabib said that there was no way he was going to fight without his father by his side.
Though UFC president Dana White wanted Khabib to return for another fight, possibly against Conor McGregor, it was not meant to be. On 19th March 2021, after a meeting with Nurmagomedov, White officially announced his retirement.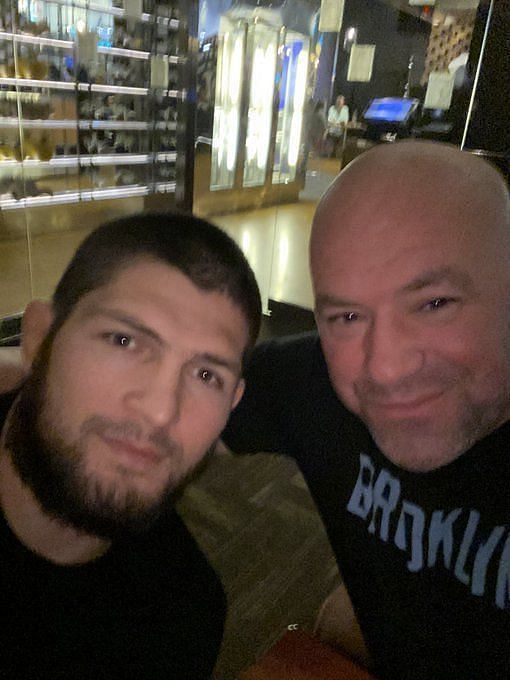 Credit: Twitter/danawhite
Khabib was recently spotted at UFC 259 supporting Islam Makhachev and was also present ring side at the UFC Vegas 22 event which included Kevin Holland's showdown with Derek Brunson.