Gimmick Some Lovin': I QUIT (in a steel cage)!
814 //
28 Nov 2017, 14:22 IST
In each edition of Gimmick Some Lovin', we take a look at one iteration of a gimmick match available on the WWE Network. Some are iconic for their success, others for the extent to which they flopped, and some just... happened.
We defined a "gimmick match" as, in any way, adding a rule/stipulation to or removing a rule from a match, changing the physical environment of a match, changing the conditions which define a "win", or in any way moving past the simple requirement of two men/women/teams whose contest must end via a single pinfall, submission, count out, or disqualification.
This past weekend, World Wrestling Entertainment brought back the much-beloved Starrcade franchise for a lucky capacity audience at the historic Greensboro Coliseum in Greensboro, North Carolina; while the show was lauded for its nostalgic odes to the show's long history and some apparently well-produced in-ring action, many fans expressed frustration that the show was not broadcast on WWE's signature app.
---
The show featured an Arn Anderson spinebuster (you know my love of those), Dustin Rhodes returning to his "Natural" roots, and a dual main event of cage matches in a cage which was built piecemeal onto the ring like the enclosures of old, not descending from the ceiling as cages do in modern sports entertainment.
While fans might never see the pair of cage matches which closed that show on the WWE Network, they can always view today's classic from Starrcade 1985: the "I Quit" Steel Cage match between Magnum T.A. and defending United States Champion Tully Blanchard.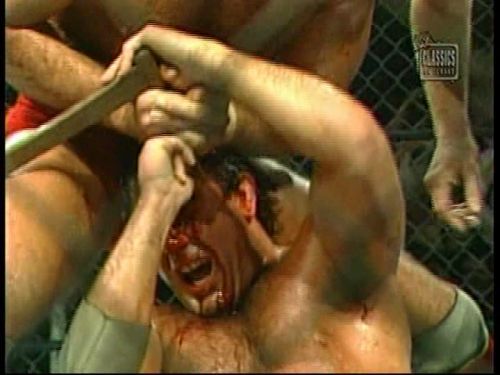 World Championship Rasslin'
As a writer, I have to admit that the National Wrestling Alliance and Jim Crockett Promotions in the 1980s are a blind spot in pro wrestling history for me.
Becoming a wrestling fan in the 1990s, typically, meant that a fan picked one company to be loyal to and ignored the competition; my first love and only concern at that time was the World Wrestling Federation. I could name the high-profile matches at nearly every Wrestlemania prior to the turn of the millennium, but could not do the same for any pre-NWO pay per view from "the competition".
Pole matches and mega-structure cage matches excepted, digging into what I've missed from Vince's rivals for this column has been an odyssey of fantastic professional wrestling, especially when considered in the context of what "New York" was able to put in the ring at the same time (but more on that later).