Born on June 29, 1991, Kawhi Anthony Leonard is an NBA player with the Los Angeles Clippers. He was selected by the Indiana Pacers in the 2011 NBA draft but was traded to the San Antonio Spurs on the same night. After playing for the Spurs for seven seasons, Leonard was traded to the Toronto Raptors in 2018. In his first season with the Toronto Raptors, Kawhi led the franchise to their 1st ever NBA title.
When he moved to LA, he signed with the Clippers as a free agent in 2019. Also known as the 'Claw' or 'Klaw' for his ball-hawking skills, he has won two championships and was named Finals MVP in both campaigns.
| | |
| --- | --- |
| Player name | Kawhi Leonard |
| Born | June 29, 1991 |
| Won championships with | San Antonio Spurs, Toronto Raptors |
| Ring count | 2 |
| Ring years | 2014, 2019 |
| Drafted year | 2011 |
| Drafted by | Indiana Pacers (traded immediately to San Antonio Spurs) |
How many rings does Kawhi Leonard have?
Kawhi Leonard has won 2 championship rings. He earned his first ring with the San Antonio Spurs in 2014 and followed that up with a win in 2019 with the Toronto Raptors.
What years did Kawhi Leonard win his championship rings?
2014 - San Antonio Spurs vs. Miami Heat: The Spurs defeated Miami Heat 4-1 for their fifth championship in franchise history. They phenomenally outscored the Heat, creating the second-largest average point differential in NBA finals history. Kawhi Leonard was titled Finals MVP with an average of 23.7 points per game and shooting 68.5% from the floor.
2019 - Toronto Raptors vs. Golden State Warriors: The Toronto Raptors defeated the Golden State Warriors 4-2, earning their first Finals victory in franchise history. For his brilliant performance, Kawhi Leonard earned his second Finals MVP award of his career, scoring an average of 28.5 points per game.
How many rings does Kawhi Leonard have vs. LeBron?
LeBron James takes the lead, with four rings against Kawhi Leonard's two rings.
Kawhi Leonard Rings Pictures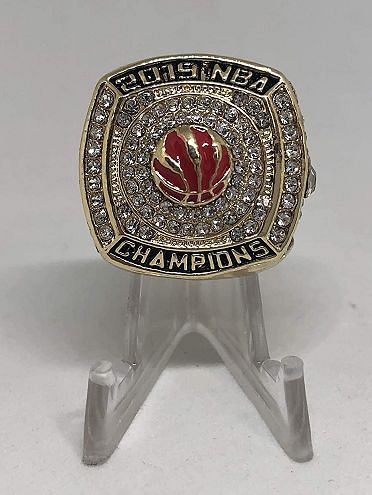 2019 ring
Image source: USA Today's FTW