Born on June 29, 1991, Kawhi Anthony Leonard is an American professional basketball player for the Los Angeles Clippers playing in the NBA. He played college basketball for the San Diego State Aztecs for two seasons. However, he opted to forgo his final two seasons to enter the 2011 NBA draft. The Indiana Pacers selected him, but he was later traded to the San Antonio Spurs on draft night.
Nicknamed the 'Klaw' for his ball-hawking skills, Kawhi went on to win an NBA championship for the Spurs in 2014, where he won his first Finals MVP. After playing with the Spurs for seven seasons, Kawhi was traded to the Toronto Raptors in 2018. He led the Raptors to their first-ever NBA championship in 2019 and won his second Finals MVP award that year. He later moved to Los Angeles, his hometown, and signed with the Clippers as a free agent in July 2019. Kawhi won 'Defensive Player of the Year' in 2015 and 2016.
Who is Kawhi Leonard's Girlfriend, Kishele Shipley?
Kishele Shipley is the girlfriend of the NBA forward, Kawhi Leonard. Both Leonard and Shipley attended San Diego State University. It is rumored that the two met there, which set off the sparks for the couple, who have been together since 2014. Kishele has a degree in Public Administration. Subsequently, she served as a Human Resources expert in San Diego before shifting base with Leonard when he signed with the San Antonio Spurs.
Kishele Shipley was born to Kenneth and Cathy Marie Shipley on April 10, 1989. Kishele has two sisters — the older, namedKenisha, and a younger sister, named Kasandra. Her sister Kenisha earned her Master's degree in Environmental Science - Hydrology and Kasandra graduated from California State University.
Kawhi's Wife Kishele Shipley: Quick Facts
| | |
| --- | --- |
| Full Name | Kishele Shipley |
| Birth Date | April 10, 1989 |
| Birth Place | San Diego, California, USA |
| Age | 34 years |
| Height | 5-feet 8-inch |
| Nationality | American |
| College | San Diego State University |
| Profession | Human Resources expert |
| Marital Status | Unmarried |
| Husband Name | Kwahi Leonard |
| Net Worth | $25 million approximately |
What is the age, height and weight of Kishele Shipley?
Kishele Shipley was born on April 10, 1989. She went to San Diego State University for her higher studies where she met Kawhi. She is 34 years old and reported to be 5'8" compared to her boyfriend Kwahi, who is 6' 7''.
Kishele Shipley's Net Worth
Kishele Shipley is a Public Administrator and a Human Resources expert. As of 2023, her net worth is around $25 million while her husband has a net worth of approximately $85 million.
When did Kwahi Leonard meet Kishele Shipley?
Both Leonard and Shipley attended San Diego State University, and it is rumored that the two met there. There is not much information available as both Kishele and Kawhi keep their lives private.
What is Kishele Shipley's ethnicity?
Kishele is of multiracial ethnicity. She is said to be of African American descent.
How many children do Kwahi Leonard and Kishele Shipley have together?
The couple has 2 kids together. Kawhi and Kishele welcomed their daughter Kaliyah Leonard in 2016. In 2019, a Canadian online platform Narcity reported that the couple welcomed a second child, a baby boy, in Toronto. Raptor fans took to social media to express their joy. However, no reports have confirmed the baby's name yet. Kwahi rarely gives interviews and avoids questions when it comes to his private life and is not active on any social media accounts.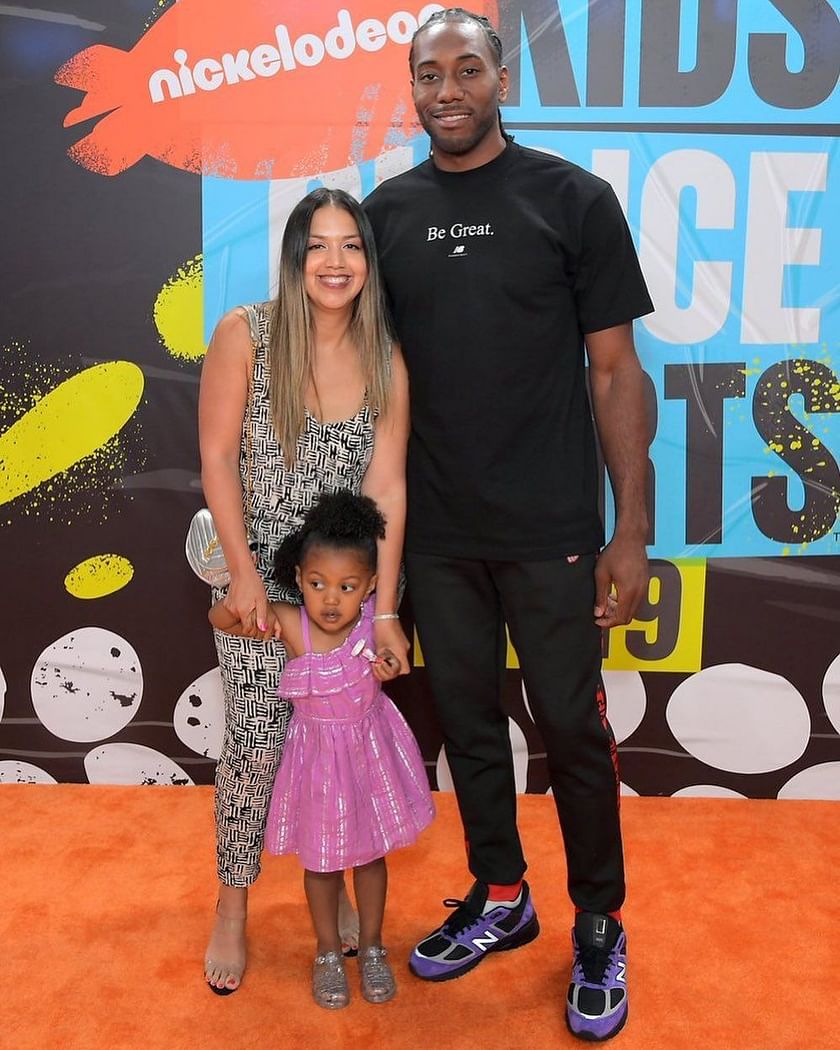 Did Kawhi Leonard and Kishele Shipley get married?
Shipley prefers to stay out of the spotlight. Like Leonard, Shipley is a very private person and prefers to keep out of the limelight. She does not have any public Twitter, Facebook, or Instagram accounts. Both her sisters, Kenisha and Kasandra, are active on social media. However, out of respect for their sister and Leonard's privacy, they do not post anything about the pair. Thus, there are not many photos of Kawhi Leonard's wife online, but she was spotted cheering him on when he played home games for the Toronto Raptors. The two are private to the extent that there is much confusion about their marital status. In an interview with ESPN in 2016, ESPN Shipley was referred to as Leonard's "fiancée." However, there has been no official confirmation if the couple is engaged or married.
FAQs
Q. Does Kawhi have a child?
A. Kwahi has two childrens with his longtime partner Kishele Shipley whom he met in his university days.
Q. How old is Kishele Shipley?
A. Kishele Shipley was born in San Diego, California, USA on April 10, 1989, and is 34 years old.
Q. Did Kishele Shipley graduate from college?
A. Kishele Shipley graduated from San Diego State University, where he met Kwahi and since then they have been together.
Q. How tall is Kishele Shipley?
A. Kishele Shipley stands 5 feet 8 inches in height.