| | |
| --- | --- |
| Name | Ben Askren |
| Nickname | Funky |
| Net Worth | Approx $500 Thousand |
| Age | 36 Years (born 18th July 1984) |
| Residence | Phoenix, Arizona, United States |
| Marital Status | Married |
| Spouse | Amy Askren |
| Sources of Wealth | Podcast and Endorsements |
| Division | Welterweight ( 170 lbs ) ( retired ) |
| Height | 5'10" |
| MMA Record | 19-2-0 |
| Recent Endorsements | Dollamur Sport and CoinFlip Bitcoin ATM |
| Team/Gym | Roufusport / Evolve MMA |
| Last Updated | 2021 |
While Ben Askren's win against Robbie Lawler on his UFC debut was controversial, it was believed that 'Funky' was one step away from a welterweight championship bout. However, the title shot would eventually never arrive. In 2019, he suffered the fastest knockout in UFC history at the hands of bitter rival Jorge Masvidal.
It was also Askren's first loss in professional MMA. Soon after, Askren suffered his second loss against Demian Maia and subsequently announced his retirement from MMA. He appeared on Ariel Helwani's MMA Show and had this to say about his retiring -
"I've been having hip problems, and I finally had the discussion with my doctor ... and I need a [left] hip replacement," Askren said. "So, man, that's it for me. I've been thinking about this for a week and what I was going to say, and I'm filled with gratitude for how great of a career I've been able to have, even though obviously in the end it did not turn out to go my way."
Initially, when UFC traded Demetrious Johnson for Ben Askren, they had big plans for the latter. The ex-Olympian had an undefeated MMA record and had already won world titles in Bellator and ONE Championship. Apart from the MMA accolades, his wrestling career is untouchable.
Askren has an illustrious wrestling career with a record of 153 wins and 8 losses. Hence, it is hardly surprising that Askren still has a good rep in the "fight community". He has his own wrestling podcast and regularly appears on other major MMA podcasts.
It seems that Askren has got another opportunity to win some respect back from the MMA community. On April 17th he will face YouTuber Jake Paul in an eight round exhibition boxing match.


What is Ben Askren's Net Worth in 2021?
According to Celebrity Net Worth, Ben Askren's current net worth is estimated to be around $500 thousand. While This would seem underwhelming for a man who holds a record of 19-2 in MMA. However, Askren hasn't fought since 2019. While his UFC career didn't go well for sporting reasons, it certainly went well business - wise.
According to Sports Daily, Askren made $830,500 in his short stay in the UFC. He was paid a career - high of $210,000 just to show up in his fight against Masvidal and $200,000 to show up against Demian Maia.
Askren isn't ambitious when it comes to money. In 2015, he did an interview with Sherdog and had this to say -
"I'm not really concerned. I'm getting paid really well to do what I'm doing. I drive a 2007 Prius with 200,000 miles on it. I don't care about having a fancy car. I don't have a lot of the wants and needs that a lot of people have where I would need to make a $1 million a fight. It would be nice if it happened, but I'm already running a few successful businesses, I'm making a good amount of money to fight and I don't have expensive tastes. Any way you slice it, I'm gonna be good to go."
As mentioned above, Askren will be facing YouTuber, Jake Paul on 17th April 2021. Regardless of the result, the fight will have a positive impact on Askren's net worth.


Ben Askren's Career Earnings
Askren's earnings pre UFC ( Bellator, One and) aren't public. He once revealed to Sports Illustrated that he was paid $50,000 to show up and another $50,000 as a win bonus in his debut with ONE FC.
However, his UFC earnings are public and below is what Askren's top 3 paydays at the UFC according to Sports Daily -
Sr.no
Purse
Event / Date
Opponent
Result

3

$

213,500

UFC 239 / 6th Jul 2019

Jorge Masvidal

L

2

$263,500

UFC: Maia vs Askren / 26th Oct 2019

Demian Maia

L

1

$353,500

UFC 235 / 2nd Mar 2019

Robbie Lawler

W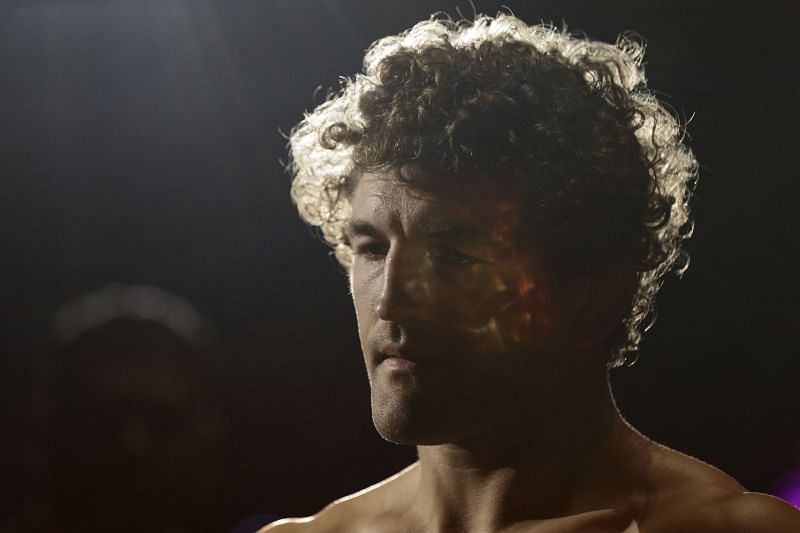 Askren and Maia won $50,000 as Fight of the Night bonus for their bout.
While his fight against Lawler earned him his biggest payday, he expects a better one from his upcoming fight with Paul. In an episode of Food Truck Diaries, said he expects this to be the biggest payday of his career. He further added that he was given a decent offer and boxing is something he always wanted to do.
Also Read: Who is Ben Askren's wife, Amy Askren?


Ben Askren Endorsements
Askren has a podcast named, RUDIS Wrestling Podcast which he hosts with fellow wrestler Jason Bryan. Dollamur Sport is one of his recent endorsements. He regularly voices his support for Cryptocurrency on Twitter. License Global reported that "Funky" recently signed with Envy Branding and Management. Sara Nemerov, founder and CEO of Envy Branding and Management had this to say about the deal -
"We will be launching projects together that will break the internet and the industry"
FAQ


Q.
Did Ben Askren retire?
A. Ben Askren announced his retirement on 18th November 2019.