Born on 6th December 1994, Giannis Sina Ugo Antetokounmpo is a Greek professional basketball player for the Milwaukee Bucks. Born to Nigerian parents in Greece, Antetokounmpo started playing basketball as a youngster in Athens. He entered the NBA draft in 2013, where the Milwaukee Bucks selected him 15th overall. He is often referred to as the 'Greek Freak' due to his nationality and deadly combination of size, speed, and ball handling skills.
Giannis' performance improved drastically year by year and he became the central figure on the Bucks team from the 2016-2017 season. That season, he was the leader in all five major statistical categories (scoring, rebounding, assists, steals, and blocks) for the Bucks. Giannis was the first player to end a regular season in the top 20 of all-important stat lines - total points, rebounds, assists, steals, and blocks - in NBA history. He is a two-time NBA MVP and also led the Bucks to win the 2021 NBA championship.
Who is Giannis Antetokounmpo's Girlfriend, Mariah Riddlesprigger?
Born in Fresno, California, on 17th September 1992, Mariah Danae Riddlesprigger is the daughter of Patrick and Cathy Riddlesprigger. She also has two younger sisters - Makayla and Maya. Just like her superstar NBA partner, her parents are also associated with the sports world. Mariah completed her Bachelor's in Arts in 2014. She has a degree in Sport Management and Sociology from Rice University, Texas.
Mariah Riddlesprigger's Parents
Mariah Riddlesprigger's father, Patrick, played volleyball for Fresno State University. Cathy, her mother, works with sales at 'Allstar Fire Equipment, Inc.,' which deals with firefighting equipment worldwide. Unfortunately, that's all the information we have on her parents.
Giannis Antetokounmpo Girlfriend Mariah Riddlesprigger: Quick Facts
| | |
| --- | --- |
| Full Name | Mariah Riddlesprigger |
| Birth Date | September 17, 1992 |
| Birth Place | California, USA |
| Age | 31 years |
| Height | 5-feet 10-inch |
| Nationality | American |
| High School | Bullard High School, California |
| College | Rice University |
| Profession | Sportswomen and Volleyball player |
| Marital Status | Unmarried |
| Husband Name | Giannis Antetokounmpo (engaged) |
| Net Worth | $500K USD approximately |
What is the age and height of Mariah Riddlesprigger?
Mariah Riddlesprigger is 31 years old and reported to be 5'10" much shorter compared than her boyfriend Giannis, who is 6 foot 11. She was born on September 17, 1992. She grew up in Fresno, California and went to Bullard High School, California for his studies.
Mariah Riddlesprigger Net worth
Giannis' girlfriend is a sportswoman and a former volleyball player who has a net worth of approximately $500K USD as of 2023.
What nationality is Mariah Riddlesprigger?
By nationality, Mariah is American as she was born in Fresno, California to an American family.
Giannis Antetokounmpo Girlfriend Ethnicity
Giannis' gf Mariah Riddlesprigger is African-American by ethnicity.
How many children do Giannis Antetokounmpo and Mariah Riddlesprigger have together?
The couple has 3 kids together. Giannis and Mariah announced the birth of their first child on Feb 10th 2020. They named the boy Liam Charles Antetokounmpo. Liam's middle name is the same as Giannis' father, Charles, whom he lost in 2017. Liam's birth was a joyous occasion and an opportunity for Giannis to have some fun on social media. He teased his son's approaching birth with reference to Jon Snow, the character from the show Game of Thrones, on Twitter.
On August 18th 2021, their second son, Maverick Shai Antetokounmpo, was born. Both brothers have been courtside and have watched their father at Bucks games on multiple occasions despite their young age. Recently, in September 2023, Antetokounmpo and Riddlesprigger welcomed their third child and first daugther to their family. Named Eva Brooke, she was introduced on Giannis' Instagram page with a photo of her and her brothers standing by her side.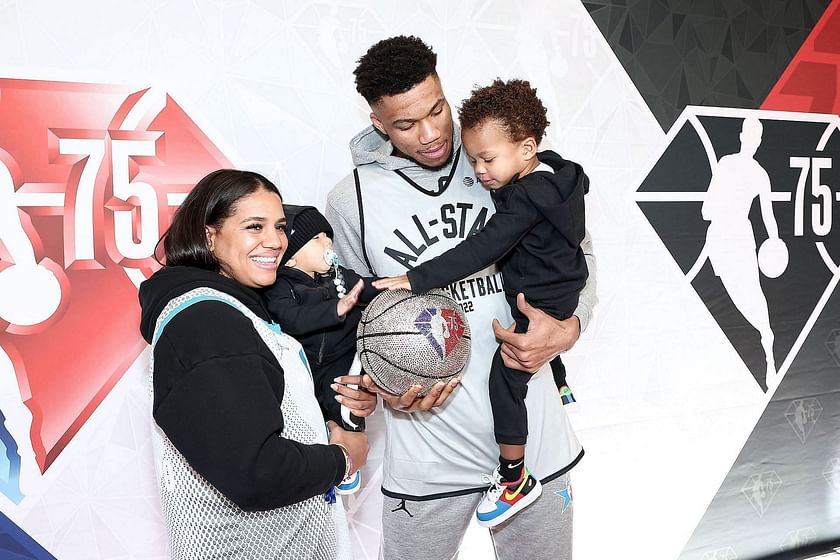 Mariah Riddlesprigger Charity Work
During the COVID years, Antetokounmpo and his family agreed to donate $100,000 to the Fiserv Forum personnels who were unable to work during the 2019–20 NBA season suspension due to the COVID-19 pandemic. In 2020 Antetokounmpo's family also distributed 20,000 masks to the residents of Zografou and Athens in Greece.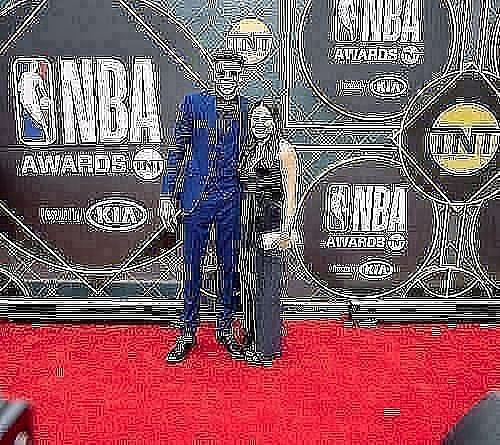 What does Mariah Riddlesprigger do?
The former volleyball player began her career during her days at Rice University. With her outstanding record, Mariah earned numerous titles during her volleyball days. She was named the 'Conference USA Defensive Player of the Week' in her senior season and won the MVP title. She worked at the university's athletic ticket office for two years.
Later, Mariah became the basketball operations intern for the 'Philadelphia 76ers' team. During this stint, she was featured in a story, which mentioned that she had had the opportunity to meet several high-profile sports personalities, including Mark Cuban, owner of the Dallas Mavericks, and retired basketball player Rick Fox. Mariah also had the opportunity to get acquainted with several team owners, managers, ESPN executives, and sports agents, among many others. The story also revealed that she was eager to achieve her career goal of working for a sports agency and that the many connections that she had established would aid this.
Are Giannis and Mariah married?
Giannis Antetokounmpo and Mariah Riddlesprigger are not married as of yet. The beautiful couple who are parents of three, did however confirm in September 2023 that they are engaged and will be getting married soon. The pair reportedly started dating in the mid 2010s soon after Giannis was drafted by the Milwaukee Bucks in 2013.
FAQs
Q. How old is Mariah Riddlesprigger?

A. Mariah Riddlesprigger is 31 years old and was born in Fresno, California on september 17, 1992.
Q. Did Mariah Riddlesprigger graduate from college?
A. Mariah Riddlesprigger attended Rice University in Texas and obtained her degree in sociology and sport management.
Q. How tall is Mariah Riddlesprigger?
A. Mariah Riddlesprigger stands 5 feet 10 inches in height.
Q. Where did Mariah Riddlesprigger play volleyball?

A. Riddlesprigger started playing volleyball in her high school and was the team captain and the MVP during her senior year of high school. She then continued to play in the university as well.
Q. What is Mariah Riddlesprigger's nationality?

A. Mariah's nationality is American but her ethnicity is African-American.
Q. Are Giannis and Mariah still together?

A. Yes, Giannis Antetokounmpo and Mariah Riddlesprigger are still together and have gotten engaged as confirmed by Giannis himself.