Randy Couture made his professional mixed martial arts debut at UFC 13 in 1997. The same year, at UFC Japan, Couture won the UFC Heavyweight Championship by defeating Maurice Smith. Upon his debut at Light Heavyweight, Couture won the UFC Light Heavyweight Championship beating Chuck Liddell for the title. In his next fight in the division, Couture defeated Tito Ortiz to win the undisputed UFC Light Heavyweight Championship.
In 2007, at UFC 68, Randy Couture defeated Tim Sylvia to reclaim the UFC Heavyweight Championship at the age of 43. Following a dispute with the UFC, Couture made his promotional return in 2008 and lost the UFC Heavyweight Championship to Brock Lesnar.
At UFC 129, Randy Couture competed in his last professional MMA fight when he fought and lost to Lyoto Machida and eventually retired at the age of 47.
Randy Couture Net Worth 2019
According to sources, as of 2019, the current Randy Couture Net Worth currently stands at an estimated total of $17 million.
Randall Duane Couture, popularly known as Randy Couture, is a former three-time UFC Heavyweight Champion, two-time UFC Light Heavyweight Champion, an interim UFC Light Heavyweight Champion, an American actor, and a former U.S. Army Sergeant.
Randy Couture Ear
Randy Couture ears are considered to be one of the most bizarre talked-about topics in the world of combat sports. Couture has cauliflower ears, which is considered to be a common disorder among MMA fighters, professional wrestlers, and other sports athletes, as well.
Randy Couture Wife
Randy Couture was previously married to Sharon, Tricia, and Kim Couture. Randy Couture wife and he filed a divorce in May 2009 but continued to support her in pursue towards her MMA career.
Randy Couture Age
Born on the 22nd of June, 1963, Randy Couture is 56 years old.
Randy Couture Movies
Randy Couture movie debut took place in 2005 when he was a part of the No Rules cast. The former UFC Heavyweight Champion has also starred for the popular Expendables franchise and has been a part of all three Expendables movies.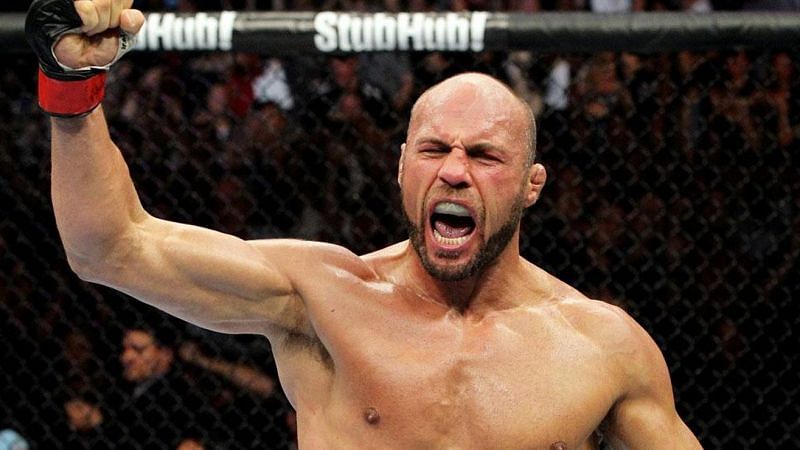 Randy Couture Record
Randy Couture made his professional MMA debut in 1997 and as of now, the current Randy Couture record stands 19 wins and 11 losses.
| | | |
| --- | --- | --- |
| Matches | Wins | Loss |
| By Knockout | 7 | 6 |
| By Submission | 4 | 4 |
| By Decision | 8 | 1 |
| Total | 19 | 11 |


Randy Couture Height
Randy Couture currently stands at 6ft 5 inches tall (185 cm) and has a reach of 75 inches (191 cm).
Randy Couture Girlfriend
Randy Couture is currently on a long-term relationship with Mindy Robinson, who is a model and an actress. The couple often works together, as well.
| | |
| --- | --- |
| Net Worth | $17 million |
| Age | 56 |
| Nationality | American |
| Last Updated | 2019 |
People Also Ask
How old is Randy Couture?
56 years (June 22, 1963)
How much is Randy Couture worth?
Net Worth: $17 Million
Is Randy Couture married?
Yes Randy Couture is married to Sharon Couture (m. 1981–1993) and Tricia Couture (m. ?–2005)
When did Randy Couture start MMA?
By December of 1997, at the age of 33, Randy made his debut into the world of professional fighting claiming victory in the Heavyweight division of his first appearance in the UFC